Eating and drinking
Accommodation
Eating and drinking
Food
Montenegrin cuisine can be divided into northern, continental and Mediterranean. Nearly all produce is locally grown and much is organic, and tastes are distinctive. A traditional form of cooking is ispod – 'under the coals' – in a pot known as a sač.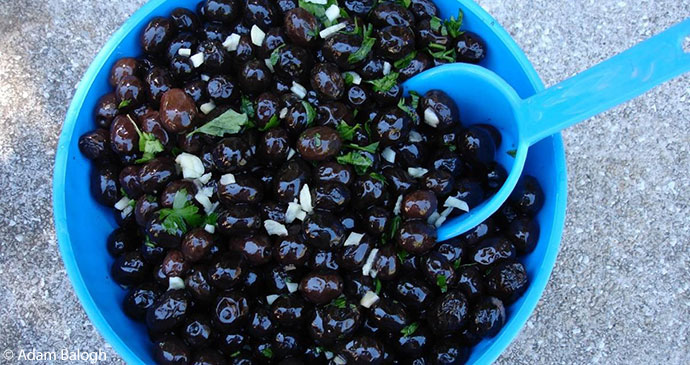 Local olives from Kotor Bay © Adam Balogh
The northern area features forest berries, blueberries, raspberries and strawberries, also herbal teas and wild mushrooms. They cook with sour cream (kajmak), yoghurt and both cow's and sheep's cheese. The finest kajmak, it is claimed, comes from Trsa, a high pasture in Durmitor. Naturally flavoured with wild herbs, it costs €20 per kilo and makes a delicious dip. Traditional dishes include kačamak, a rich cheese and potato dish reminiscent of fondue and popular in mountain areas; lamb cooked in milk; peppers in kajmak; and Durmitor steak. Montenegrins are noted carnivores, but lamb and veal are more common than beef. 'Steak' can often mean veal, frequently stuffed with ham and cheese.
The continental area uses a lot of fish from Skadar Lake and the rivers that feed it, especially carp, trout and eel; the fish is served smoked, fried and in salad. They prepare smoked ham, cheese in olive oil, sausages and dried mutton. Around Podgorica they stuff cabbage leaves with minced meat and rice, and carp with risotto and dried plums.
Drink
Montenegro produces both red (called crna – black, like the mountains) and white (belo) wines, but the former have more character. The terraced slopes of Crmnica are the source of the pick of the crop.
Vranac is the best known red and eminently drinkable, with a fine ruby colour and a Mediterranean character. 'Vranac pro cordem' is a Vranac with a high level of prothoanthocyanidol and is marketed as being good for your heart. The third popular variety is merlot. In the one or two restaurants run by the Plantaze vineyards you may be able to get a vintage Vranac at upwards of €50 per bottle. A wine tour around small local vineyards near Virpazar is a great way to taste some good Vranac.
The nicest local dry white wine is Krstač, which competes with the local chardonnay and a very decent sauvignon.
The real national drink is rakija or loza. Rakija is a generic name, the liquor made from plums, mulberries or whatever fruit is plentiful, while loza is a white brandy always made from grapes. The slightly upmarket version is kruna, distilled in copper stills fired with vine twigs and wood, and the Podgorica variety is called Crnogorski Prvijenac. These are the universal mark of Montenegrin hospitality and a great source of goodwill.
A glass of rakija is the standard gesture of welcome when you visit a Montenegrin house. As a foreigner it is not obligatory to accept, but they will be pleased if you do. For extra marks, maintain eye contact during the toast. In the mountains people will treat an open wound with rakija to aid the healing process.
Accommodation
It would be wrong to imply to travellers that standards of accommodation in Montenegro will invariably match the levels of western Europe. Montenegrin grades are not yet exactly the equivalent of international ratings, but new hotels of four- or five-star international standard are opening on the coast, in Podgorica and elsewhere. In no way do the few remaining state hotels, most of which need investment, measure up to western European standards, but they are rapidly being bought up and transformed. It is nevertheless important to bear in mind that – however antiquated the establishment, however dreary and overdue for a face-lift the interior, however noisy the plumbing – you can always expect fresh and clean linen. While at worst the bath towel may be of face-cloth proportions and the blankets only slightly larger, they will invariably be clean. You are unlikely to encounter bedbugs and you will never find a really filthy public lavatory (except maybe in a non-business train on the Bar to Belgrade railway!).
In Montenegrin hotel descriptions you will find the word 'apartment' is frequently used in place of 'suite', but it doesn't follow that the accommodation so listed will in every case include more than a bedroom, a bathroom and a sitting area. If cooking facilities are a requirement it is always wise to check.
While traditionally a hotel garni is assumed to be one that does not provide a full restaurant facility, or one that may cater for breakfast only, in Montenegro the term is used more loosely and more often than not applies to establishments with restaurants.
While breakfast will usually be included in the overnight price with good bread, local jam and often ham and eggs in the deal, in some hotels tea or coffee will be an extra and not always a worthwhile one. Both will tend to come out of a large urn. In the less travelled regions, if you don't much like Turkish coffee for breakfast, you will do better to order cappuccino, which is invariably excellent. And try the priganice (fried dough balls) with honey if you can find them. Other meals in state-run hotels in the smaller centres can usually be described as 'institutional'. But these standards will all change and already food in private hotels is often very good indeed.
In high season coastal areas suffer from domestic daytime water-supply shortages and electricity cuts; again this situation is being addressed and is markedly improving. Some of the fancier new hotels have private supplies of both.The in-room television, except in the newer establishments or the larger towns, will usually be in Serbian/Montenegrin and perhaps Italian only, but cable and satellite are on the increase, with CNN and sometimes BBC World becoming more frequently available.