Health
With Dr Felicity Nicholson
Liguria poses no major health risks. Tap water is safe to drink, but it is wise to be up to date with routine vaccinations in the UK such as measles, mumps and rubella, and diphtheria, tetanus and polio. Mosquitoes are an issue in the summer months at night, and in shady areas during the day, so be prepared with a good insect repellent. Big supermarkets stock a wide range of anti-mosquito ammunition and it is far cheaper than the equivalents sold in pharmacies.
Pharmacies (farmacie, sing. farmacia) are usually open 09.00–13.00 and 16.00–20.00 on weekdays and some close on Saturday afternoons. They are usually closed on Sunday, but in high season may open in resort towns. A pharmacy that is open out-of-hours on a rotation basis is called a farmacia di turno. A rota will be posted on the door of the pharmacy or on federfarma.it.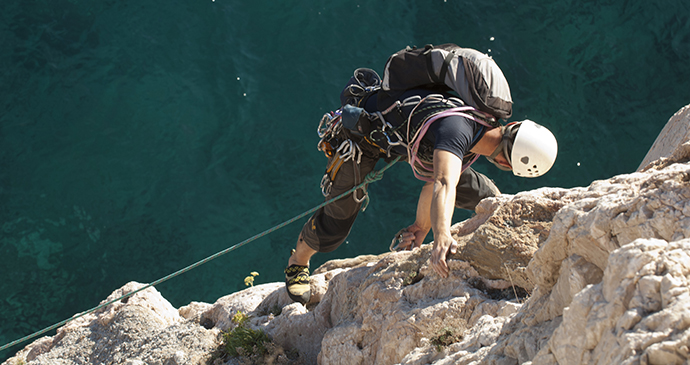 EU nationals who are taken ill or have an accident when visiting Italy areentitled to health care. The European Health Insurance Card improves access to health care in the EU and speeds up the reimbursement of costs (replacing the E111 form). UK citizens can apply for this card through the EHIC website, or by calling 0845 606 2030, but note that participation in the scheme may change for UK citizens post-Brexit.
Only publicly funded health treatment is included in this scheme for the moment. In Italy, while emergency treatment is free for visiting EU citizens, you have to pay the full cost of drugs and nonemergency treatment and then claim a refund. It is important to keep all your bills, prescriptions and receipts.
In Italy free emergency health care is available to foreigners, but any required medication or follow-up treatment will have to be paid for. It is therefore important to ensure that your travel insurance covers medical costs. Take a copy of your policy certificate with you and keep the policy number to hand in case you are obliged to quote it. Keep all receipts.
Prevention being far better than cure, walkers and hikers should be conversant with first aid, and know how to deal with injuries and hypothermia. Try to avoid walking or climbing beyond your limits. The majority of accidents happen when you're tired. In the event of being injured, use surgical tape for cuts that would normally be stitched, and then bind the wound laterally with zinc oxide tape.
In the extremely unlikely event of being bitten by a snake, try not to panic, as a racing heart speeds up the spread of venom – much easier said than done, of course. Most first-aid techniques do more harm than good. If possible, splint the bitten limb and keep below the height of the heart, then get the victim to hospital immediately.
Travel clinics and health information
A full list of current travel clinic websites worldwide is available on istm.org. For other journey preparation information, consult travelhealthpro.org.uk (UK) or wwwnc.cdc.gov/travel (USA). Information about various medications may be found on netdoctor.co.uk/travel. All advice found online should be used in conjunction with expert advice received prior to, or during, travel.
Safety
There are no major crime issues in Liguria, but do beware of pickpockets and keep your handbag or wallet in a safe place at all times wherever you are. This is especially true in stations. Think twice before sleeping with all the windows open; it is an easy mistake to make if you don't come from a very hot country. Thieves can easily jump in through the window while you are asleep. Use your common sense and ask advice. Genoa's old town has a notorious red-light district; its narrow darkstreets can be a little dodgy at night.
Forest fires are frequent in the hot summer months and fed by the almost constant breeze. There is a lot of speculation as to how many of them are actually started deliberately and it is not uncommon to see firefighting planes flying down to the sea to scoop up water to put them out.
Up in the mountains it is essential to never light a fire outside of designated areas and to make sure that all cigarettes are put out properly. Be careful walking in forests in October on Wednesdays and Sundays. This is the hunting season!
Women travellers
There are no real issues involved in travelling alone, or in small groups, as a woman in Liguria, which can't be found travelling alone in any other western European country. That said, it is best to avoid Genoa's old town after dark. The areas around its two railway stations are also a little dodgy at night. Just remember that Italy is a pretty sexist country so make sure you have a thick skin.
LGBT Travellers
Not only is Italy sexist but it is prejudiced on all fronts, so a normal amount of discretion is advised. Hotel workers are unlikely to question a gay or lesbian couple requesting a double room. There is a gay scene in Genoa with a number of gay bars. There is a useful website in Italian: arcigaygenova.it.
Travellers with a disability

Liguria isn't an easy place to visit if you have reduced mobility, largely because old medieval cities and villages perched on mountainsides aren't the easiest places to get about in a wheelchair or with a walking stick. That said, one organisation that offers services in Italy to travellers with disabilities is Accessible Italy (+378 941111; info@accessibleitaly.com). There is also a guide in Italian and French for visitors with disabilities by local organisation La Cruna.
For pre-travel information, Gov.uk provides a useful resource. The Society for Accessible Travel and Hospitality provides some general information, too. Disabled Holidays offers accessible holidays to Italy, including Liguria.
Travelling with kids
Liguria is a great destination for children. Even though Italians aren't having many of them themselves these days, Italy is still one of the most child-friendly places in the world. Don't expect lots of specific things for children in museums, restaurants and hotels, however, but what you do get is a warm welcome.
All towns along the coast have carousels, rides or mini cars. Beach clubs are all kitted out to accommodate kids, as Liguria is above all a family destination. There's sun and the sea in summer and fun to be had inland up in the mountains. With an ice-cream shop on every corner and endless vending machines selling trinkets, it is easy to calm the nerves of a trainee traveller. Genoa has a number of attractions that go down well. There is a vast aquarium and a number of museums aimed specifically at children.
There is no need to bring supplies from home if you have babies or tiny children.You can buy everything you need; even special pasta for babies.
You will find that some elderly people, or those who don't have children, are not that tolerant of noise. Italians expect quiet in the early afternoon in summer so they can siesta. Pushchairs can be difficult in hilltop towns and on cobbled streets. Their wheels can get stuck between the stones, so always make sure your little passenger is strapped in or bring a sling.
If you are coming from the UK, always be extra vigilant about traffic safety as Italians drive on the right-hand side of the road. Also note that cars don't stop automatically at a pedestrian crossing, even when the light is green. With older children make sure their mobile phones are activated to work abroad and that they have your numbers keyed in with the relevant country code.