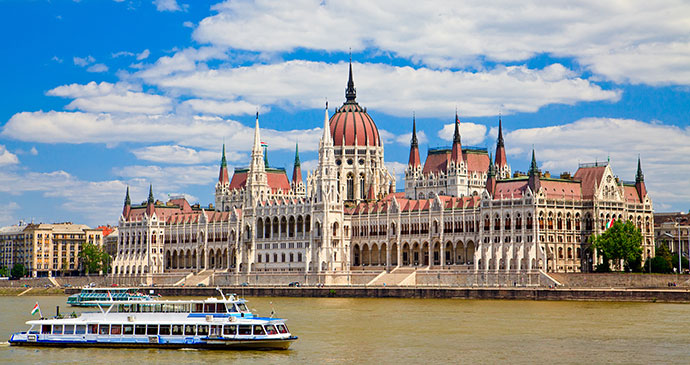 Great cities are forged from moments of tragedy as well as triumph, but Budapest has seen more than its fair share of blood and bullets. Traditionally, when Hungary dropped the toast it landed buttered-side down.
The Turks strutted here in the 16th and 17th centuries, Austria ruled during the 18th and 19th, and the 20th century saw the country lurch from one terror regime to another. The citizens did not subject meekly; the capital has witnessed several revolts and some ding-dong street battles, and the nation's revered heroes are those who've fought for freedom.
No city wears night's cloak with more elegance. The castle is illuminated, bridges follow suit, lights ride the river and romance's stage is set.
Nowadays, however, Hungarians are in charge, and the only gangs of foreigners are coach parties. Tourism is thriving in the capital, and has boomed further since entry to the EU. Budapest is big enough to take it; one of the city's strengths is the elbowroom around its sights. While there are quaint narrow streets on Castle Hill, Budapest is characterised more typically by the broad and the bold. 
These are features of nature, such as Buda's craggy hills and caves, and the sweeping river; they are also features of architecture, such as Pest's Historicist and Art-Nouveau mansions and Parisian boulevards, which replaced the medieval and Baroque during 19th-century expansion. Another strength is the diversity of attractions. The city is significant both for its museums and its nightclubs, for its opera house and its contemporary music festivals; it suits both the flâneur and the hill walker.
For all the exoticism of its Turkish baths and the impact of its communist past, this is a cosmopolitan capital that has always looked longingly westward. However, with the odd smoking Trabant, rumbling tram, and flowerselling néni comes destinational bite, and a flavour quite unique.