Health
With Dr Felicity Nicholson
The health risks while travelling in the Faroe Islands are minimal and healthcare is of an excellent standard. Language is rarely a problem and health workers are generally proficient in English. However, should you encounter any communication problems, the local tourist office should be able to point you in the direction of a doctor or dentist who does speak English.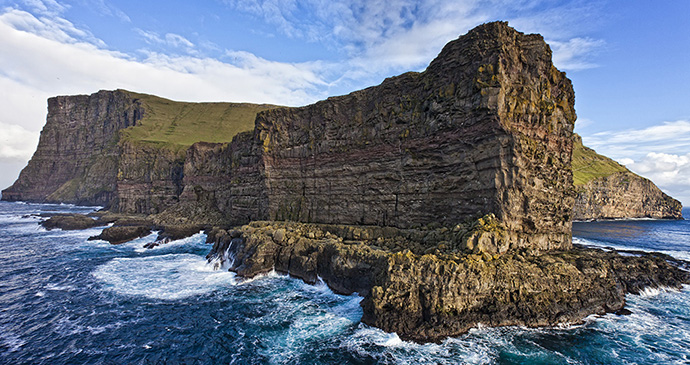 Under Faroese law, a national of any country is entitled to emergency healthcare in the case of an accident; it is the responsibility of the individual doctor treating you to decide just what 'emergency care' consists of. If, however, you suffer from a medical condition requiring regular treatment or medication, this is not free and you will have to pay for all treatment received. It is necessary to present your passport at the hospital to receive any form of emergency care. It goes without saying that you should have comprehensive travel insurance.
As far as safety is concerned, the main risks are the Faroese landscapes – vertical sea cliffs that drop into the sea from heights of up to 900m should obviously be approached with great care. It's also important to remember that when you're out in the countryside the weather can change at any moment and hiking conditions can very quickly become hazardous; however, with common sense, it's unlikely you'll encounter serious danger. In relation to crime, the Faroes are one of the safest parts of the world you will ever visit: police figures put the yearly number of break-ins and cases of theft at barely 500 for the entire country.
Travel clinics and health information
A full list of current travel clinic websites worldwide is available on www.istm.org. For other journey preparation information, consult www.travelhealthpro.org.uk (UK) or http://wwwnc.cdc.gov/travel/ (US). Information about various medications may be found on www.netdoctor.co.uk/travel. All advice found online should be used in conjunction with expert advice received prior to or during travel.
Safety
Women travellers
Women travelling alone are unlikely to encounter any problems. Faroese males are generally well mannered and far too shy to create trouble. On Friday and Saturday nights in Tórshavn, when the beer starts to flow, it's obviously sensible to keep your wits about you but, once again, you're unlikely to become the target of abusive behaviour.
LGBT Faroes
Quite remarkably for a country where religion is still widely respected (and feared), there has been a sea change in attitudes towards homosexuality. In 2006 it became illegal to discriminate on the grounds of sexual orientation following a change in the law.
The new legislation was prompted by a well-publicised gay-bashing incident on a well-known musician in a pub in Tórshavn which appalled the public. More recently, in 2012, a staggering 5,000 people (10% of the population) marched through the streets of Tórshavn during Faroe Pride, calling for gay marriage to be legalised in the islands, in line with the law in Denmark.
Faroe Pride is now an annual event and is undoubtedly the best time for any gay traveller to visit the islands; it's held on 27 July, the day before Olavsøka. For more information about the Faroese gay scene, check out lgbt.fo or its Facebook page.
The islands' first out gay MP, Sonja Jógvansdóttir, was elected to parliament in September 2015 and same-sex marriage was finally made legal in July 2017 following several failed attempts a few years earlier. A public opinion poll conducted ahead of the change in the law showed around two-thirds of the population in favour; as expected, support was strongest in the area around Tórshavn and among the younger generation in general.