Health
With Dr Felicity Nicholson
No inoculations are required for Estonia as health standards are very high throughout the country. Still, travellers here as anywhere should be up to date with tetanus, diphtheria and polio, which now come as an all-in-one vaccine (Revaxis) that lasts for ten years. Hepatitis A vaccine may be recommended for longer-stay travellers or those visiting more remote parts of the country. Depending on what you are doing you may also be advised to be protected against hepatitis B and rabies.
Travellers planning to visit more rural parts of Estonia from late spring to autumn should take ample supplies of insect repellent, and are advised to take precautions against tick-borne encephalitis. Around 200 cases are reported each year. The worst-affected areas are Pärnumaa and Läanemaa (west), Ida-Virumaa (east), Saaremaa Island (west) and Polvamaa and Tartumaa (southeast). As the name suggests, this disease is spread by the bites of ticks that live in long grass and the branches of overhanging trees. Wearing hats, tucking long trousers into boots, and applying tick repellents can all help. Go as soon as possible to a doctor if you have been bitten by a tick (especially if you have not been vaccinated) as tick immunoglobulin may be needed for treatment. This is usually available in Estonia.
Most Western brands of medicine are available throughout the country. There is a reciprocal healthcare agreement with Britain. UK residents should produce a European Health Insurance Card (EHIC). Application form T7 is available from post offices or online at https://www.nhs.uk/using-the-nhs/healthcare-abroad/apply-for-a-free-ehic-european-health-insurance-card/. However, not all treatment is free and you may have to pay part of the costs of any doctor or dental treatment, home visits, prescriptions or in-patient hospital treatment. Therefore, it is wise to have good insurance when you travel.
Travel clinics and health information
A full list of current travel clinic websites worldwide is available on www.istm.org. For other journey preparation information, consult www.travelhealthpro.org.uk (UK) or http://wwwnc.cdc.gov/travel/ (US). Information about various medications may be found on www.netdoctor.co.uk/travel. All advice found online should be used in conjunction with expert advice received prior to or during travel.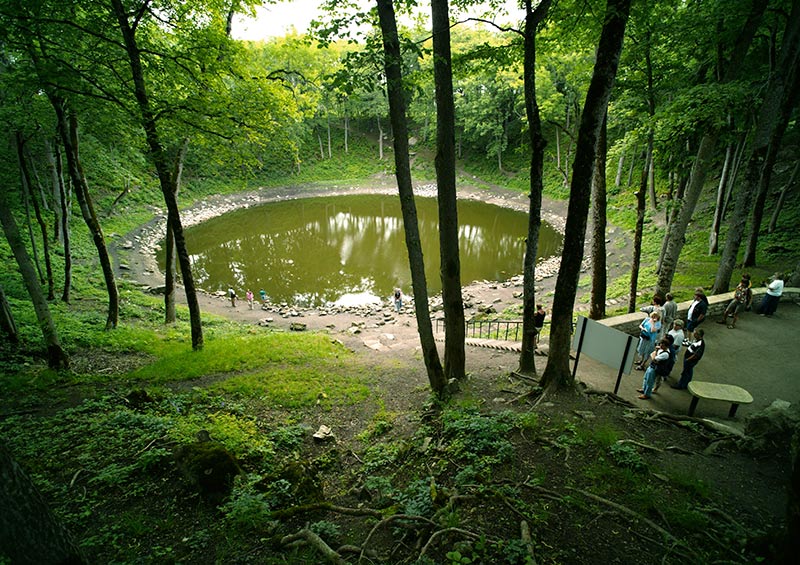 Keep a close eye on uneven pavements and paths as you're walking around the country; pictured: the Kaali crater © Visit Estonia
Safety
Walking plays a major part of any tour in Estonia. Both in the towns and in the countryside many sites can only be reached and appreciated in this way. Whilst roads are usually well maintained, pavements rarely are, so be constantly on the lookout for pot-holes, ill-fitting manhole covers and loose paving slabs or cobbles. In winter, falling or dripping icicles are a further hazard but the accompanying sunshine that usually gives rise to this provides ample compensation. Town streets are well lit at night, important in midwinter when there are only six to seven hours of daylight. Crime is less of a problem than in many other European countries and is very rare outside Tallinn.
Passports and unneeded valuables should be left in hotels; take the obvious precautions of dressing modestly and not flaunting money. Car theft is a problem at night so always use the guarded car park that most hotels have.
Women travellers
Estonian women might still have to do the majority of domestic chores at home, but at work and on the street they are equal. They can go to bars together, dress as they want and, with the high rate of divorce now prevalent, many live on their own, or often as a single parent. Women are in no more or less danger than men; pickpockets in tourist areas are opportunists on the lookout for anybody of either sex who they can take advantage of. Whether you are male or female, you are equally as vulnerable if you leave a bar after a few too many at 03.00.
Gay and lesbian travellers
Visitors to Tallinn may be surprised at how limited the gay scene is. Whilst the legal restraints faced by the gay community in Soviet times have all of course been abolished, the hostility has still not been totally eradicated. As a result, open affection outside the few gay clubs is very unusual and visitors are advised to avoid this.
Travelling with children
Estonia is much more child friendly since joining the EU. Facilities on buses and at building entrances have been installed for people with disabilities and these are equally helpful for pushchairs. Restaurants in the suburbs of Tallinn, and in the smaller towns, often have play areas for children as the lower rents there enable the owners to provide them. Tallinn Old Town, with its narrow, steep and cobbled streets, will remain difficult for small children, but elsewhere the flat landscape, the space and the mild summer climate make Estonia an easy destination for travel with children.
Travelling with a disability
Some of Estonia's older buildings are difficult for people with mobility problems to access, as entrances are often stepped and narrow, and altering these features is a costly undertaking. However, newer constructions and many public buildings are better designed, and the situation is constantly improving. Depending on your ability, and with some research and effort, a visit to this country is quite feasible.
Getting there
Arrivals Assistance with an aisle chair will be provided at Tallinn airport and there is a toilet for travellers with disabilities in the building. Arrivals by sea will find Tallinn port also fairly accessible, with lifts, sliding doors, disabled toilets and disabled parking.
Getting around
Although some railway stations have ramps and access, this is not a general rule. Trains do not have disabled toilets and some platforms are so low that wheelchair travellers will need to be lifted into the carriage. In Tallinn, several new buses, trams and trolley buses with low floors have recently been introduced, and their routes are marked in yellow on English-language timetables. The City Tour bus service also has accessible vehicles.
Health
Doctors will know about everyday illnesses, but, as with anywhere, you must understand and be able to explain your own particular medical requirements. If possible, take all necessary medication and equipment with you. It is advisable to pack this in your hand luggage during flights in case your main luggage is lost in transit.
Insurance
Specialised travel insurance can be purchased in the UK from Age Concern, who have no upper age limit, and Free Spirit, who cater for people with pre-existing medical conditions. Most insurance companies will insure travellers who have a disability, but it is essential that they are made aware of your disability.
Security
The usual security precautions apply, but it is also worthwhile remembering that, if you have mobility problems, you may be more vulnerable than others.