The source of the Buna River is near the town of Blagaj less than a half an hour away from Mostar. This natural and cultural oasis definitely should not be missed – human remains have been found in Blagaj that date back 12,000 years, and the caves above the Buna Springs have long protected human settlements.
What to see and do in Blagaj
Fortress of Herceg Stjepan
Atop the high cliffs is this fortress who ruled Hum (present-day Herzegovina) in the Middle Ages. This fort was originally an Illyrian tribe settlement that was later reinforced by the Roman invaders, further fortified by the ruling Bosnian state and significantly expanded with the arrival of the Turks. The fort is accessible by a winding trail that takes 45–60 minutes to walk from the centre of town.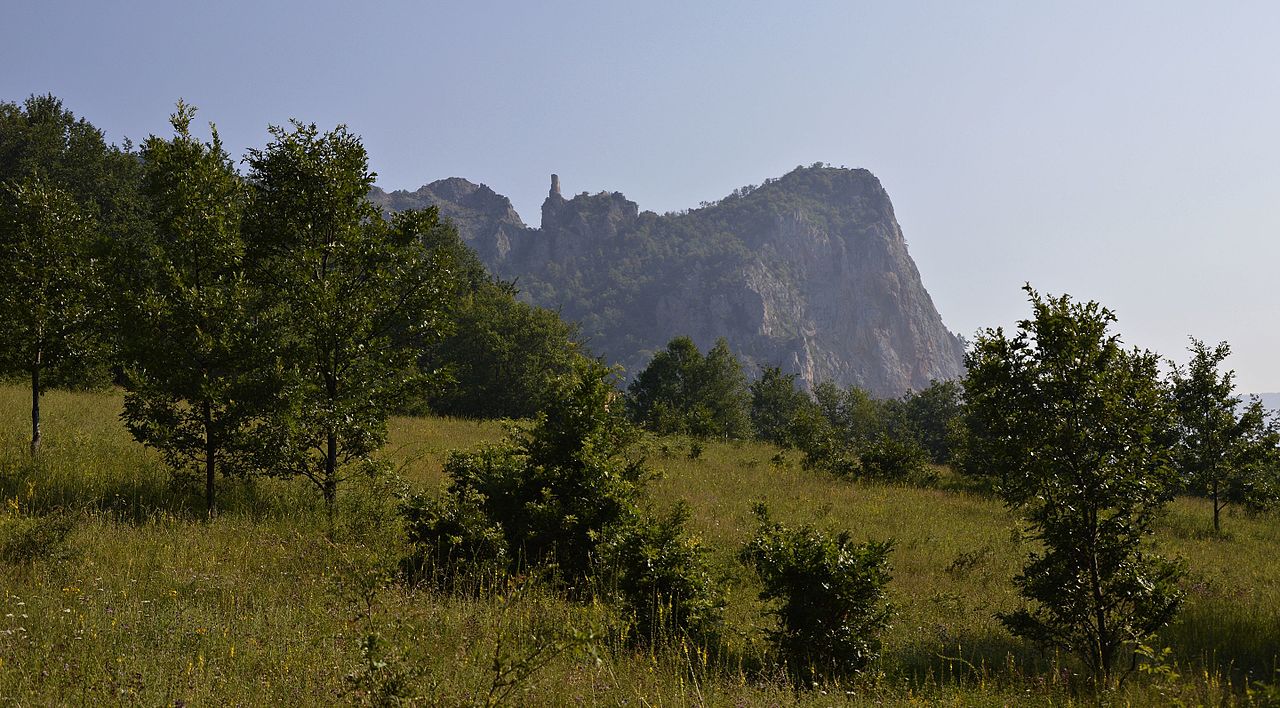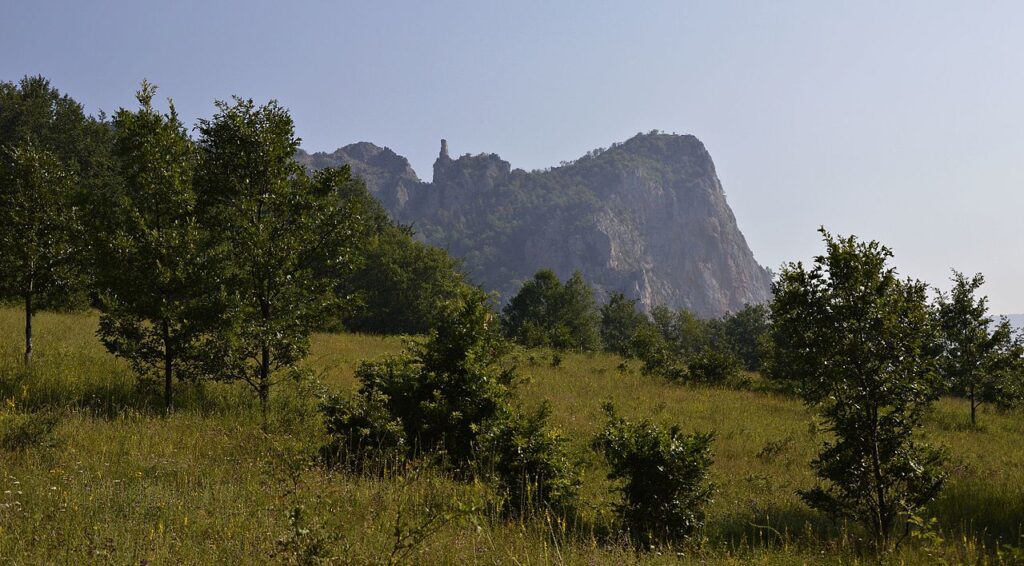 There is also a well-maintained road that you can drive up and park for free closer to the fort, and from there it is about a 15-minute, relatively easy climb. It has not been properly conserved but many of its high walls are intact and it is a fascinating place for its view of the Neretva Valley, and is an ideal picnic spot. A new walking path has recently been created.
Tekija
Back in the town is one of the most mystical destinations in all of BiH. When the Ottomans arrived, the sultan immediately ordered a dervish tekija (house/monastery) to be built at the source of the River Buna; as one of the largest water sources in Europe it boasts an average flow of 40,000 litres per minute – larger than the source of the Danube River. This tekija was built in the 1500s for the dervish cults at the base of a 200m cliff wall. It now serves food, cold drinks, and Turkish tea and coffee in a beautiful garden overlooking the Buna source.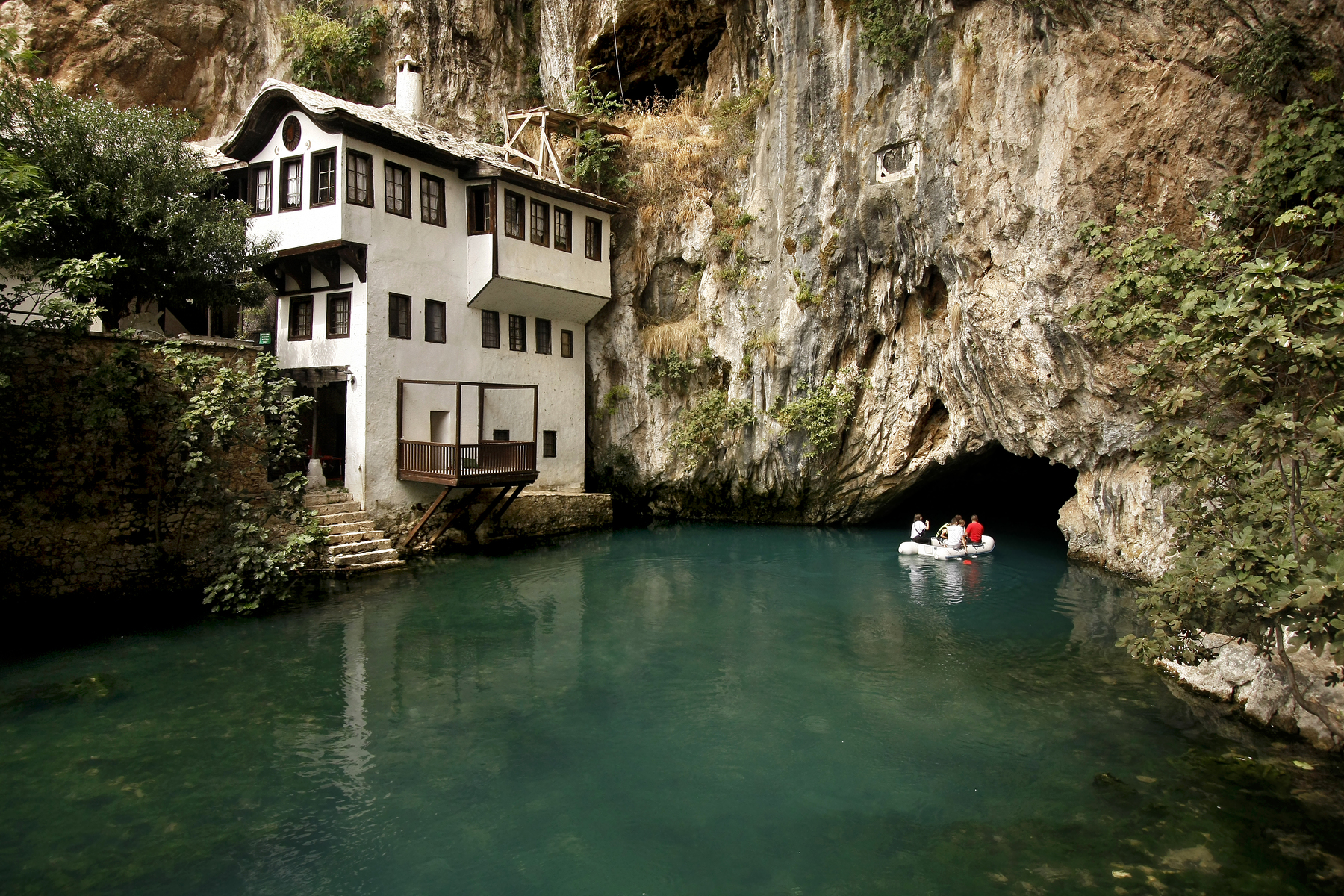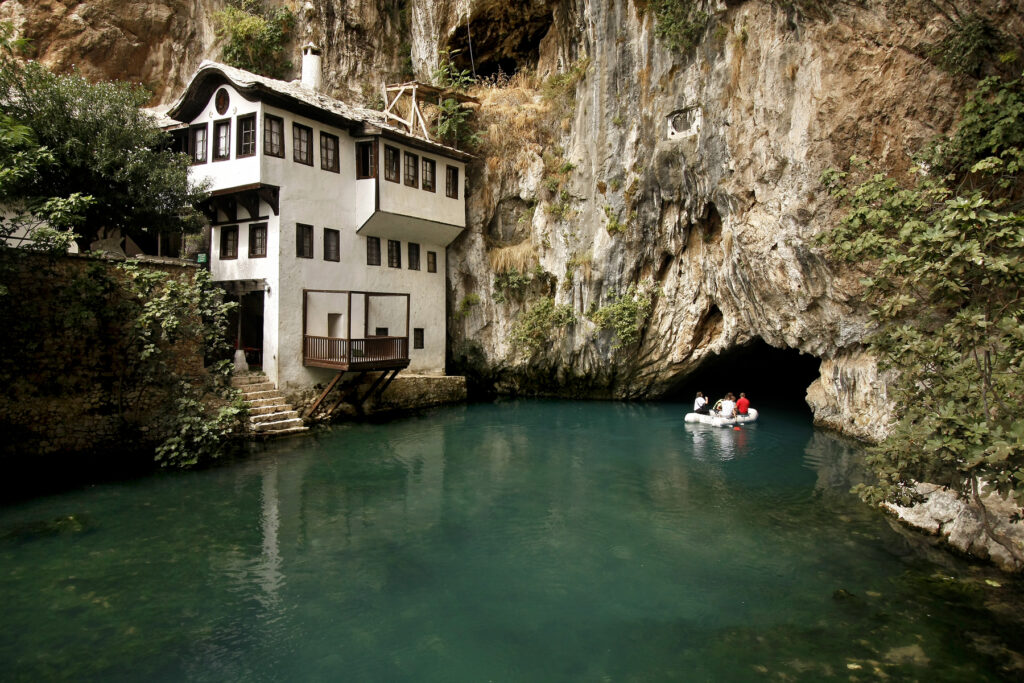 To get there, drive through Blagaj to the large car park – parking costs 2–4KM depending on the time of year and can get quite crowded in the summer. Follow the other visitors down the hill, past the wooden stalls selling interesting handmade souvenirs and Islamic music. In about 500m, the tekija will appear in front of you. Buses will also drop you off near the car park.
The tour of the tekija is self-guided and is most interesting for its woodwork and well-preserved old-style sitting and prayer rooms. The tekija has become a very popular tourist destination with busloads of travellers from Turkey arriving regularly, and its original peaceful and laid-back ambience is best experienced off-season. There is also a small trail across the wooden footbridge that leads almost directly to the cave where the Buna exits and which is a great place to capture the whole tekija house for a photograph. You can sometimes find small canoes floating around that will take visitors into the cave for a quick ride for 3KM.
Eko centar Blagaj
In an attempt to reintroduce the griffon vulture, which disappeared from the limestone cliffs that dominate southern Blagaj, the youth NGO Novi Val (New Wave) took it upon themselves to seek help and try to bring back this large, gracious and intimidating bird. Since then, they have implemented several other important projects related to the development of ecotourism and protection of the environment including bird monitoring, livestock development in Velež mountain and protection of the Blagaj donkey and Tornjack sheepdog, which they keep on the premises.
The eco centre features a bar for refreshments, the possibility for lunch in nature and some hiking routes. Camping and use of a climbing wall nearby are also possible but do contact the centre in advance.
Getting to Blagaj
To get to Blagaj, take Bus 10 from Mostar's eastern station at 06.35, 07.45, 10.00, 11.00, noon, 13.45, 15.00, 18.40, 20.15 or 22.00 Monday to Friday; 08.00, 10.30, noon, 17.00, 19.00, 22.00 Saturday and 06.30, 10.30, noon, 15.30, 19.30, 22.00 Sunday and holidays.
From Blagaj to Mostar, Bus 10 departs at 07.10, 08.15, 11.30, 13.00, 15.30 or 19.05 Monday to Friday; 06.15, 08.30, 11.00, 12.30, 17.30 or 19.30 Saturdays and 07.00, 11.00, 12.30, 16.00 and 20.00 Sundays and holidays.