Marvel at the stunning Guggenheim Museum, then hit the Plaza Nueva for a compact bar crawl.
The undisputed urban giant in the Basque territories, Bilbao is a smart, innovative, lively city, which has emerged from a difficult past with a strong identity.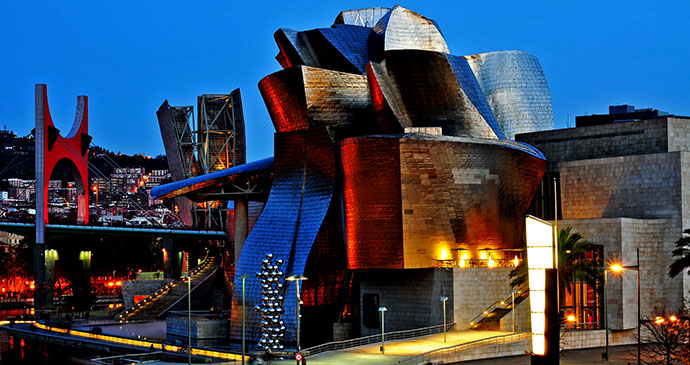 The inhabitants have a reputation in the rest of the Basque Country for being proud, maybe a bit too proud, but they can laugh at themselves as well. And they have plenty to be proud of. By night, it's a city full of life, but it's not in a hurry to wake up, especially on Sunday mornings – a great time for a stroll if you're hankering after some tranquillity.
There's something hugely masculine about Bilbao, but ignoring the city simply because it lacks the obviously seductive qualities of San Sebastián would be a massive mistake; this giant is a solid testament to urban reinvention. Some places look better from a distance than at close quarters, but Bilbao is not one of them; once you are in the heart of the city, pleasant surprises await.