January
Jazz a la Calle, Mercedes
Mercedes, the capital of the Soriano department, hosts one of Uruguay's best jazz festivals, Jazz a la Calle, in the second week of January, with free gigs on street corners and in the historic area known as Manzana Veinte (Block Twenty).
February
Carnaval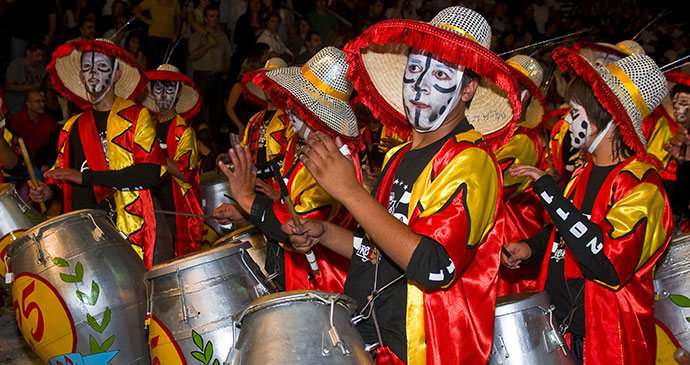 Candombé drummers performing as part of the carnival season © Kobby Daggan, Shutterstock
Uruguay takes great pride in having the longest carnival season of any country, over 80 days long, although it has to be said that between the opening and closing parades the activities are largely confined to various open-air theatres and stages across Montevideo.
March
Fiesta de la Patria Gaucha, Tacuarembó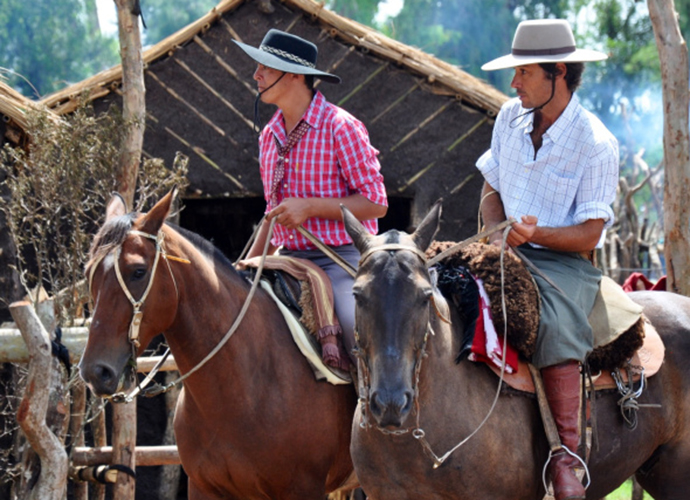 The Fiesta de la Patria Gaucha is one of the biggest festivals of its kind © Julia Hammond
The Fiesta de la Patria Gaucha (Festival of the Gaucho Country), held at the Laguna de las Lavanderas in the first or second week of March, is one of the biggest of its kind in South America, with thousands of country folk coming from far and wide (including Brazil and Argentina), all in gaucho garb and many with their horses. There are parades, riding competitions, lasso, boladera and other contests, and huge parrillas producing a steady supply of grilled meats. In the evenings there's music and dancing, and traditional gaucho poetry recitals.
April
Semana Criolla, Montevideo
Semana Criolla (Countryside Week) is hosted by the Sociedad Rural in the Parque del Prado in Montevideo. There are rodeos and asados, arts and crafts for sale and live music, and hordes of people, more from the countryside than the city, with special trains and buses coming in from all around. There's also a rodeo in Parque Roosevelt the same week, but the Rural show in the Prado is the main event, with quite staggering levels of horsemanship on display.
August
La Noche de la Nostalgia
Since the 1970s the evening of 24 August has become known as La Noche de la Nostalgia (Nostalgia Night), when oldie records are played on the radio and in restaurants and bars, and people hold parties to dance to them regardless of age or usual tastes – it's remarkably popular.
Independence Day
Independence Day marks independence from Brazil in 1825 and falls ib on 25 August. Resorts such as Punta del Este are pretty lively for the weekend nearest to the day.
September
Agricultural shows
Taking place across the country, these can be quite fun, with people strutting around in gaucho costume, horseriding events, food, drink and music and fairground action.
October
Día de la Raza
The Día de la Raza (known as Columbus Day in North America), on 12 October, celebrates (somewhat controversially) the union of the Spanish colonisers with the indigenous population, and the continuing links between Spain and Latin America.
Día del Patrimonio, Montevideo
Held annually over a weekend in October, Día del Patrimonio (Heritage Day) is a fantastic time to be in Montevideo, as most of the historically or architecturally significant buildings in the city – including museums, schools, government buildings, churches and even private homes – are opened for the public to peruse.
November
Los Años Dorados, Tacuarembó department
Held on the last weekend of November, the Los Años Dorados (Golden Years) festival sees groups of pensioners from all over Uruguay put on shows, whist drives (truco) and other entertainments.
December
Noche de las Luces, Montevideo
The Noche de las Luces (Night of Lights) is a massive firework display over the Pocitos rambla at 22.00 on the second Saturday of December (as a rule), preceded by a Disneyfied parade of Santa, the Three Kings and other figures. All traffic is halted from late afternoon and most of the 600,000 or so spectators walk in along the rambla.
New Year's Eve
New Year's Eve is time for partying, with large amounts of fizzy cider and medio y medio ('half & half' – mixed dry white wine and sparkling wine) sprayed around at places like Montevideo's Mercado del Puerto. Fireworks are sold on the street, and let off at midnight; in addition water (to cool people down) and torn-up old calendars may be thrown from upper windows on New Year's Eve.