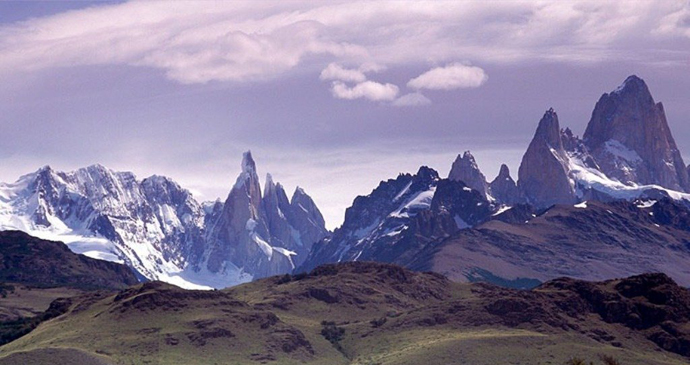 In Los Glaciares National Park's northern sector, Mount FitzRoy challenges mountain climbers from around the world to reach its 3,375m summit – visitors planning to attempt a climb should ensure they are well prepared © Annalisa Parisi, Wikipedia
Health
With Dr Felicity Nicholson
Argentina has modern medical facilities and excellent doctors. No vaccinations are legally required, but make sure you're up to date with your diphtheria and tetanus injections. Hepatitis A vaccine (e.g. Havrix Monodose, Avaxim) and typhoid vaccine may be recommended for some visits, especially if visiting poorer areas or for long stays, Polio has now been eradicated in Argentina, however in the UK polio is given together with tetanus and diphtheria as the all in one Revaxis.
There is no requirement to have a yellow fever certificate when entering the country whether from a yellow fever endemic country or not. However as yellow fever has returned to the north of the country and also exists around the Iguazú Falls this may be recommended for health reasons. Not everyone can have yellow fever vaccine as it is a live vaccine. Seek advice from your GP or a specialist travel clinic. Vaccinations for rabies are ideally advised for everyone, but are especially important for travellers visiting more remote areas, especially if you are more than 24 hours from medical help and definitely if you will be working with animals.
Travel clinics and health information
A full list of current travel clinic websites worldwide is available on www.istm.org. For other journey preparation information, consult www.travelhealthpro.org.uk (UK) or http://wwwnc.cdc.gov/travel/ (US). Information about various medications may be found on www.netdoctor.co.uk/travel. All advice found online should be used in conjunction with expert advice received prior to or during travel.
Safety
Theft
There is little casual crime in Argentina, but you should take sensible precautions, especially in cities. Avoid looking like a wealthy tourist. If you can avoid bringing any jewellery or similar valuables you can free your mind of the worry of losing it; otherwise, keep it to a minimum and wear it with discretion. If you carry a bag in addition to your pack, don't put it down and do not keep valuables in it: not only can it be snatched, but it can also be picked, slit or slashed open. The same applies to hip pouches, belt bags and the like. Items dangling on a cord such as compact cameras can be easily snipped and stolen. Having spoken to tourists who visited Argentina some 20 years ago, it is apparent that crime and tourist safety were far more of a problem then.
Larger cities are much more cosmopolitan today, with standards of conduct similar to any other major centre in North America or Europe – there is always a chance of being pickpocketed or basically 'ripped off' in Buenos Aires as in New York, and by the same token, there is every likelihood that you will encounter no problems whatsoever and be treated with fairness and courtesy. In smaller towns where there is considerable poverty, a tourist who flaunts valuables may become a target of theft but usually the local people would rather share their meal with you than rob you of your funds to buy your own.
Simply use common sense; don't be a complete idealist and leave your personal belongings lying about, but do not ruin your trip by being paranoid about security either.
A fellow traveller missed his bus while at a coffee stop and had his baggage arrive at his destination several hours before him; he caught a later bus and arrived in a very poor town where many people had no shoes and found his conspicuously North American backpack sitting unattended in the bus station under no apparent threat of pilfering. In summary, simply use common sense; don't be a complete idealist and leave your personal belongings lying about, but do not ruin your trip by being paranoid about security either.
It would be wise to make a photocopy of your passport and other important documents, such as insurance forms, air tickets, travellers' cheques, etc, to carry and store separately from the originals. Keep the numbers of your travellers' cheques, passport, credit cards and air tickets separate from other valuables (with the emergency telephone numbers for lost credit cards), so that if they are lost you can replace them more easily. In addition, send this list as an email to yourself, taking care to use some sort of code. You could also choose to leave photocopies of important documents such as your plane ticket and passport at home with a friend or family member.
To carry reserve cash and travellers' cheques (as well as passport and air tickets), discreet money belts, neck pouches or secret inside pockets are smart. If your passport is too bulky to carry comfortably and safely, keep handy some other form of identification, such as a driving licence, or photocopies of the key pages of your passport. Divide your money and travellers' cheques between at least two different places, in your baggage and on your body, and keep your everyday cash separate from your concealed stash.
When visiting places where you don't have any accommodation, you will want to find a safe place to leave unwanted baggage. If you are leaving a hotel, they will most likely store it for you free of charge or for a minimal fee until later in the day, or even overnight if you are going on an excursion. Hostels are especially helpful in this way. Therefore, be sure you can lock your bags and make sure that the storage facility is also locked. If it is not locked storage or if other people have unsupervised access, you might also consider having the means to lock your bag to an immoveable object (a bike lock would work).
Women travellers
Argentina is a safe country to travel in for women and it is tolerant of homosexuality. Use common sense and do not take risks that you wouldn't take at home or in any city environment: don't walk alone in shady, unlit, deserted streets; be aware of which areas have higher crime rates; don't accept car lifts or social invitations from strangers; be aware of your body language, etc. This said, don't be paranoid either. Argentine men are very forward and gregarious. Beautiful women are appreciated and will receive whistles, catcalls and comments; these are generally tasteful though not always.
A woman can respond to polite attention with a smile but is best to ignore the rude and avoid further interaction. Both male and female homosexuality is not only tolerated but, in cities such as Buenos Aires, openly expressed. Gay pride is celebrated and there are ever-increasing numbers of gay-friendly bars and dance clubs, including milongas (tango clubs). Rural areas of Argentina, however, are more staunchly Catholic and conservative; sexuality (of all kinds) is a subject that is viewed and expressed with discretion, and overtly sexual behaviour and dress is offensive.
(Photo: Use common sense when travelling through Argentina but don't be paranoid or you might miss the opportunity for authentic cultural experiences, such as a spontaneous tango in Caminito © Michael Clarke, Wikipedia)
Gay travellers
Argentina is as gay-friendly as Western Europe, arguably more so. In July 2010, it granted same-sex marriages the same legal rights, responsibilities and protections as those of heterosexual married couples. Gay couples and singles will encounter few problems while travelling, most likely none at all. The traditions of machismo may be alive and well, but in a country of passion, art, sultry dance, and male kissing as a matter of course, gay visitors fit in perfectly OK.
With its vibrant and open-minded nightlife scene (including same-sex tango venues), and massive annual Gay Pride, Buenos Aires is effectively the pink capital of South America. Themes of gender identity and sexuality are something of a trendy topic at the moment in the city's 200 theatres. Gay single visitors certainly do not have to feel lonely, though the same precautions on casual pickups apply as anywhere else. Finding good accommodation that welcomes same-sex couples is not a challenge; indeed, the concept of the gay couple running an immaculate boutique hotel or bed and breakfast is something of a Buenos Aires archetype.
Outside Buenos Aires things are lower-key. As with most countries, rural areas can be more conservative, though hostility is rare. The wine region of Mendoza is probably the most popular destination with gay travellers outside the capital. Not only does it enjoy gay-friendly bars, restaurants, saunas and shows, it even features a Gay Vendimia Festival as part of the annual wine celebrations every February/March – complete with the crowning of a (drag) Wine Queen. Other large and cosmopolitan towns, such as Córdoba and Mar Del Plata, have smaller but welcoming gay scenes; check the local listings magazines for the latest trendy venues. Several travel agencies specialise in gay-friendly trips to the country. Patagonia, while not specifically marketed as such, is a destination much enjoyed by gay travellers.
Travelling with a disability
Although disabled travellers are not yet able to tango with ease from Tierra del Fuego to Iguazú, Argentina can boast a developing accessible-tourism industry. There has been disabled rights legislation here since 1982, and in 2002 the first acts were passed to make tourist facilities accessible by law. This certainly doesn't mean that every hotel has rooms with roll-in showers, but main tourist centres and public buildings often have access by means of ramps or lifts. This is a sure sign that travel for all is becoming a priority.