Take time to look beneath the surface in Sussex and you'll find layers of difference, and it's those qualities that make it infinitely rewarding to explore. I'm still finding new places within a few miles of my home in Lewes, having lived here for more than 20 years.
Sussex mingles the extremely familiar with the ridiculously unknown. There are scenes almost everyone recognises: the seafront at Brighton, Beachy Head and the Seven Sisters cliffs, Arundel Castle.
Then those undeniably Sussex-ish things that pop up all over the place: tile-hanging and weather-boarding, finger signposts in the middle of village greens, riverless valleys and chalky tracks in the South Downs, chunky-looking sheep, ploughed fields full of flints, crooked hawthorns bent by the wind.
On the map the coastal strip looks like one built-up conurbation, yet it's full of nuances and surprises: a strange assemblage of defunct naval craft making up houseboats at Shoreham, for instance, or some Indian-looking dwellings in the shadow of the astonishingly forward-looking 1930s De La Warr Pavilion at Bexhill. And those deep glens and sandstone cliffs east of Hastings, that look like a bit of transported Devon.
West and East Sussex are two very contrasting entities too: West is aristocratic – big estates like Petworth, Arundel and Goodwood. In the East, the High Weald is a very rare survival of a medieval landscape that in many respects has changed very little: a peasant economy and iron-producing area in times gone by.
Slow Travel Sussex pokes about the curios and doesn't visit everywhere. That wouldn't be possible or very useful. Instead I've made it an anthology of favourite places and experiences. That view through the oval cut-outs in the huge brick piers of the Ouse Valley Viaduct, for example.
Or the strange triple-towered ruin of Old Brambletye House, all by itself beside a muddy track, quite unannounced near Forest Row: I couldn't find it again without a map. Or the surreal wander through the immensely ancient yew forest of Kingley Vale where nothing else grows under the woodland canopy and you're transported into a world closer to Tolkien and Harry Potter than to the supposedly crowded Southeast.
Tim Locke, author of Slow Travel Sussex: the Bradt Guide
Bradt on Britain – our Slow Travel approach
Bradt's coverage of Britain's regions makes 'Slow Travel' its focus. To us, Slow Travel means ditching the tourist ticklists – deciding not to try to see 'too much' – and instead taking time to get properly under the skin of a special region. You don't have to travel at a snail's pace: you just have to allow yourself to savour the moment, appreciate the local differences that create a sense of place, and celebrate its food, people and traditions.
Related books
Related articles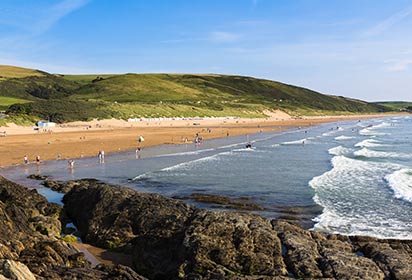 Whether you want to find the freshest fish, go rockpooling with the kids, or simply want to escape the crowds – we've picked some of our favourite beaches in England.