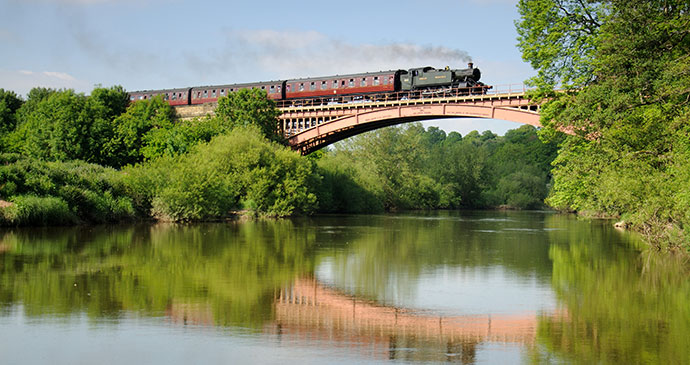 The Severn Valley Railway steam trains cut majestically through Shropshire's landscape © Lewis Maddox, Severn Valley Railway
The more closely you look, the more secrets southeast Shropshire yields. This is a perfect reason to slow down and be guided simply by your appetite for eating and daylight for walking.
Displayed in Bridgnorth's Northgate Museum is a 340-year-old faceless turret clock. In its glory days the clock sat high in a manor house called Larden Hall, now demolished, chiming out the hours for labourers in the fields. Well, perhaps not exact hours but as close to hours as its 17th-century foliot – an early kind of pendulum – could keep. I think it's only right to take inspiration from the turret clock's vague timekeeping while exploring this fascinating region.
We don't have the dreaming hills of the south to unite the scenery or even the flattish rurality of the north. Nor do we have the turbulent history and romance of Welsh borders; Shropshire's southeastern edges mingle with Staffordshire and Worcestershire, reaching into the Midlands' industrial past. What we do have are many individual treasures to discover, brought together before a backdrop of twisty lanes, sleepy villages, characterful pubs. There are the spectacular highs and Bassa Villa lows of Bridgnorth; quietly important Much Wenlock; the Severn Valley Railway heritage line and the site of the Royal Oak which sheltered the future King Charles II as he bolted from Cromwell's patrols. You'll find English country mansions and rolling landscapes at Dudmaston and Weston Park; an Elizabethan manor house living out its latest chapter at Upton Cressett. And all around are tangible echoes of British history: the age of steam, the English Civil War, the Norman Conquest.
Going beyond the more obvious attractions will lead you to a quiet church in Astley Abbotts, where an 18th-century funeral garland tells the tragic tale of a bride who never saw her wedding day. It may take you in the footsteps of Charles Dickens as he wrote The Old Curiosity Shop, to the churchyard in Tong where Victorian tourists reputedly wept over a fictitious grave. It could show you the old railway town of Shifnal, birthplace of a maid named Hannah Cullwick, whose adult life would play out as one of Shropshire's most intriguing love stories.
The more closely you look, the more secrets southeast Shropshire yields. This is a perfect reason to slow down and be guided simply by your appetite for eating and daylight for walking. Like the turret clock, a mere grasp of the hours is all the timekeeping you'll need …