Where to base yourself in Cambridgeshire
Cambridge
Cambridge is the obvious place to base yourself, especially if you'd like historical architecture, museums and eclectic places to eat on your doorstep. There's a huge choice of places to stay, from some of the county's finest hotels to simple rooms in the colleges of Cambridge University. Unknown to most, however, are the good value B&Bs, campsites and self-catering cottages on the city's rural fringe. Here, you can enjoy the best of both worlds – the tranquillity of village life with the culture of Cambridge within cycling distance.
Huntingdonshire
Do a quick online search and you'll find plenty of places to rest your head in St Neots, Huntingdon and St Ives but there are a few in these towns that truly marry with the Slow Travel philosophy. To take things more slowly, make your base in the surrounding villages and countryside instead. A B&B in Hemingford Grey would make an excellent option, as would the historic hotels in Buckden or the unique Warren Lodge in Kimbolton. If you're bringing a tent, the National Trust campsite at Houghton Mill stands head and shoulders above the rest.
The Upper Nene Valley and Great North Road
While Peterborough has the biggest concentration of accommodation options in this area, we wouldn't recommend the city as a good base for Slow travellers, especially when there are so many lovely options in the stone villages that pepper the Nene Valley. Options include riverside cottages, quirky cabins and grand coaching inns on the former Great North Road, all of which are well connected by cycle routes and the Nene Valley Railway.
Fenland and Great Fen
To make the most of the Fens, we recommend camping or glamping. That way, you can really soak up the huge horizons and fantastic fenland skies by watching the sunset sizzle in all its glory or staying up late to stargaze. There are several good campsites (my top recommendation being the Secret Garden Touring Park near Wisbech), while the options for Slow hotels and B&Bs are more limited.
Isle of Ely and Southern Fen Edge
The southern Fens have some of the county's most exciting and unusual accommodation. If you're looking for a Cambridgeshire town or city to base yourself in, Ely is the best option for Slow travellers. Full of culture, this tiny riverside city is home to the impressive Poets House hotel and has some characterful B&Bs. There are more good options in the fenland and fen-edge villages that surround Ely, from remote Stoker's Cottage to eco-glamping near Littleport, 'champing' in St Cyriac's church and wild camping at Wicken Fen.
The Southern Hills
For keen walkers, the rolling hills of southeast Cambridgeshire make a good base. Some of the best options are the tastefully furnished rooms at gastropubs in Woodditton, Bartlow and Balsham, many of which are dog friendly. Directly south of Cambridge, the villages of Duxford and Hinxton are best placed for the Imperial War Museum; for easy access to the National Trust estate of Wimpole Hall, the southwest villages of Melbourn, Bassingbourn and Bourn have several good options that include eco glamping, a luxurious treehouse and Sheene Mill hotel.
Accommodation in Cambridgeshire
Cambridgeshire has a full spectrum of accommodation options, from simple campsites and traditional B&Bs to trendy glamping options and a handful of luxury hotels. Below is a selection of those that stand out for their uniqueness, green credentials, great location or, in a few cases, convenience to local attractions.
Transport in Cambridgeshire
Public transport
As a Slow traveller, public transport should always trump driving. As well as cutting carbon, buses and trains allow you to gaze out of the window, soak up the scenery and mingle with the locals. A handy source for route planning is the Cambridgeshire and Peterborough Transport Authority, which has a 'journey planner' tool for bus and rail travel.
Walking and cycling
It goes without saying that travelling under your own steam is the best way for Slow travellers to get about. As one of the flattest counties in England, you'll have few hills to contend with, and those that exist give fantastic, far-reaching views. For extended journeys on foot, you could explore one of the many long-distance walking routes that trail through Cambridgeshire, like the riverside Ouse Valley Way, Nene Way or Fen Rivers Way.
Other long-distance routes that pass through the county include the Hereward Way, Three Shires Way and Icknield Way Trail, all of which are waymarked along their routes and highlighted on OS Explorer maps with a diamond symbol. More localised long-distance routes that stick within the Cambridgeshire borders include the 46-mile Pathfinder Long Distance Walk, and the 25-mile Fleam Dyke and Roman Road Walk.
For cyclists, there are several fantastic routes on the Sustrans National Cycle Network (NCN) as well as many lesser-known tracks around Cambridgeshire's country lanes and wildlife reserves. Cycle-hire centres do exist in the country, although be aware that these are sparse in some areas, except in Cambridge itself (the UK's unofficial 'cycling capital'), where you can't move for bike-hire and repair shops.
Boat
Having been shaped by water more than most counties, Cambridgeshire lends itself perfectly to boat travel and, if you're feeling ambitious, you could plan a multi-day adventure along its network of waterways. The rivers Great Ouse, Cam and Nene are all navigable, as are several of their tributaries, the manmade New Bedford River and Old Bedford River, and some sections of the canal-like lodes in southeast Cambridgeshire.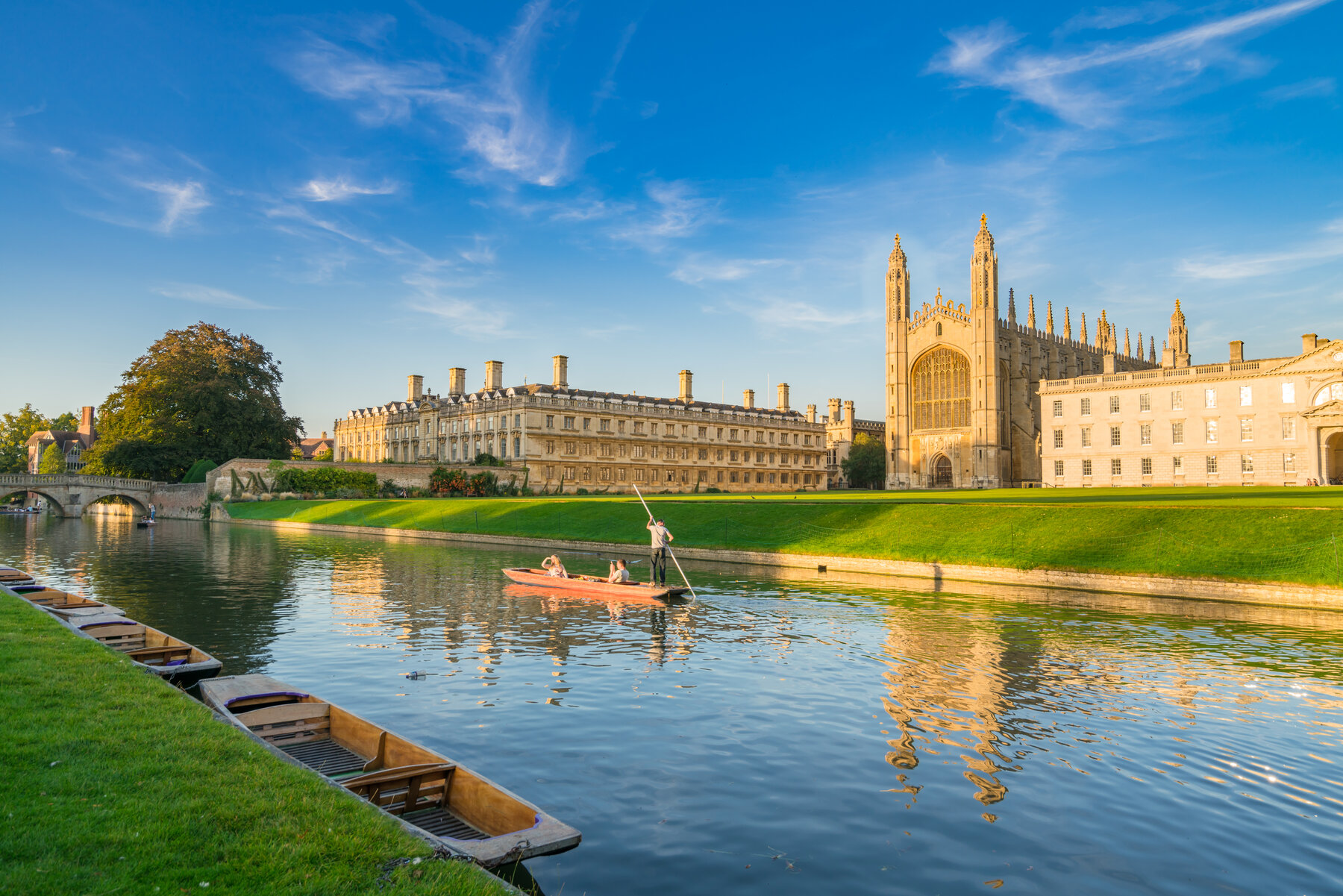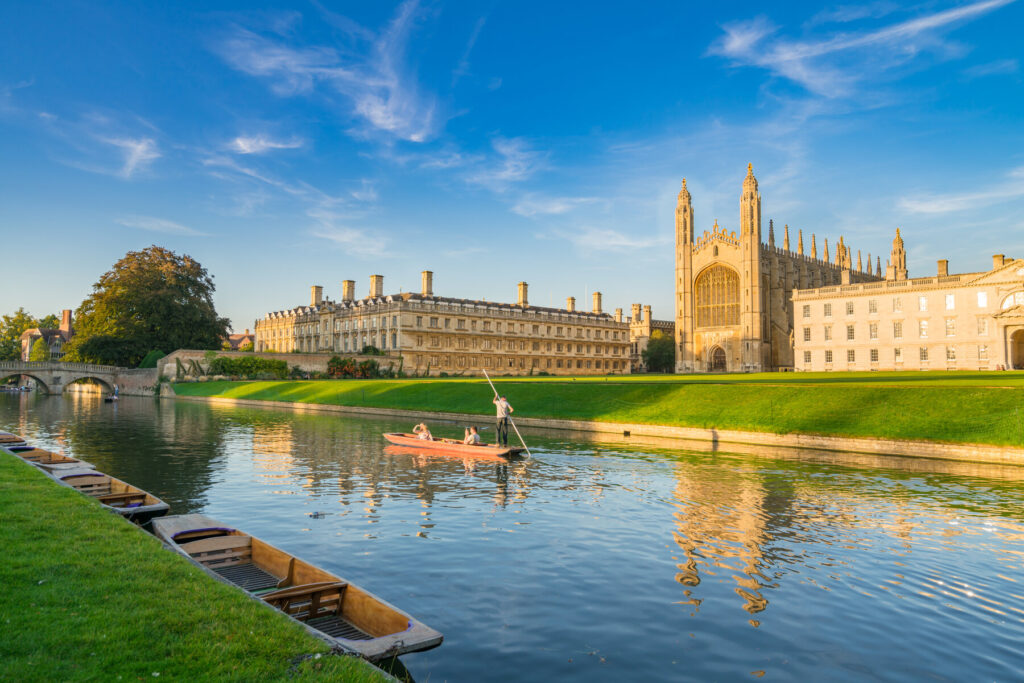 It is a good idea to do some research on boat hire, visitor moorings and marinas if planning a big trip – any boat-hire centre will be able to provide this for you. For shorter trips, you can hire boats by the hour, join guided river trips or explore by punt, canoe or paddleboard. Just remember, if launching your own vessel you'll need to get it licensed with the Canal & River Trust – the Cambridgeshire river authorities are notoriously vigilant.