Health
With Dr Felicity Nicholson
Thanks to the climate (although extreme) and its small population, Mongolia is a reasonably healthy place to travel. Some of the most likely hazards in Mongolia are from severe heat or cold. There are several immediate things to watch out for, such as sore throats from the dry atmosphere – bring plenty of throat lozenges – and the possibility of stomach upsets due to a change of diet. One of the best tips is to keep your fingernails very short and wash your hands more often than usual. Countryside cooking in Mongolia usually involves boiling or steaming. Vegetables and fruit are plentiful in the capital but not in the countryside, so you may need to travel with additional fibre in a pill form. Remember to drink plenty of water.
No vaccinations are compulsory for Mongolia but the following are the minimal recommendations – hepatitis A, typhoid, tetanus, diphtheria and polio. Other vaccinations to consider are hepatitis B, rabies and, for those who are travelling and camping in the northern provinces and coming in contact with ticks via animals, tick-borne encephalitis. Vaccinations for rabies are ideally advised for all travellers as there is unlikely to be all the treatment needed to prevent rabies in Mongolia, if the pre-exposure vaccines have not been taken. For those travelling in the spring and summer months who want to do forest walking then be aware of tick-borne encephalitis. There is a tick-borne encephalitis vaccine available for those aged one and above, which comprises a minimum of two doses given at least two weeks apart.
It is wise to go to your doctor or a travel clinic about eight weeks before departure to arrange your immunisations.
Travel clinics and health information
A full list of current travel clinic websites worldwide is available on www.istm.org. For other journey preparation information, consult www.travelhealthpro.org.uk (UK) or http://wwwnc.cdc.gov/travel/ (US). Information about various medications may be found on www.netdoctor.co.uk/travel. All advice found online should be used in conjunction with expert advice received prior to or during travel.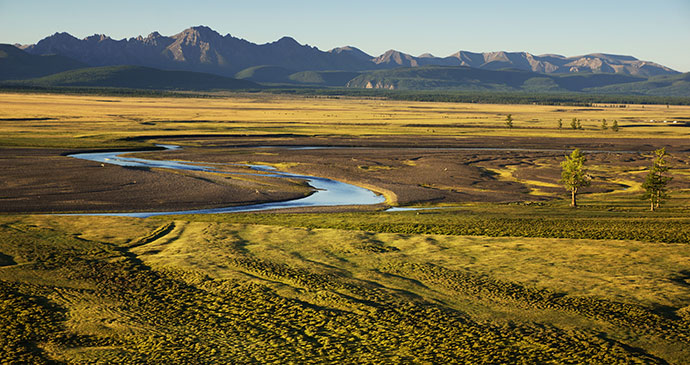 Mongolia's extreme climate is most likely to cause any health issues, so make sure you're prepared for the severe heat or cold; pictured: Darkhad Basin © Maxim Petrichuk, Shutterstock
Safety
If a foreign visitor is arrested and taken to a police station, the visitor is entitled to make a telephone call. The police must contact the visitor's representative embassy within 24 hours of the arrest. To make life easier if you lose your passport, take extra passport-size photographs with you and a photocopy of the main pages of your passport, and a separate record of all details. An emergency one-way document can be issued by your embassy should there be insufficient time to replace a passport. Report the loss immediately to the local police. Report theft to the Ulaanbaatar Robbery Unit (tel: 11 318783) or Tourist information (tel: 70 101011).
If you lose your cash or credit cards, Western Union (Ulaanbaatar office; tel: 11 450444) is a quick and efficient way to have cash sent from home. Inform your bank immediately of lost cards (keep a record of details) and please don't forget that mobile phones are as important to report stolen as soon as possible – especially if you are under contract to a provider (keep a separate record of emergency numbers). For medical emergencies, give the hospital photocopies of all documentation but not the originals of your passport and other travel documents. If possible, take away any notes or X-rays when you are discharged. Keep all receipts. Also, as general travelling rule: don't bring valuables and keep jewellery to a minimum.
Women travellers
Many women travellers have survived alone in Mongolia without too many problems – they tell the usual funny stories about being chased around a ger by a friendly drunk. However, on a more cautionary note, women should be aware of heavy drinking and associated behaviour problems in Mongolia, as elsewhere. There is little to no danger from a cultural and social point of view. Use common sense, and when hitchhiking do not accept a lift if the driver's breath reeks of alcohol. Sometimes in isolated situations you have little choice but to accept the first lift that comes along – that being the case, the consoling thought is that there is very little to hit in the wide expanse of the Mongolian steppe except, in order of seriousness, a large boulder, a deep rut or a dried-up riverbed!