Health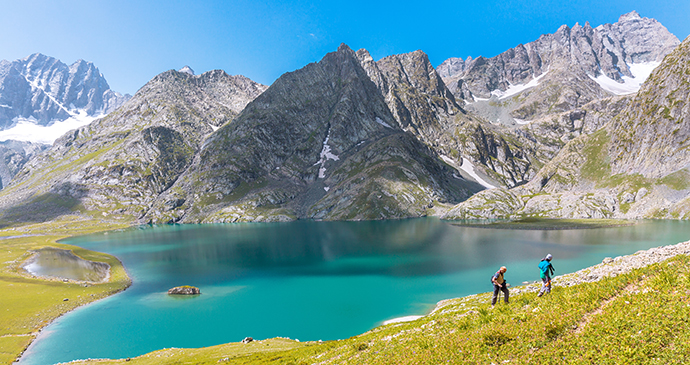 Many of J&K's mountains offer superb opportunities for hiking, but make sure you're prepared for the altitude © Vivek BR, Shutterstock
With Dr Felicity Nicholson
Comprehensive travel insurance should be the first thing on your shopping list when you contemplate visiting Kashmir. Choose a policy that includes medical evacuation (MedEvac) and make sure that you explicitly state your destination when getting quotes: many policies will not cover you for travel to places about which the FCO advises against all, or all but essential, travel. Even if the insurance policy covers India in general, it may not include all of J&K.
Diarrhoeal diseases and other gastrointestinal infections are incredibly common in all parts of the Indian subcontinent. Travellers' diarrhoea and more serious conditions such as typhoid (of which there are not infrequent outbreaks in J&K) come from getting bacteria in your mouth. To minimise the risk, you should ensure that you observe good hygiene practices, such as regular hand washing, using bottled water (including for cleaning teeth), and avoiding foods of doubtful provenance.
All parts of J&K, including mountainous areas such as Ladakh, can become exceptionally hot in summer: temperatures well above 40°C are not unknown. Sunstroke and dehydration are serious risks. Wearing a hat, long loose sleeves and sunscreen helps to avoid sunburn. Prolonged unprotected exposure can result in heatstroke, which is potentially fatal. Try to stay out of the sun between noon and 15.00 when the rays are at their strongest. In the heat you sweat more, so dehydration is likely.
Acute mountain sickness (AMS or altitude sickness) can occur at any altitude above 3,000m, so visitors to almost any part of Ladakh and Zanskar, as well as the higher peaks in Kashmir, are at risk. Symptoms include headache, nausea and confusion and can herald the onset of high-altitude cerebral edema (HACE) and high-altitude pulmonary edema (HAPE), both of which can result in death. Further information on AMS is available from the Academic Unit of Respiratory Medicine, the British Mountaineering Council and Medex.
Travel clinics and health information
A full list of current travel clinic websites worldwide is available on www.istm.org. For other journey preparation information, consult www.travelhealthpro.org.uk (UK) or http://wwwnc.cdc.gov/travel/ (US). Information about various medications may be found on www.netdoctor.co.uk/travel. All advice found online should be used in conjunction with expert advice received prior to or during travel.
Safety
Ladakh, Zanskar and Jammu city are all safe areas in which to travel (altitude issues aside), but Kashmir and the rest of Jammu can be a different matter. The security situation in this part of India is fluid, and it is particularly important to check the situation before venturing to Srinagar. Due to a recent upsurge in violence at the time of the guide going to print, most Western governments were advising against all but essential travel to Srinagar, Gulmarg and other areas within the Kashmir Valley. Ignoring this advice could make your travel insurance invalid. Note, too, that some Western governments were also warning about travelling to areas outside the city in Jammu.
When violence does occur in the state it is not targeted at foreign tourists, though two British nationals were killed during a grenade attack on a minibus in Bijbehara, a village in Anantnag district, in July 2012. The three greatest threats to the safety of tourists in J&K are natural disasters, being caught up in local protests and road accidents.
Women travellers
Women usually travel in India trouble-free: people are typically conservative but are used to seeing both local and foreign women travelling independently, working in all occupations and taking prominent roles in both politics and the media. It is often possible for females to get a seat in women-only compartments on trains, join women-only queues and, where the latter are not available, queue-jump straight to the front to avoid waiting among unfamiliar men.
Privately, however, attitudes towards women are more old-fashioned: many families expect their daughters-in-law to give up working after marriage and to look after elderly relatives. Dowry payments are still often required when a girl gets married, despite the practice being illegal, and violence against women, particularly in the home, is high. Friendships between men and women are not encouraged and thanks to years of damaging stereotypes in the Indian media, foreign women who are open and friendly towards Indian men, even in a solely platonic way, are seen to be 'easy'.
Some foreign women do report verbal and occasionally physical harassment, particularly when wearing clothing that shows their shoulders or legs, or when visiting bars and clubs. This kind of abuse is more common in larger cities such as Delhi.
In recent years there have been a number of more high-profile attacks on women in India, including serious sexual attacks on tourists. If you are attacked, the police number to call is 100 (112 from mobile phones). You should also contact your embassy for consular assistance and support.
Gay travellers
India decriminalised homosexuality in 2009 and Delhi's first Pride Parade (now an annual event) took place the same year. However, in December 2013 the Supreme Court overturned the legislation, re-criminalising gay sex, leading to protests around the world and a backlash in the Indian media. After five years of debate and legal challenges, in September 2018 the country's Supreme Court unanimously ruled to decriminalise homosexuality.
There is a burgeoning gay scene in many of India's larger cities (Mumbai is the undisputed gay capital) and there are now a number of LGBT travel agents in India that are part of the International Gay & Lesbian Travel Association. That said, regardless of the law, most of India's LGBT community continue to keep their sexuality very private. Most people remain deeply conservative on the issue and coming out is generally considered to bring shame on a family. While two men holding hands or sharing a room will not raise eyebrows, open displays of affection most certainly will. Verbal harassment is common (though more likely to be suffered by locals) and police harassment is also a possibility. Kashmir in particular is more intolerant of LGBTQ+ travellers than many other parts of J&K and the rest of India in general.
Travelling with a disability
While it is possible to travel in India if you are disabled, it certainly isn't easy. Poor infrastructure and health-care facilities pose difficulties for all visitors, and the challenges are undoubtedly magnified if you have a physical disability. Hotels, tourist sites and public places are rarely wheelchair accessible and little if any assistance is provided for those with hearing or sight problems. There is widespread discrimination against the disabled, with many people believing that a disability is the result of wrongdoing in a previous life. India has no welfare support for those with disabilities and consequently many disabled people resort to begging on the streets.
If you do travel to Kashmir, you will need to plan ahead and make sure all transport and accommodation providers are briefed about your needs well in advance. Airlines and upper-end hotels are generally helpful provided you give them time to prepare and are explicit about what you need. For tips about travelling with a wheelchair, and for details of wheelchair-accessible hotels, contact Accessible Journeys. The UK's gov.uk website also provides general advice and practical information for travellers with disabilities preparing for overseas travel.
Travelling with children
With thanks to Hilary Stock
Because of the dangers of altitude mountain sickness (AMS), this destination is not recommended for babies or children too young to communicate symptoms (really anyone under the age of about nine or ten). For older children and teenagers, it is a dream destination.
There are abundant homestays, allowing families to gain unprecedented access to the local culture. Accommodation is cheap, the food is child-friendly and activities abound: cycling, river rafting, camping, trekking, sightseeing, shopping in markets.
There has been little research into the effects on children of the popular drug Diamox, which counters the effects of AMS. Better to do a gradual, drug-free ascent if possible, or if you fly in, be sure to block off at least three days on arrival to do nothing but acclimatise.
Teenagers are said to suffer more from AMS than younger children or adults. Try to be clear of any international jet lag before travelling to the region as it can muddle symptoms. AMS can sound frightening and should be taken seriously, but it's the only health hurdle you have to deal with in order to access one of the most beautiful and welcoming areas in the world. (And some children don't suffer at all.)
High-altitude desert in summertime is a good climate for travelling with children as long as you're equipped properly. Travel light and efficiently, but be warned: appropriate clothing might not be a teenager's idea of fashion. The sun is extreme, so pack good sunglasses and wide-brimmed hats, and the very highest factor suncreams and lipsalve. Take any children's medicines with you. Dehydration is a challenge. Children are particularly vulnerable and need to be reminded constantly to drink water.