With Dr Felicity Nicholson
Health
A full list of current travel clinic websites worldwide is available on istm.org. For other journey preparation information, consult travelhealthpro.org.uk (UK) or wwwnc.cdc.gov/travel/ (US). Information about various medications may be found on netdoctor.co.uk/travel. All advice found online should be used in conjunction with expert advice received prior to or during travel.
Tropical diseases
Malaria
This is a serious and potentially fatal disease transmitted by mosquitoes, for which there is no vaccine. There are hugely differing estimates of the prevalence of malaria in Borneo, ranging from 'successfully eliminated' to 'widespread'. Most sources agree that the risk is greater in more remote areas and fairly low in urban and coastal regions. Current recommendations for prophylaxis are Malarone, doxycycline or Lariam for those travelling to rural areas of Borneo; unless none of these tablets are suitable for you, then you would be advised to take them.
Seek medical advice as to which is the most appropriate for you and follow the regime recommended carefully. That said, no malaria tablets are 100% effective and so you should always take precautions against mosquito bites. This includes wearing trousers and long-sleeved shirts particularly between dusk and dawn. Apply insect repellents containing around 50–55% DEET to exposed skin at the recommended intervals, and when necessary sleep under a permethrin-impregnated bed net. These may not be provided, so it is wise to take your own, especially if you are visiting remote areas.
Early diagnosis of malaria is essential for effective treatment, so if you suspect you or a companion has contracted the disease then seek medical help as soon as possible. Symptoms are flu-like and may include fevers, chills, muscle and joint aches, headache, tiredness, nausea, vomiting, and occasionally diarrhoea. The only consistent feature is a high temperature of 38°C or more and that alone should also make you suspect malaria. It can develop from as early as six to seven days after exposure, to up to as much as one year, so continue to be vigilant upon your return and seek medical advice if you develop flu-like symptoms.
For further advice and malaria information, see fitfortravel.nhs.uk/destinations/asia-east/malaysia, nhs.uk/conditions/malaria/prevention, and traveldoctor.co.uk/malaria.htm.
Other diseases
There are periodic outbreaks of dengue fever with peak transmission from June to November (for which there is no vaccination). This viral infection is spread by day-biting mosquitoes. It causes a feverish illness with headache and muscle pains like a bad, prolonged, attack of influenza. There may be a rash. Recurrent infections can be more serious so it is important to try and avoid the disease in the first place by using DEET containing insect repellents during the daytime as well as in the evening.
Japanese encephalitis is another viral disease transmitted by infected mosquitoes. Vaccination is recommended for those likely to be frequently exposed to bites during long stays, repeated visits or if staying in rural infected areas. The newer vaccine Ixiaro (two doses given ideally 28 days apart; if time is short then the second dose may be given no less than 24 days aft er the first dose of vaccine) has none of the more serious side eff ects of the older vaccines and therefore should be recommended for all rural travel if time and budget allow.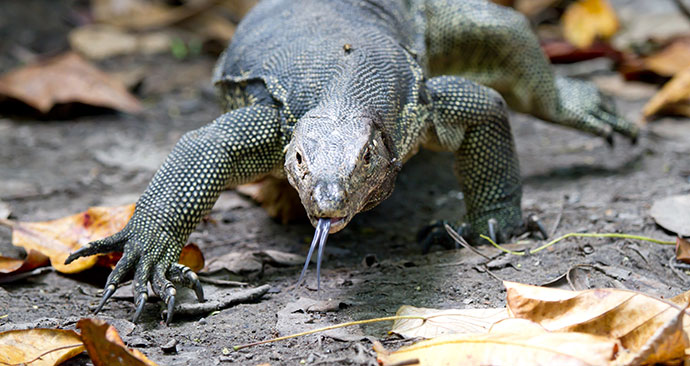 This vaccine can be used in those aged two years and over. The disease is endemic, with small numbers of cases occurring year-round in East Malaysia (Sabah and Sarawak), but in addition epidemics occur following the start of the rainy season in Peninsular Malaysia (April to October) when mosquitoes are most active.
Safety
British, US and Australian authorities periodically issue warnings against travelling around the coast of East Malaysia, particularly the Celebes/Sulawesi Sea islands off the southeast coast of Sabah. Those warnings have again come to a head after a dire couple of years for the region in 2013–14. Over a decade after the kidnappings in 2000, which saw all Sidapan Island resorts closed, and a bolstered and continuing Malaysian military surveillance in the area, there has been a recent spate of kidnappings by Filipino bandits, even the murder of one tourist.
Furthermore, the regional political volatility and territorial disputes between Indonesia and Malaysia erupted in 2013 with the 'invasion' of Lahad Datu in Sabah by a group of armed Sulu rebels. I personally am nervous about dipping myself into the diving region right now, until things seem more under control. At the time of writing in 2015, the FCO were advising against all but essential travel to all islands off the coast of eastern Sabah between Kudat and Tawau, including Lankayan, Mabul, Pom Pom, Kapalai, Litigan, Sipadan and Mataking. Check the FCO website for the current advice before booking your trip.
Women travellers
After many years as a solo woman globetrotter, Malaysia probably stands out as the safest country in which I have travelled. Personal security, general public friendliness and political stability are all at a high. In September 2010, the Oxford Business Group identified the high levels of overall safety in Malaysia as one of the main reasons for it having 'strengthened its position as Southeast Asia's top tourism destination'.
In Asia as a whole, Malaysia rated second only to China for its political and social stability. With the exception of one very high-profile murder case, the murder of a former prime minister's lover, no horrendous crimes against women immediately come to mind.
The sense of general personal security as a woman traveller is even greater in Borneo, because of the island's friendliness and its relatively small cities. In my frequent and lengthy travels in Brunei, Sabah and Sarawak, I have never once felt threatened by men; irritated occasionally by slightly juvenile attitudes to women in Malaysia, but not spooked. In the main cities – Kota Kinabalu, Kuching and Miri – I always feel safe walking around in key public areas, though poorly lit backstreets and more remote urban zones are best avoided at night. The fact that Malaysia is such a street-living society, with a density of people in public areas, boosts the overall feeling of safety.
In Brunei, the huge esteem shown for women makes it one of the safest countries in the world for female travellers. The incidence of crime is virtually nil – partly due to the penalties faced – and assaults against women are unheard of (though possibly go unreported).
The respect shown to me, and my own personal feeling of comfort, is no doubt heightened by my respect for Muslim customs and appropriate dress (longer skirts, blouses, no miniskirts or bare shoulders).
Muslim women in Brunei and Malaysia wear a tudong, a veil or scarf, on their head. While there is no expectation for foreigners to do the same, it is advisable to carry a light scarf in your bag to don at appropriate moments, such as visiting religious sites. While skimpier garments have become the norm amongst the clubbing classes of Kuala Lumpur, Borneo – particularly Brunei – is more conservative.
Travelling with a disability
A couple of major UK and US associations who deal with disabled travel have told me Borneo falls outside their radar. This is surprising and likely to change as tourist numbers increase. For the time being, travel on public transport, especially small town buses, would not be easy. Most four and five-star hotels claim to have facilities for the disabled including wheelchair access and 'adapted' rooms. The same can increasingly be said for independent hotels. The lack of dedicated disabled-friendly tours doesn't mean there is a lack of tour companies ready to create an itinerary, or hook in with local companies who have the right staff and vehicles. Use the various associations as your advocates so that they know there is a demand for such information. Also visit the websites of Mobility International USA (miusa.org) and disabledtravelers.com.
Gay and lesbian travellers
One of the most highly regarded gay and lesbian associations active in Borneo is Utopia Asia (utopia-asia.com). Its general advice for travellers in Malaysia is: 'Gay life in Malaysia as in other Asian countries is blossoming, despite conservative religion-based discrimination and outdated colonial era laws.'
Former deputy prime minister, Anwar Ibrahim, was famously ousted from office by a trumped-up sodomy conviction, overturned by Malaysia's High Court in 2004. The case is still making waves, as issues of homosexuality and discrimination are slowly (very slowly) brought out of the conservative closet. Islam is enshrined as the official state religion in the Malaysian constitution. Muslims, local and visitors, are thus subject to religious laws that penalise gay or lesbian sexual activity with flogging, and male transvestism with imprisonment, though this is rarely the case.
The law does not in principle apply to non-Muslims. Yet homosexual citizens of any creed still face official discrimination. Police can arrest any person, Muslim or not, for having sex in a public place, such as cruise spots. That said, police rarely detain foreigners during raids on local gay businesses, focusing instead on ethnic Malay customers, almost 100% of whom by law are considered Muslim at birth. Still, visitors should respect Malaysian law and customs while guests in the country, as is the general rule of thumb for all travel.
See Utopia Asia's Utopia Guide to Malaysia, which has listings for the gay and lesbian scene in 17 cities including Kota Kinabalu and Kuching. The guide, which can be ordered online (utopia-asia.com), includes gay-scene city maps and listings of organisations, bars, discos, spas, accommodation and restaurants, with a special section highlighting venues that are particularly welcoming to women.
Kota Kinabalu is definitely Borneo's capital of camp. While there are no flagrantly gay hotels, some are discreetly so, while others are gay-friendly. There are also some well-known gay and lesbian bars and nightclubs in town. Kuching is more conservative; while Brunei takes the issue to a whole new level, or planet, of ethics.
Overt tolerance of homosexuality is non-existent, and the gay community exists mostly 'undercover'. The result is a weekend exodus of Brunei's closet gays to the nearest place where they can show public displays of affection without the fear of being arrested – generally Miri in Sarawak. The former oil city has inadvertently developed a great future in gay tourism.
Families
Overall, Malaysian Borneo is safe, sunny and friendly and makes an inexpensive, educational, adventurous and exotic family holiday.
Far from just a sun-seeker's destination, it offers enriching opportunities such as volunteer family holidays, living and helping out in one of the villages, or working with wildlife.
Many city hostels – especially the 'lodge' kind – have family rooms from RM115 with breakfast included. With lounges, sun decks and other travellers for company, these often provide a more fun and instructive atmosphere than the cramped, sequestered environment of shoestring hotels, which offer family rooms from RM100 to RM150.
If you have more to spend, and want more privacy and comfort, most mid-range to luxury hotels have family rooms or self-contained suites with separate living spaces and multi-bedrooms and bathrooms. Another good option is serviced apartments. Beyond the cities, beach resorts have larger rooms, or self-contained accommodation; or pay for several rooms to accommodate your brood. Mountain resorts often have self-contained chalet accommodation with equipped kitchens. Other options in rural areas are longhouse rentals and family-friendly homestays.
Single travellers
Many pros and cons of travelling solo in Borneo are common to all destinations. Particularly in luxury hotels, employees frequently grill me as to whether it is 'just one for breakfast?' 'I'm not hiding anyone' is my usual reply. A book or newspaper is a great refuge from indiscreet stares.
Financially, single travellers are heavily penalised with the lack of single-room rates: the difference in price between a single and double is either non-existent or negligible. Choose instead to stay in places where being single does pay – homestays, bed and breakfasts, hostels, budget or mid-range beach resorts, and the occasional hotel suite or apartment which offer rates suitably priced for the 'flash packer'.
Even if you have the money for a more expensive hotel room, independently run or smaller-size accommodations can be more convivial, if it's company you are after. And many offer the possibility of upgrading to a bigger, more comfortable room. If you prefer a hotel environment, you can always go for the premium rooms or suites of budget city hotels, or serviced apartments. The same price bracket in some country hotels may get you anything from a superior room to a suite.