Visas
Getting there and away
Getting around
Visas
Most foreigners entering the country need a visa for Tanzania or a visitor's pass, depending on their own nationality. Whether you first arrive in Dar es Salaam or Zanzibar, you will be asked how long you want to stay. Up to three months is usually not a problem, and you'll receive a stamp in your passport. Currently, most visas can be obtained on arrival in Tanzania – although the airport queues can be long and they must be paid for in hard currency cash, so it's often best to get them in advance. A visa will often take several weeks to issue, so apply well in advance of your trip.
If you are planning to come via Nairobi or Mombasa, you may also need a visa or visitor's pass for Kenya. You may also need a return ticket out of Tanzania or Kenya, or be required to show that you have sufficient funds to cover your stay.
There is no longer any legal requirement for a yellow fever vaccination certificate, unless you have come from a country where yellow fever is endemic. In theory you might also be asked for a cholera-exemption certificate; in practice we've never experienced this.
Getting there and away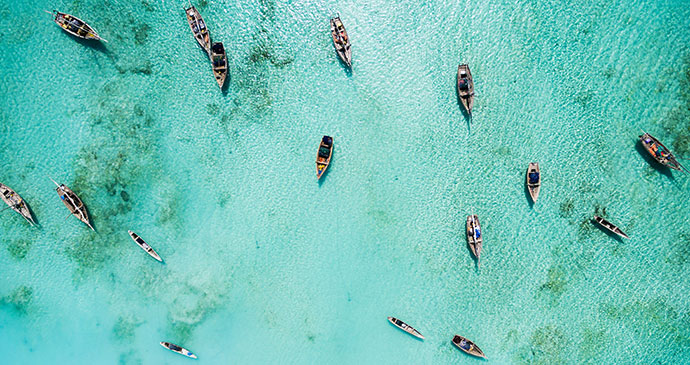 Fishing boats © In Green, Shutterstock
By air
There are no direct scheduled flights to any of the islands, or even to Dar es Salaam, from the UK, Europe or USA. Consequently, most visitors fly first to Dar or Nairobi (via the Middle East or another African capital), and then take a regional service across the Zanzibar channel.
Britain is one of the cheapest places in Europe to buy scheduled flights to Zanzibar, Dar, Mombasa or Nairobi. Specialist African agencies can also arrange regional flights to/from Zanzibar, and whole trips, including safari-and-beach combinations. The best deals are usually found by buying a long time in advance. To buy just flights, you should talk to the 'seat-only' travel agents. To find them, look through the advertisements in the travel supplements of the Sunday newspapers.
There are also direct flights between Europe and the Middle East and Zanzibar, but currently all of the direct services from Europe are charter flights run by mass-market tour operators based in Italy, France and Spain. These are usually sold only as part of a week or two-week package visiting one of Zanzibar's larger 'resorts'. However, if the planes are not full then tour operators will sometimes sell 'flight only' deals, which are good value.
By

sea

Several large passenger ships run daily between Dar es Salaam, Zanzibar and Pemba, and – more rarely – to other points on the mainland.
Getting around
Hire cars
There are no international car-hire companies on the island, so vehicle quality is highly variable. Driving standards are not good and roads can be in poor condition, so accidents are frequent. We do not generally recommend that visitors hire cars here, but if you choose to do so exercise great caution and never drive at night: it can be exceedingly dangerous.
Motorbikes and scooters
It is possible to hire motorbikes (almost all are Honda 125cc or 250cc trail bikes or similar) or scooters (mostly Vespas and Piaggios) from many of the tour companies. You should not hire a scooter if you have never ridden one before; the dirt tracks and pot-holed roads of Zanzibar are not ideal places to start learning.
Bicycle hire
For getting around Zanzibar Town, or going further afield around the island, fit and adventurous visitors will find bicycles ideal. Most bikes are heavy steel Chinese-built roadsters, so you shouldn't plan on covering too many miles (it's generally too hot to cycle fast anyway). You can also hire mountain bikes, but most of these are pretty basic all-steel models, and only slightly lighter than the Chinese roadsters. They do have gears, however, which makes them easier to ride.
Taxis
The saloon-car taxis which are available around Zanzibar Town can be hired to take you further afield, but some drivers do not like to go off the tar roads as the rocky dirt roads are liable to damage the undersides of their beloved vehicles.
Public minibuses and dalla dallas
For independent travellers, local minibuses and small converted trucks called dalla dallas cover many routes around Zanzibar Island. Minibuses and dalla dallas are faster than buses, and are gradually replacing them on the roads.
Buses and dalla dallas from outlying villages heading for Zanzibar Town tend to leave very early in the morning but, apart from that, there are no truly fixed timetables: most vehicles simply leave when they're full. At any bus or dalla dalla station, don't expect an information board: you will need to ask around to find the transport you need.
Dalla dalla journeys are invariably an experience, with time to interact with local people, but comfort is limited. Seating is on hard timber benches along the sides of the vehicle, and it's quite likely that parcels and packages of all shapes and sizes will be packed in around you.