Written by Exodus for Bradt Travel Guides
Nothing raises the pulse quite like seeing a big cat stalking through the grass. Exodus – lead sponsor of Bradt's upcoming Big Cat Festival on 13April – has been creating small group big cat adventures for over 45 years. Here they share six of their favourite tours for spotting big cats.
For lions: Kenya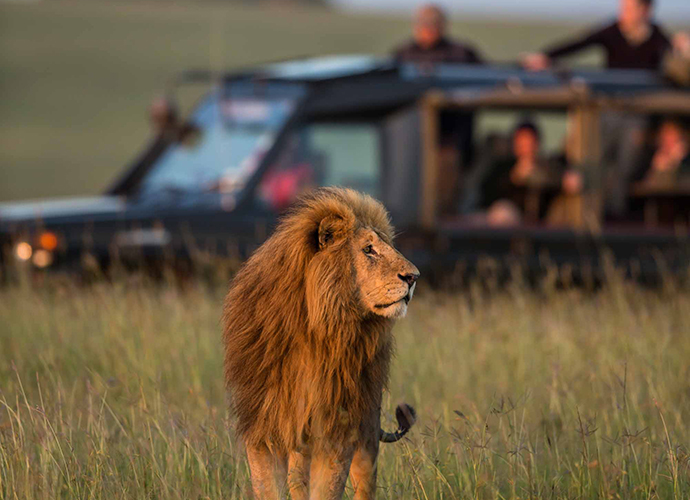 A trip to the Mara North Conservancy is a must if you want to see lions © Paul Goldstein
Mara North Conservancy is not only probably the most beautiful Conservancy in East Africa, it also has the highest population of lions on the continent, a population – unlike almost anywhere else (except a few other Mara Conservancies) – that is actually growing. Kicheche Mara Camp ranks among the smartest addresses in Kenya, with off-road driving permitted alongside fabled guide Davis Muthamia.
View lions in Kenya on the Mara Conservatory Safari.
For tigers: India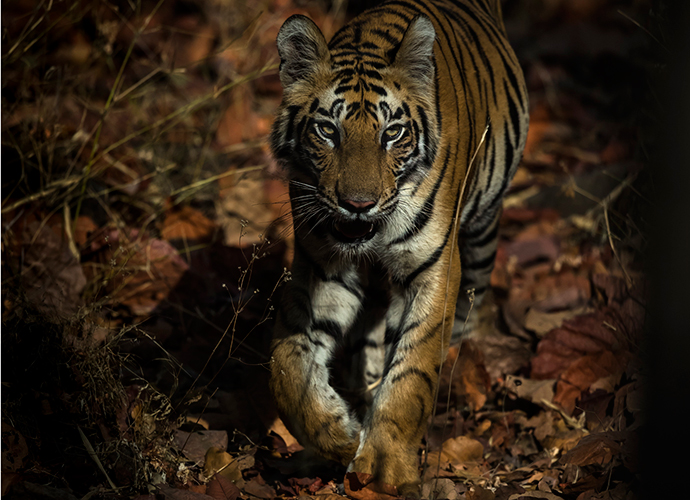 India is the place to head to catch a glimpse of these desperately endangered animals © Paul Goldstein
Bengal tigers are big, striped, box office animals but they are also desperately endangered. You'll maximise your chances of seeing this beautiful yet elusive cat with a two-week safari visiting the three best parks in Madhya Pradesh. India has a reputation for complicated bureaucracy, and that can be frustrating when trying to arrange wildlife-viewing experiences, but nothing should stop a safari quest for these magnificent predators.
Search for tigers on the India Tiger Safari tour.
For snow leopards: India, Ladakh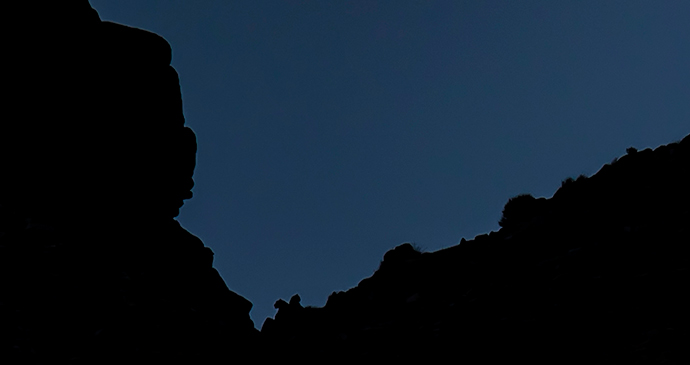 Take a pilgrimage to the remote mountains of Central Asia to spot snow leopards © Paul Goldstein
Looking for snow leopards is a mission – indeed, almost a pilgrimage – because they live in some of the most remote and mountainous regions of Central Asia. Ladakh in winter, when road passes are closed by snow, is as isolated as anywhere in the world. But for hardy cat addicts, it's a pilgrimage worth making. Exodus veteran Valerie Parkinson has a very good success rate in finding these 'grey ghosts'.
Discover Ladakh on the In Search of the Snow Leopard tour.
For leopards: Kenya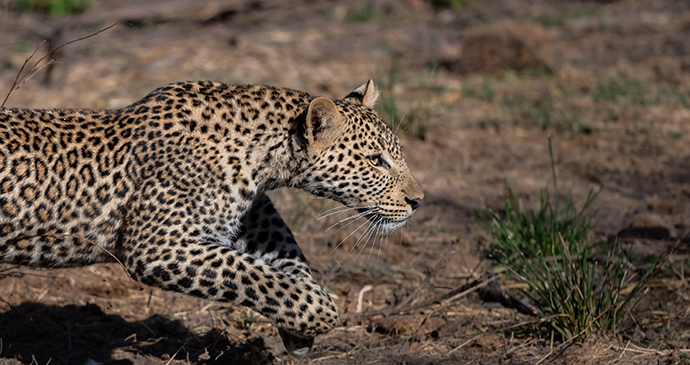 For award-winning photographer Paul Goldstein, leopards are always top of the agenda © Paul Goldstein
Several times a year, award-winning photographer and guide Paul Goldstein leads safaris from his Kicheche Bush Camp for those who want to improve their photographic skills. Leopards are ALWAYS top of his agenda; he has seen them in 12 different countries, but still feels that Olare Conservancy is the finest place to locate and photograph them. It's a precious conservancy with limits on vehicles, no minibuses, off road driving and the best guides in Kenya, which means that viewing rates on Paul's tours are incredibly high.
Capture Kenya's leopards on the Photographic Safari with Paul Goldstein.
For jaguars: Brazil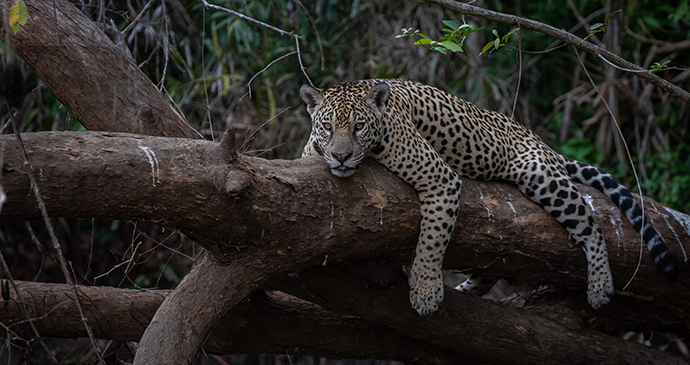 Small boat safaris offer you the best chance of spotting the jewel of the Pantanal © Paul Goldstein
Twenty years ago, it would have been impossible to imagine jaguars could be so easily spotted in the Pantanal. However, a gentle and sensitive tourism approach, with safaris carried out by small boats, has ensured there's a great chance of seeing them. There are also 1,000 species of bird and hundreds of types of mammal. But the dappled, rosette jaguar sits languidly at the top of this food chain – the waterways are its roads, the caiman and capybara its lunch, and a close encounter with these huge apex cats is always memorable.
Uncover Brazil's Jaguars on the Land of the Jaguar tour.
For cheetahs: the Serengeti, Tanzania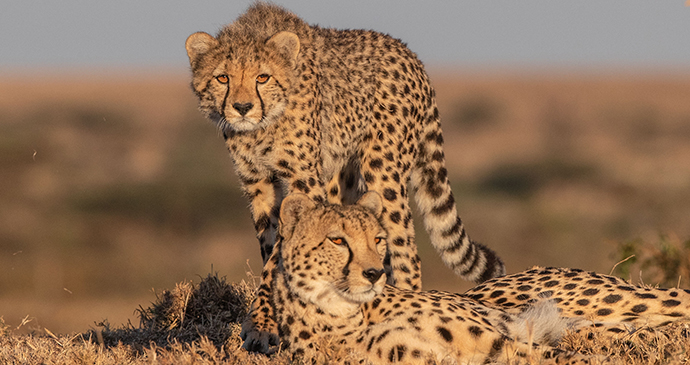 Experience the thrill of the chase tracking cheetahs in the Serengeti © Paul Goldstein
Cheetahs are a very vulnerable species and require huge open plains if they are to be successful, so the contiguous eco-system of the Kenya's Masai Mara and Tanzania's Serengeti are the best two surviving strongholds for this fleet-footed assassin. Cheetahs thrive around the fabled granite kopjes of the central Serengeti, particularly with the yearly arrival of the wildebeest and their young fawns. This is a classy safari staying in a smart mobile camp maximising time in this famous park. To watch a cheetah gazing over the dotted plains, its belly concave with hunger, before exploding into pursuit is one of the most thrilling wildlife experiences.
Search for cheetahs in Tanzania on the Classic Tanzania Safari tour.
PG tips
Paul Goldstein gives six top photographic tips for the enthusiast or amateur.
Research: Do it before you travel. Consider your vehicle, your guide, your time in the parks and reserves. Off road driving is also crucial before you even press the shutter; don't be let down by ignoring this critical aspect of your safari.

Patience: Not a virtue, but a must. If you want memorable images of cats you need to put in time, and lots of it. Cats are lazy by nature and that 'moment' can be short-lived, but it is rarely arrived at by chance.

Camera: Despite some smart phones having RAW file facility and 20 megapixels per image don't think for a moment that they are going to compete with an SLR, mirrorless or not. You don't have to spend a fortune as even entry models have state of the art features although not the burst-rate or build quality of the semi and pro models.

Control: Cameras have thousands of features, and the critical ones, on the chassis, must be practised till they can be operated by touch alone. You can wait all day for a cheetah to hunt or a leopard to wake up – don't let lack of knowledge or practice be the reason for missing the shot. Be in control of your images and don't leave it to guess-work.

Lens envy: Don't suffer from it. Big, heavy lenses can bring the dubious side effect of massage and physio bills, but in many circumstances they do the job far more comprehensively than the kit lens a camera shop spiv may have palmed off on you. If the eye-watering cost of them daunts, hire one for a safari to see whether it is your sport – it is far cheaper that way.

It's more than a photograph: It should never just be about the capture. Some people are governed by their camera. They record everything that moves. They are seldom good photographers. The person who studies their quarry long before seeing it, experiments with their camera and gambles with position is always the one more likely to have that award-winning image. But even if they don't, the animal is still always more important than a few thousand pixels of memory. If you mess up that moment, move on. Quickly.
---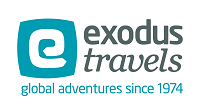 The team at Exodus love adventure travel and always have. Since taking a group on a trip to the Himalayas in 1974 they've expanded to offer more than 500 itineraries across more than 90 countries, including some brilliant Big Cat destinations. It's no wonder they wanted to partner with us for our festival!
---
For more information on the Big Cat Festival, and to book tickets, click here.