Written by Ben le Vay
To mark the third edition of Eccentric Oxford coming out, Ben le Vay picks some lesser-known and unusual sights and places to visit on a day out in the city. He says: 'Of course the first-time visitor should go and see the Radcliffe Camera, the Bod, Sheldonian, Magdalen Bridge, that type of thing, and these are all explained enthusiastically in the book. But what about a few oddball things after that?'
What to see and do
A deeply strange museum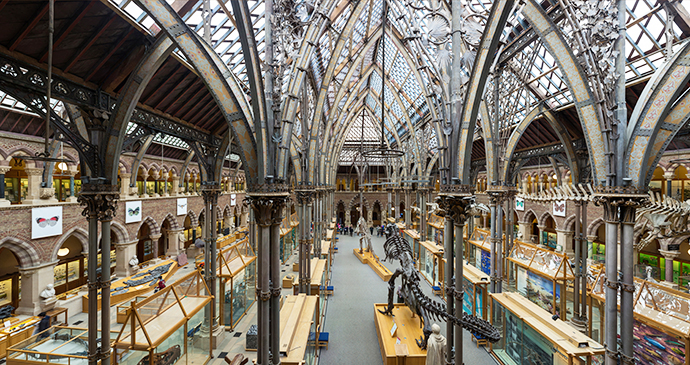 Discover a world of treasures at the slightly spooky Pitt Rivers Museum © Diliff, Wikimedia Commons
Pitt Rivers is my favourite Oxford museum because it is one of those collections of obsessive eccentrics, and the building's pretty odd too, very Harry Potterish! The general angle is anthropology, but where else will you find: shrunken heads; a magnificent Tahitian mourner's costume collected during Captain Cook's Second Voyage; Hawaiian feather cloaks in brilliant shades of red and yellow; ivories from the Kingdom of Benin; wonderful ancient masks worn by Japanese Noh actors; mummified people; a witch in a bottle; sculpture from all over the world in wood, pottery, metal and stone; whole boats, ranging from full-sized sailing craft to model canoes somehow stuffed on the walls and ceilings; and American Indian skin shirts decorated with porcupine quills?
An odd little college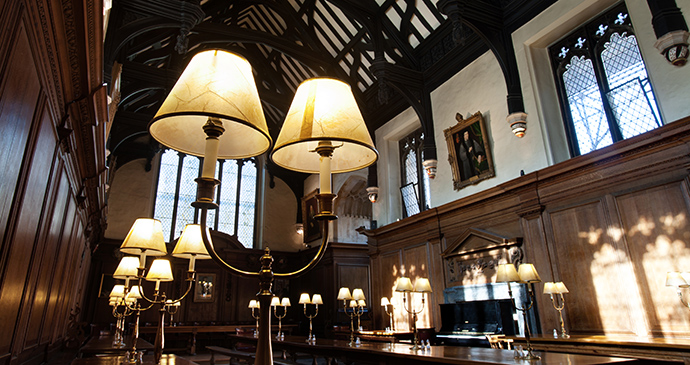 Meaning 'body of Christ', Corpus Christi is one of the university's smaller colleges © Jorge Ryan
One of the smaller colleges many people miss is eccentric Corpus Christi. The name of the college means the body of Christ. Not Corpus Christie, as one current guidebook has it, which would be a deceased crime writer. With fewer than half the number of students as neighbouring Christ Church, it has a beautiful quadrangle with a totally bonkers pelican sundial. Never in the history of humankind has so much effort been wasted, some may think, as on Oxford's many elaborate and expensive sundials, as there is little sun to make them work from November to April.
The college also hosts the slowest sport in Oxford: the annual tortoise derby. An eccentric Corpus Greek don was concerned whether the histories were right that in one battle the Greeks ran a full mile in full armour in full summer to attack. He built himself a suit of classical armour, took himself down to the battlefield and waited for a really hot day, ran the full mile and, waving his sword around, declared himself ready to fight all-comers. A Greek farmer looked up briefly, and then ignored him, as if this happens every day round there.
A spooky Otmoor bike ride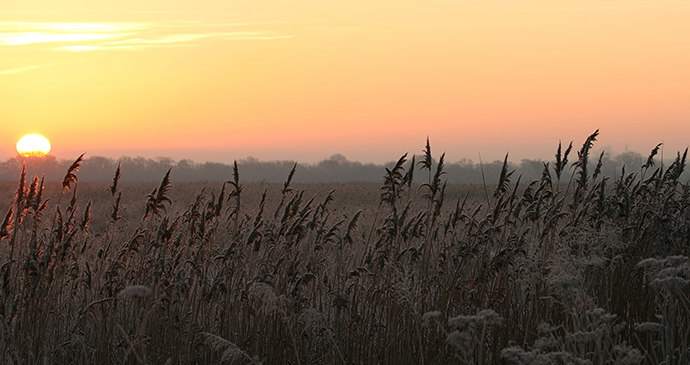 Otmoor is a world away from the hustle of the city centre © Danny Chapman, Flickr
If you like bikes (and these are easily hired in Oxford), the city and nearby villages are flat and easily rideable. But for a different day out (and this makes a pleasant car tour, too), strike out north from the old part of Marston in the north of the city to visit the extremely odd and beautiful Otmoor, a unique bit of Oxfordshire with fascinating wildflowers, birds and insect life. Its value is that it was left here after the Ice Age, and has never been ploughed because it's so boggy and difficult to drain. If you wish to go down and walk across from Beckley you can try at your own risk, but it is very squidgy. It is a wonderful place, with such wilderness just a gargoyle's spit from Oxford and its busy bypass. It has a lot of history too, involving a legendary beast that supposedly seized cattle, a riot by the cattle owners when greedy landowners tried to enclose and drain it (they failed), RAF bombing practice on it, the threat of the M40 motorway right across it (defeated after a vehement campaign) and now its again-increasing wildlife population. The view from Beckley is said to have inspired Lewis Carroll's imaginary chessboard landscape, for he stayed in the village for a while. If you're in need of refreshment, there are some great little pubs in the area as well.
Where to eat and drink
There are a great many real Oxford pubs in fiction, from Inspector Morse to Jerome K Jerome, but then few cities have had so many great authors propping up their bars. Not that they were stuck for choice: there were 370 taverns recorded in Oxford in the 1660s, which of course was a good deal smaller than the city we know today. Here are a few cafés and pubs you may not know about:
The Two Browns
A nice stop for lunch is Browns, famed Oxford café with a very pleasant location overlooking St Giles and posher student-friendly food (in terms of menu, if not price). It is actually part of a chain at many of Britain's more chic towns.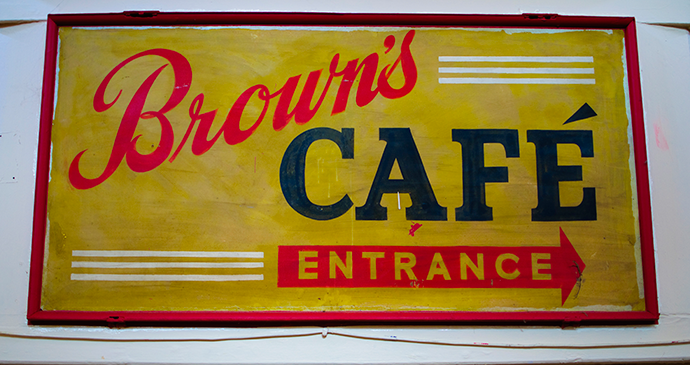 Brown's is somewhat of an institution © Richard Gillin, Flickr
Not to be confused with… Brown's at the Covered Market, a good old-fashioned greasy-spoon where you can easily eat for less than a fiver. It seems to be run by a Portuguese family but the food is so resolutely English that Sergeant Lewis would have loved it. In fact, what with the rock cakes and scones, and the décor, it's as if one has returned to about 1955. Donkey-jacketed workmen mix with dons looking like Jim Dixon in old corduroy jackets with patched elbows, and bleary undergrads try to settle their stomachs after a night of carousing.
Cherwell Boat House
This is a bit off the beaten track (go to the end of Bardwell Road and turn right down a track where it swings left, but best to leave the car, if you have one, in Bardwell Road) but a real gem, a superb find. I prefer places that have a very restricted menu, as this did when I went there (three choices), because it not only makes choosing very simple but removes one of the problems of places that offer maybe 100 dishes. Either those places will be really slow, or they will be microwaving stuff that was made in a factory in Scunthorpe and sticking a bit of cress on the side to make it look home-prepared. No such problems here where the atmosphere was rather as if I'd invited people round and said: 'Look, I've cooked this, that and that, which do you want?' Except that the modern English cooking is miles better, such as crackling pork belly with a damson sauce or smoky mackerel tart. My Oxfordshire chum John Price writes: 'In my view this is the best place to eat – preferably in summer, outside on the balcony or on the decking, watching people taking their punts out onto the river. One of the great entertainments is watching people punting with no idea which end of the boat is which and the river traffic jams that result.' Even funnier when they fall in. Plenty to drink!
The Bear
A cosy, charming and creaky pub, of the duck-your-head variety, which sits conveniently close to the city centre yet in a quiet back street. There's sitting outside when weather permits. On two sides it says 'a historic inn since 1242'. As a pedant, I'd disagree. Not that it should be an historic – how pretentious, as if anyone ever pronounced it French-style – but that it wasn't historic in 1243 or 1244, was it? It was virtually brand new. But does the 'oldest pub in Oxford' title sometimes given to the Bear bear examination? Not really, but if you like history, the story's fascinating.
There has been a pub called the Bear hereabouts in Oxford since 1242, but it wasn't exactly this one. The Great Bear Inn was a coaching establishment on the High. These airport-terminals-come-hotels of the day were big and rambling. Behind them were stables and yards for carriages and horses, quarters for coachmen, and beyond that, at the back of the site – it could be a quarter or half-mile away – a more rough-and-ready pub, far less grand than the big hotel or inn, for the coachmen, footmen, farriers and ostlers to drink in. I have known the parent grand inn and its humble satellite pub become so separated by other buildings and roads (as with the White Hart and White Hart Tap in St Albans) that no-one would imagine it was once all part of the same giant enterprise. This is what happened here, but more so. The Bear Inn facing the High, at the other end of Alfred Street, was a massive operation with 30 rooms, stables for 36 horses and accommodation for all the coachmen and staff. It had indeed been built and rebuilt since early days (in medieval times being called Le Tabard), and took the Bear name (or rather the Bear and Ragged Staff, as depicted on one side of the present pub) as the emblem of the Earl of Warwick back in the Wars of the Roses days. By the 18th-century heyday of the mail coaches and turnpike roads, before the railways took their passengers away, the famous 'Oxford Machine' coach was based at the Bear Inn (today a coach service to London is called the 'Oxford Tube': not much difference, apart from the horse-power). Alfred Street was known as Bear Lane as it was lined by this great inn, which shut for redevelopment in 1801.
Drinkers at the Bear have been known to have their ties snipped off by the landlord for his collection, which lines the walls and ceiling. You get a pint in exchange, which seems fair enough, plus the immortality of your tie and name being on the pub wall for ever. Although there is space left in the displays, there don't seem to be that many customers wearing ties nowadays.
Where to shop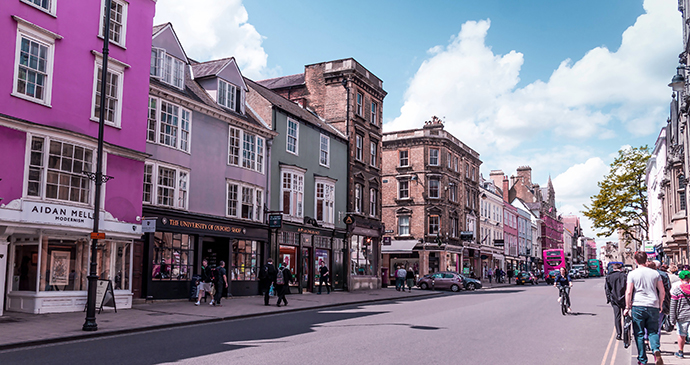 Oxford's High is no ordinary high street © Flik 47, Shutterstock
Oxford is just great for eccentric, individual, idiosyncratic or just plain batty shops. True, there are the usual probably useful chain stores that could be in provincial cities anywhere in the Western world (mostly in Cornmarket, Queen Street and the malls off those roads) but they are not what Oxford is really about. Note the High (Street is not added when people say this) has hardly any well-known chain stores between Carfax Tower and Magdalen Bridge, but quirky, individual shops. Try too, Cowley Road, where you can get Russian groceries, tattoos, Polish food, Bengali spices, Pakistani snacks, Greek deli at Meli's (I think it means honey in that language) – just about anything – mixed up with weird art shops and strange bars full of even stranger people.
Also worth a look is Walton Street, which goes north from the city at the west end of Beaumont Street (that's the street with the Randolph and Ashmolean in, so you want the other end where it hits Worcester College bang-on and just gives up), is a total gem for shopping and browsing: boho chic, delis, cafes, book shops, great little bars and restaurants, quirky clothes and jewellery. The antidote to awful chain stores and shopping malls.
Don't forget the brilliant bookshops all over town, too, all of which offer something unusual (for the eccentricities of the greatest, Blackwell's of Broad Street).
---
Discover more of Oxford's quirky side in Ben's brilliant book: