Oh, my feet! My cold, cold feet! I'm standing – barefoot – in the Brecon Beacons National Park. Improbably, for January, the sun is beating down, the sky a cornflower blue. As for the peaks and valleys that make up this magnificent stretch of green, Welsh glory, they're cloaked in white. The snow is crunchy, icy and slippery. I'm here thanks to Welshwoman Lynne Allbutt.
A few years ago, over a late May weekend, she became the first person to run barefoot across the width of Wales, a distance of 82km – not, I suspect, a record likely to be broken soon. I'd seen a clip of her on the BBC, leading the local weatherman on a summery shoeless amble in her native Crickhowell, a pretty market town in the Black Mountains. In it, she'd talked about the aliveness we can experience when we walk barefoot in nature. Intrigued, I'd got in touch.
'When we put our feet in shoes, we block their ability to communicate with the earth,' she'd told me, before inviting me to spend a couple of days walking with her. Lynne also happens to be a gardener, a builder of labyrinths, a beekeeping expert, a TV presenter, an animal communicator and an author – her memoir Barefoot and Before makes compelling reading. In short, she's a woman worth walking with, shoes on or off.
When time permits, she leads private barefoot walks and barefoot group workshops in the Brecon Beacons. These offer an opportunity to connect with nature in a way that is both deceptively powerful and almost shocking in its simplicity. Eagerly, I take up the Welshwoman's invitation. In fact, so eager am I to hike shoeless in the hills with her that I suggest a January ramble. Wales's fleetest of foot doesn't bat an eyelash.
'There will be a little snow to experience, which will be perfect,' she tells me enthusiastically. This explains how, a few weeks later, I find myself gingerly treading along snow-covered parkland – unmarked except by the tracks of birds. My feet are on alert as they navigate the icy, almost velvety carpet underfoot. Does it hurt? Only a tiny bit. Does it feel odd? At first. Mostly I feel exhilarated, my senses heightened. It's as though every cell in me is screaming 'Action!' I can feel the aliveness in the earth too: it's as though I'm 'listening' to the landscape through my feet. It's an intense and exhilarating sensation. And yes, the brilliant sunshine helps.
'There's energy coming through your head into your feet and into the ground then circulating back up again,' says Lynne, who seems completely unfazed by the snow underfoot. 'When we wear shoes continually, this natural flow gets clogged.' People from indigenous cultures who live close to the land and spend their lives barefoot often talk of experiencing a reciprocal relationship with nature.
It's one that most of us in the West have lost – but that many are increasingly eager to regain. 'More and more of us want to experience the energy, knowledge and primal wisdom that comes from the earth, as our ancestors did,' agrees my guide. 'Nature is boundless and wants to gift us.'
It's freezing, so after inhaling a few more lungfuls of cold, crisp air, we put our shoes and socks back on, admire the views of Pen-y-Fan (the highest peak in South Wales) and warm ourselves up with a hot chocolate in the National Visitor centre's tearoom. Lynne then drives me a short distance to Buckland Hall. This country mansion is set amidst parkland, woods, lakes and gardens, with ancient yew trees, rhododendrons, trails and a labyrinth.
According to local lore, the landscape inspired J R R Tolkien. The grounds and hall are strictly off-limits to the general public without prior agreement, but with Lynne sorting all of this out, entry has been effortless. We experiment with walking barefoot along a snow-free path in a 'secret' grove deep in the arboretum, considered by many to be the best in Wales. The trees here date back to the 16th century.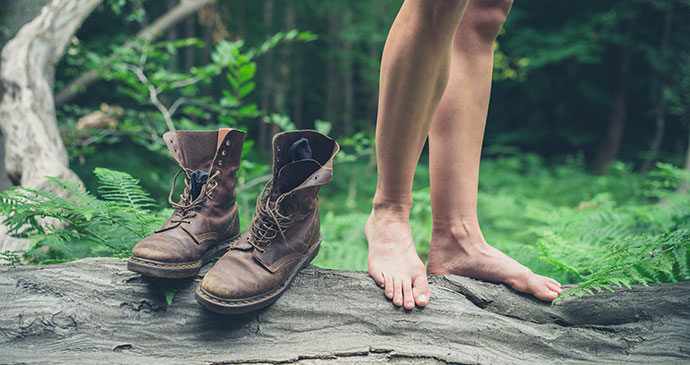 Later, I learn that a magnificent 'Champion' beech and silver lime, both thought to be the largest of their kind in Britain, grow elsewhere on the grounds. The earth feels cold, yes, but also simultaneously soft, coarse and cushioned. There's no snow here either. My toes clench stones, twigs, and glide over moss. We come upon a circle of trees. They are magnificent – in particular, a western red cedar with a wide, twisty trunk. I climb up into its great limbs, stand quietly and drink in the silence. A kestrel swoops overhead. It's a magical moment.
Later, we head back to Abergavenny. The town, ringed by mountains and rich in history – it was once home to the Romans – is a mecca for cyclists and hikers and hosts an annual food festival. But I'd imagine few visitors do as I, and experience it barefoot. That's their loss. My guide and I traipse down to the winding River Usk and unlace our boots for a barefoot stroll on a path along its banks: underfoot the path is pebbly, hard, slightly muddy and perishing cold.
Were we to follow it in one direction, we'd end up back in the mountains of the Brecon Beacons. In the other, it'd take us to the market town of Usk and beyond it to Caerleon, just north of Newport. The entire Usk Valley walk is 77km long. It mostly hugs the river, taking you through open fields, woods, rolling hills, forest tracks and small villages. Barefoot, I manage about 50 metres – and make a mental note to try this all over again in summer.
'Going barefoot takes you out of your comfort zone,' says Lynne later, once I'm booted and toasty. 'You're vulnerable, and more open to new ways of seeing.' The earth also has its own natural charge, thought to impact positively on the body. Anyone who has spent a day walking barefoot on a beach will know just how good it feels. Walking shoeless can be healing – as well as being a slightly offbeat and memorable way of experiencing the outdoors.
Certainly at the end of the day I feel more clear-headed than I do after a long, 'normal' hike. But doesn't Lynne ever worry about treading on something unpleasant, such as dog poo – or even an adder? She tells me that this has never happened to her, in four years of walking. 'The worst I've experienced are thistles,' she confesses. 'We tend to be much more attentive to our surroundings when walking shoeless. Just use common sense as well as intuition and listen to your feet.' Walking, whatever the weather, will never feel quite the same again.