Four years ago I was sitting behind my desk at work. Not only had I never tried paddleboarding, but I don't think I even knew what a 'paddleboard' was. If you had told me then that, by 2018, I would have completed two world firsts on a paddleboard, launched a nationwide campaign to rid our planet of plastic pollution and written a guide to paddling and its sister waterborne activities of kayaking and canoeing, I would have retorted that you were insane. Yet a pastime that I took up by accident just three years ago has completely transformed my existence. I am penning this book in the hope that it will similarly enhance your life.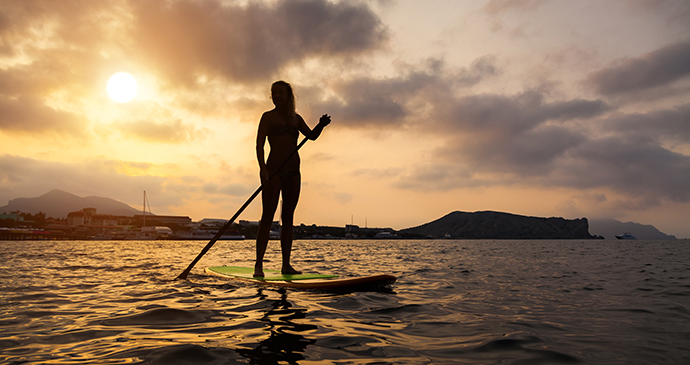 Lizzie's life has been overtaken by paddleboarding © jeff, Shutterstock
As many people who have tried paddling, canoeing or kayaking will know, it is surprisingly easy to get hooked the moment you first dip your paddle into the water and take your inaugural stroke. For many of us, there is no looking back. Everything feels right: physical benefits (low-impact exercise and a fullbody workout) combined with insurmountable benefits to wellbeing (being outside, in nature, at one with the elements – and exploring our world from a different perspective).
Some may find paddleboarding, kayaking or canoeing to be repetitive and, at times, monotonous – especially on long journeys. But, for many of us, that routine is part of the charm. Developing a regular rhythm can transport you into your own realm, safe from the pressures and stresses of everyday life, and protected from incidental distractions. On days when it's literally just the water and you, it is easier to feel deeply – gently, mindfully – connected to the elements.
Over the last couple of years I have spent a lot of time exploring Britain on my paddleboard. I have relished the opportunity to rediscover the beauty of the country in entirely new ways and find new meaning in what I observe and experience. Through this book, I encourage you to do the same. Whether you use a board, canoe or kayak, paddle without rushing. Take time out to watch the world go by. Use paddling as a counterpoint to an ever-speedier life. On a paddleboard, canoe or kayak, absolutely do not beast through countryside, racing past farms, fells and wildlife trying to reach the finish line. Instead, I am immersed in nature, becoming part of it for a brief time. I hope the same is – or will be – true for you. But where best to experience the richness that paddling offers? People often ask where I recommend for paddling or which waterways I like the most. This guide enables me to share my favourites, and to encourage you to explore British waterways, to paddle Britain. Together we can breathe life into our canals, rivers and coast – revealing new places to explore and offering fresh perspectives on our beautiful island.