Eating and drinking
Food
Americans dine out more than most people so finding somewhere to eat is rarely a problem. New York City alone boasts 15,000 places, from unpretentious cafés and hamburger bars to some of the finest restaurants in the world. Fast-food staples such as hot dogs, burgers, pizzas, KFC and McDonald's are sure to make you feel at home, although American versions are likely to be superior.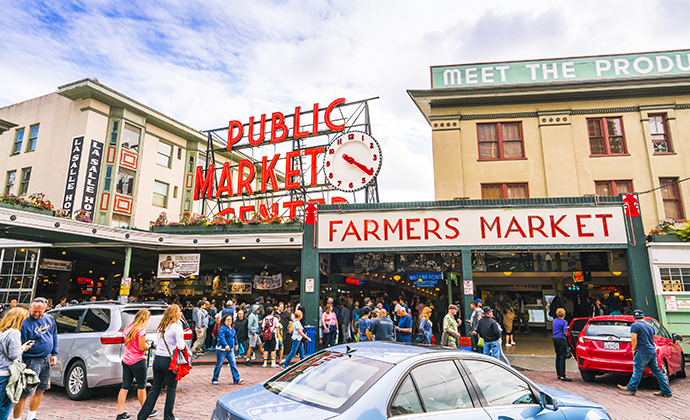 Pike Place in Seattle is one of the country's best markets © Checubus, Shutterstock
You may be lucky enough to find one of the few remaining 1940s-style diners. An authentic place should have chrome fittings, a jukebox, ornate mirrors, counter seats and booths. Like coffee shops, diners are great for sampling the traditional American breakfast of eggs (cooked your way), crispy bacon, pancakes (with maple syrup), sausage, buttered toast and hash browns (fried grated potato), all washed down with coffee, tea (for the adventurous) or the ubiquitous Pepsi or Coca-Cola. Some places serve breakfast 24 hours a day.
Desserts are a major temptation, from homemade apple pie to chocolate fudge. No country has fancier doughnuts or better Danish pastries, not to mention chocolate-covered, peanut-filled pretzel nugget ice cream. Other ice cream varieties you may meet include garlic, lobster and many more.
America's diverse population produces a formidable range of cuisines. Some of the world's best Chinese food can be found in the Chinatowns of cities such as San Francisco and Los Angeles. You can sample black-eyed peas and grits in the south, steaks in Texas, and lobster, crabs or clam chowder in New England. Chicago invented the deep-pan pizza and in New Orleans eating is a way of life.
Some restaurants offer all-you-can-eat for a fixed charge or have two-for-theprice- of-one deals. Lunch is usually better value than dinner, but look for earlybird specials where evening meals are discounted until 17.00–18.00. Mexican food is tasty and cheap and salad bars, delis and supermarkets provide the basis for an inexpensive picnic. Sandwich bars sell any filling or bread you can think of, including the famous bagels with cream cheese.
Drink
The water is safe to drink and Americans prefer it iced. If a glass is not delivered with your meal you only have to ask. Any soft drink is a soda. Pepsi and Coke come in small, medium (meaning large) and large (meaning gigantic) sizes. Sprite and 7-Up may be familiar but root beer is definitely an acquired taste.
Bars range from the seedy to the glamorous and from cheerful to film-noir gloomy. The clientele may consist of businessmen, sports fans, LGBTs, singles, television addicts or any other all-American type. Look for cut-price drinks during happy hour, which sometimes stretches much further than 60 minutes. Arrive looking respectable between 17.00 and 19.00 and you can often fill up on free hors d'oeuvres as you sample a margarita or mint julep.
Drinks served 'on the rocks' have ice added while those 'straight up' do not. If you fail to specify you will usually get the ice. Measures are generous and spirits often 90° proof (45% vol), so don't underestimate your consumption. Draught, canned and bottled beer will most likely be served well chilled, with brands such as Budweiser familiar to many non-Americans. Canadian or Mexican brands can also often be found. Various low-alcohol and alcohol-free 'Lite' beers are widely available. Groups can save money by ordering draught beer in a (usually half-gallon/2-litre) jug or pitcher. American wines, especially those from California, can be excellent.
Some states, including Utah, have laws restricting the sale of alcohol in various ways or in certain areas. The minimum legal age for the purchase of alcohol is 21, so if you look young enough you may be asked for identification. It is an offence in most cities to consume alcohol in a public place.
Accommodation
All big cities have international-style hotels such as Hiltons and Hyatts where you can expect first-class service. Prices vary with the season but a double room is likely to cost upwards of $100 per night. Single rooms cost almost as much as doubles or triples so it pays to travel in company. Hotels may offer American plan (meals included) or European (without meals). Rates are lower if you book for a week or more and some chains off er discounts with prepaid vouchers.
Smaller hotels are more individual and charge $25–75 per night for a single room. The local tourist bureau will help you choose a place in a safe area convenient for sightseeing. Bed and breakfast is becoming easier to find, especially in rural areas. Standards are high and prices start at around $35. Check with the tourist bureau or contact one of the agencies or directories for details.
Motels can cost as little as $25 a night but vary greatly in quality and service. Ask to see the room before accepting. Th e best motels will have a restaurant, a shop and possibly a swimming pool. Major chains include Holiday Inn, Travelodge, Marriott, Ramada and Best Western.
Hundreds of youth hostels provide some of the best-value and friendliest accommodation, often located in a historic building. Some have family rooms. Most hostels close during the day and operate a midnight curfew. Cooking facilities are provided but alcohol and drugs are forbidden. For about $26 a night you get a bed in a dormitory (segregated by sex) but must supply your own sleeping bag. Although no age restrictions apply you are more likely to enjoy your stay if you remain young at least in spirit. International Youth Hostel membership can be taken out before travelling or guest membership purchased on arrival.
Camping sites, public and private, can be found in most parts of the country. Unrestricted camping is still possible in wilderness areas (with a permit from the nearest park rangers' office) and some youth hostels permit camping. Reservations are recommended for state sites and those in national parks. For information contact the Director, National Park Service.