Visas
Getting there and away
Getting around
Visas
Passports must be valid for a minimum of six months from the date you leave Saint Lucia, but a tourist visa is not required by EU, US, Canadian, Australian or New Zealand citizens.
Getting there and away
By air
Virgin Atlantic flies three times weekly and British Airways five days a week between the United Kingdom and Saint Lucia from Gatwick; flight times are approximately 8 hours. From North America, American Airlines offers a direct service between Miami and Saint Lucia; American Eagle flies daily to and from Puerto Rico into tiny George Charles Airport, situated near Castries; US Airways once a week, direct to and from Philadelphia; Delta offers direct service from Atlanta three times weekly and Air Canada has a direct flight to Saint Lucia from Toronto twice weekly. Inter-island travel is well serviced by LIAT. Air Caraibes operates a daily flight to Martinique and Guadeloupe.
By sea
L'Express Des Iles runs a high-speed ferry service between Martinique and Saint Lucia. Cruise ships berth daily at Port Castries and Soufrière during cruise season. Major lines are represented in Saint Lucia by Cox and Company Ltd or Minvielle and Chastanet Ltd. For visitors arriving by private or chartered yacht, moorings are available at the fully serviced Rodney Bay Marina, and at the Moorings Marina in Marigot Bay, or at Soufrière.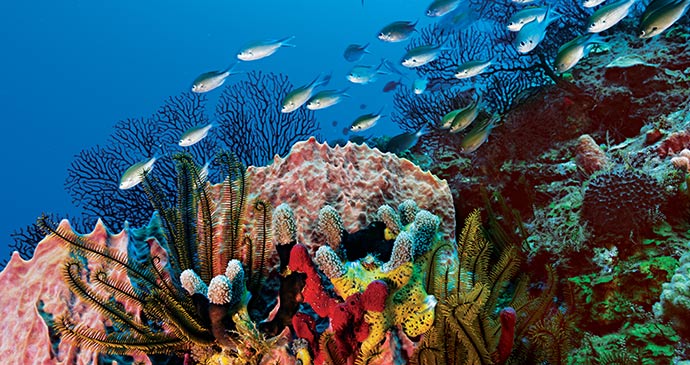 Scuba diving on Saint Lucia © Saint Lucia Tourist Board
Getting around
By road
There is a public bus system that operates from early morning to early evening, although outside of Castries and Vieux Fort services are less reliable. Taxis are available at the airports, resorts, shopping malls and at official taxi stands. Fares are fixed and drivers will tend to stick to these rates. There is a range of car rental companies on the island, to rent a car you must be over 25 and in possession of an international driver's licence or temporary driving permit.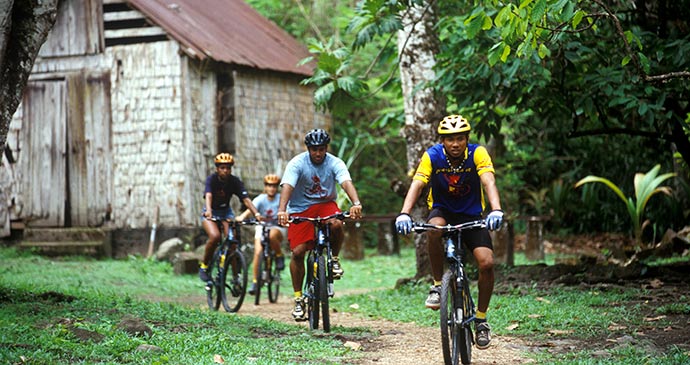 Mountain biking on Saint Lucia © Saint Lucia Tourist Board
By sea
There are a few different ferry services which can be used to make your way around the island. There is a shuttle service which crosses the harbour in Castries, while in Rodney Bay there is a ferry which will take you between the marina, the village and Pigeon Island. Water taxis are common around Soufrière.