Climate
When to visit
Highlights and itineraries
In all, there are over 500 festivals, most of which are held during the summer, celebrating everything from rhubarb to the roseate tern, black flies to blueberries.
Climate
Nova Scotia lies within the Northern Temperate Zone. The climate is more typically continental than maritime, although the sea has an attenuating effect on the temperature highs and lows. Cape Breton Island experiences much more extreme weather patterns than mainland Nova Scotia. In general, sea temperatures are too low for enjoyable swimming: the main exceptions to this are the coastal waters of the Northumberland Strait and northwest Cape Breton Island, particularly in August.
Annual precipitation averages 1,200mm, falling mainly as rain during autumn and as snow in winter. Boosting the average are the highlands of Cape Breton Island (an average of over 1,600mm of precipitation per year) and the southwest (1,500mm): in comparison, the Northumberland Strait receives less than 1,000mm a year. The summer of 2016 was particularly dry, with the southwest of the province experiencing its lowest rainfall levels for more than 70 years.
The merging of warm, moisture-laden air above the Gulf Stream with the far cooler air above the Labrador Current results in a lot of fog: this can often blanket coastal regions, particularly in the morning between mid spring and early summer. The good news is that the fog is often localised, and more often than not dissipates by late morning. Some of the foggiest parts of the province are Halifax, Yarmouth, Canso, Sydney and Sable Island.
Although most fizzle out before they reach Nova Scotia, some hurricanes and tropical storms do stay the distance and sweep across the province, uprooting trees, knocking down power lines and washing away bridges. The worst in recent years was Hurricane Juan (September 2003) which caused vast amounts of damage. Environment Canada's website offers weather forecasts for more than 40 towns across the province.
When to visit
Whilst there are reasons to visit Nova Scotia in the winter – a few festivals, some wildlife-spotting opportunities, and some minor ski resorts – there can be a lot of snow and it can get very cold. Most attractions, many eateries and places to stay outside the biggest urban centres are closed. More doors begin to open after Canadian Mother's Day (the second Sunday in May).
Realistically, those considering a visit to the province should concentrate on the period between May and late October. May is quiet, though the days are long and the weather is warming up. Later in the month, apple blossom covers much of the Annapolis Valley, and flowers begin to bloom. By the beginning of June the weather is generally good for outdoor activities such as hiking, cycling, swimming, kayaking, etc, though late spring and early summer can be foggy. The golf courses and most provincial parks are open, more attractions are opening by the day, the festival season is well underway, and by the middle of June whale-watching trips have begun.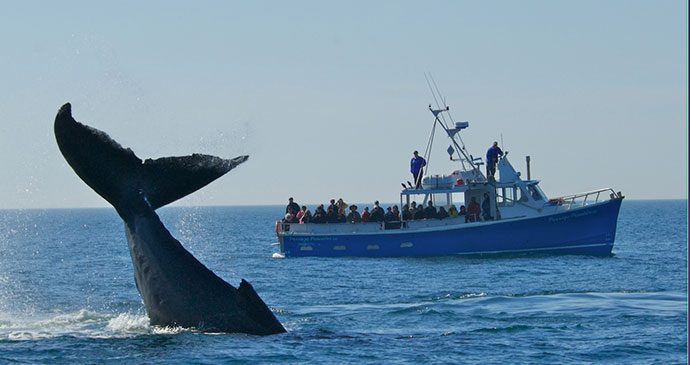 Whale watching in Fundy Bay of Fundy and Annapolis Valley © Tourism Nova Scotia
July, August and early September are relatively busy; everything is open, though high-season pricing is in effect. Those who enjoy swimming in the sea will find that August and early September offer the warmest air and water temperatures. If you will be visiting at these times, book your accommodation well in advance, and bear in mind that things will be busier. You can still find uncrowded beaches – though you'll have to walk away from the parking areas – but bear in mind that a crowded beach by Nova Scotia standards would seem relatively quiet in many other places.
Highlights and itineraries
Highlights
'Something for everyone' is a much-used phrase in guidebooks and destination based travel articles. Does it apply to Nova Scotia? Almost. But don't come for nightlife (limited) or hi-tech theme parks (the one major theme park doesn't have state-of-the-art rides), and don't come for bustling resorts with beach bars and lines of sunlounger chairs and parasols on the sand.
Culture
Nova Scotia is proud of its cultural heritage. Numerous centres and festivals have been established to educate and celebrate Celtic, Gaelic, Acadian and Mi'kmaq (aboriginal) cultures. In all, there are more than 550 festivals, most of which are held during the summer, celebrating everything from garlic to all things Gaelic, black flies to blueberries. Celtic music fans should make a beeline for Cape Breton Island Celtic Colours International Festival, but a wide variety of musical genres can be heard at music festivals held all over the province. Halifax has a particularly strong live music scene, which spans the range from rap to classical.
Folklore
Dozens of locations, including a university, schools, inns, B&Bs and restaurants, are said to be haunted, and several towns host ghost walk tours – even candlelit graveyard tours – in case you fancy rubbing shoulders with ghouls. Shag Harbour was the site of an as yet unexplained UFO crash in 1967. Several places are associated with tales of buried treasure too – none more so than Oak Island.
Food and drink
Long known for sublime seafood – particularly scallops, clams and lobster – the province has developed a good little wine industry. Tour its wineries and sample their produce. Wolfville and the Gaspereau Valley have a particularly high concentration of wineries.
Accommodation with character
There are a few high-rise hotels in the biggest urban centres, but far better are the delightful B&Bs and inns, many of which occupy beautifully restored century-old houses and mansions.
Historical sites
Nova Scotia is very rich in historical sites compared with much of North America. The most important sites include: Halifax Citadel, one of the largest British fortresses on the North American continent; Port-Royal, the earliest European settlement in North America north of Florida; Fort Anne, which contains the oldest building in any Canadian National Historic Site; the Alexander Graham Bell National Historic Site; and the Fortress of Louisbourg, one of the largest historic reconstructions in North America. There are numerous lighthouses (including Canada's first), and countless examples of well-preserved Victorian and Georgian architecture. Old Town Lunenburg is a UNESCO World Heritage site, as is the Grand Pré region.
Natural history
Geologists and fossil fans will want to visit the Joggins Fossil Cliffs – designated a UNESCO World Natural Heritage site in 2008 – a worldrenowned palaeontological site with extensive deposits of 300-million-year-old fossils. There are a number of other major fossil sites in Nova Scotia (note: unless you have a Heritage Research Permit – for details search for 'fossils' at cch.novascotia.ca – you're not allowed to take the fossils away with you). In addition, Parrsboro is home to the Fundy Geological Museum, and some beaches on the Bay of Fundy's shores can be good hunting grounds for those in search of semi-precious stones.
Outdoor activities
For outdoor types, there is superb hiking, particularly on Cape Breton Island. Waterways in remote parts of the province such as the Tobeatic Wilderness Area and Kejimkujik National Park attract adventurous get-away-from-it-all canoeists.
There are numerous golf courses; two on Cape Breton Island are rated amongst Canada's best.
Choose from more than 100 beaches, many beautiful, most almost deserted and with virtually no development, or cool off in one of the multitude of lakes. Waterbased activities include world-class sea kayaking, sailing and tidal-bore rafting. Surfing and scuba diving (primarily wreck diving) are also popular. Fish numbers have dropped, but both deep-sea sport-fishing and freshwater angling continue to be popular, as does (rightly or wrongly) hunting.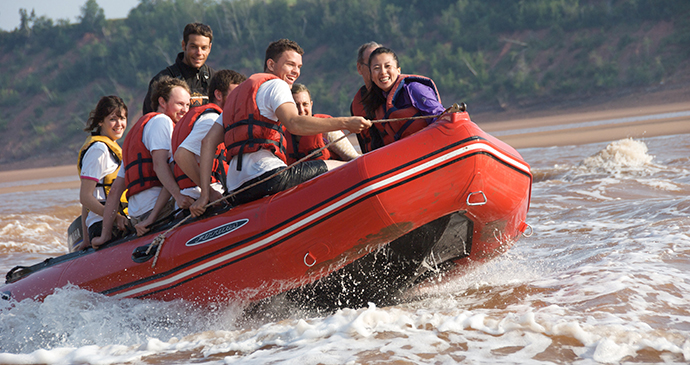 Tidal-bore rafting in Fundy Shore © Tourism Nova Scotia
The terrain in many parts of Nova Scotia, including the Yarmouth area and Cape Breton Island's Isle Madame, lends itself to cycling holidays. If you prefer four wheels, the province offers several lovely drives, the majority overlooking the sea.
One – the Cabot Trail – ranks amongst the world's best coastal drives.
Wildlife and nature
For wildlife enthusiasts, the Digby Neck in particular offers some of the world's best whale-watching opportunities. In addition, there are several seal colonies just off Brier Island. From the few roads which pass through the province's densely forested interior you may be lucky to spot black bear. If you want to see moose, head for the Cape Breton Highlands National Park.
Birdwatchers are spoilt for choice: bald eagles can be seen around the Bras d'Or Lake in summer and autumn, and in huge numbers near Sheffield Mills in the winter. August is the best time to see the southward migration of arctic-nesting shorebirds.
New England might be better known for its autumn colours, but they can be pretty impressive here, too. Combine leaf-peeping with some of the world's best Celtic music at Cape Breton Island's annual Celtic Colours International Festival in October.
Suggested itineraries

As everyone has their likes and dislikes and their own preferred way of travel, use these basic itineraries as starting points and tailor them to your own preferences. Personally, I prefer to spend more time in fewer places, but I appreciate that others may wish to pack as much of the province as possible into their trip. Keep your fingers crossed for good weather: like many other places, too many grey, wet days can easily take the gloss off a holiday.
A weekend
Stay in Halifax and take a day trip out to Mahone Bay and Lunenburg.
A week
Stay a couple of nights in Halifax, a couple of nights in Lunenburg (visiting Chester and Mahone Bay en route), relax on one of the beaches near Liverpool or explore Kejimkujik National Park en route to Annapolis Royal: spend two nights there, taking a whale-watching tour from Brier Island, then a night in Wolfville (visiting Grand Pré). Or, stay a couple of nights in Halifax, a night in Antigonish, head to Cape Breton Island and start driving the Cabot Trail clockwise, stay a couple of nights in the Ingonishes, a night in Sydney or Louisbourg and a night on Isle Madame.
Two weeks
Combine the two one-week suggestions, replacing two of the Halifax nights with a night in Parrsboro (between Wolfville and Antigonish) and a night in Guysborough (after Isle Madame). Any extra days will allow you to include Shelburne, Yarmouth, Cape Chignecto, and more of the Eastern Shore. Ideally, take longer and cover less distance. Don't rush Nova Scotia!