Author's take
By the time I first visited Nova Scotia I had worked in the travel industry for close to 20 years and considered myself well travelled. I had made numerous long trips to Canada, but other than the fact that its airport (and presumably biggest city) was Halifax, I knew very little about Nova Scotia. If pressed, I would have said that I imagined it was cold, wet and windy.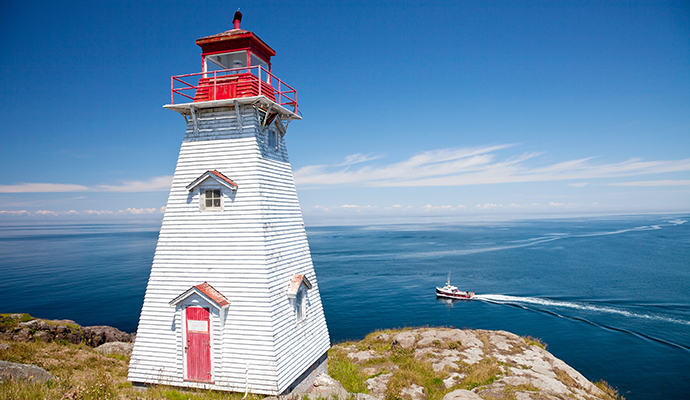 Boar's Head Lighthouse © Tourism Nova Scotia, Perry Dyke
Since then, I've learnt much about the province. Although it always seemed to be lumped in with its maritime neighbours (New Brunswick, Prince Edward Island and Newfoundland and Labrador), it is large enough (55,300km²) and varied enough (dense forest, countless remote lakes and waterways, a vibrant capital, fabulous music, photogenic fishing villages, towering cliffs and beautiful sandy beaches) to be a popular destination in its own right. Wrapped in 7,400km of coastline and virtually an island, Nova Scotia's culture and heartbeat has always been shaped by the sea. Stories of pirates, buried treasure and ghost-ships abound, and there are stunningly located lighthouses to photograph.
Something to cater to those who wanted to do, those who wanted to dream, and those who wanted to discover the province's highlights as well as its virtually unknown nooks and crannies.
Compared with the UK, it may have relatively cold winters with a fair amount of snow, but Nova Scotia is hardly 'the Frozen North' – the provincial capital, Halifax, is on the same latitude as Bordeaux, France. When in Nova Scotia, my partner and I liked the contrast of the simple, slow rural lifestyle versus the buzz of Halifax; we were enchanted by the character, comfort (and breakfasts) at the B&Bs; we delighted in the heritage architecture, the music, the seafood, the orchards and the wild flowers; and chatting to the locals – humorous, welcoming and proud of their province – was always entertaining.
We wondered how the kids would enjoy it. Nova Scotia's theme parks are few and far between, and the province's biggest, Upper Clements Theme Park, isn't exactly Disneyland. There are only a few cinemas and, with a couple of exceptions, the museums aren't exactly hi-tech. Apart from the Northumberland Strait (and a few other hotspots) the sea isn't warm enough for swimming.
But they loved watching a blacksmith at work and wool being spun at the living museums, taking a boat trip in search of whales, paddling a canoe, and gorging themselves on berries at a U-pick (pick-your-own) farm. On Cape Breton Island we had moose-spotting competitions, sailed on the Bras d'Or Lake, explored the fortress at Louisbourg and swapped four wheels for two on Isle Madame.
The kids played soldiers at the Halifax Citadel, and rolled down the grassy ramparts at Annapolis Royal's Fort Anne. Ice creams made up for the disappointment of failing to find any fossils or gemstones on the beach at Scots Bay. After several visits we decided to save the time and expense of crossing and re-crossing the Atlantic. We bought a big souvenir – a house overlooking the sea – and have now called Nova Scotia home for more than seven years.
Author's story
When I visited Nova Scotia for the first time, I looked for a guidebook to help enhance my experience there, but found that most of them lumped the province with its neighbours, Prince Edward Island and New Brunswick, some also including Newfoundland and Labrador. Fine for an overview of the entire region, but of limited use to anyone wanting to focus solely on Nova Scotia. I turned to Nova Scotia's tourism authorities who produced (and still do) Doers & Dreamers' a thorough listing of all the province's museums and attractions and virtually all accommodation choices from campgrounds to deluxe resorts, but these are unedited lists.
Each time that I went back to Nova Scotia and explored places – some wonderful, others missable – it became increasingly obvious that there was a need for a more comprehensive, subjective guide. Something to cater to those who wanted to do, those who wanted to dream, and those who wanted to discover the province's highlights, as well as its virtually unknown nooks and crannies.
Research took place on foot, in canoe and kayak, by ferry, by bike, by coach, and tens of thousands of kilometres by car – and I tried to return everywhere at a different time of year to see if my impressions changed. Now, my Canadian citizenship allows me to spend even more time exploring the province and enjoying long conversations with waiters, fishermen, B&B owners, shopkeepers, park rangers, artists, tourists, birders, musicians and many more – in Nova Scotia it is hard to find someone who doesn't like talking about their fascinating homeland.