Eating and drinking
Accommodation
Eating and drinking
Food
Food visitors who enjoy seafood will be in gastronomic nirvana everywhere in Nova Scotia. The price may have crept up over the years, but fish (usually haddock) and chips is almost always done well, freshly cooked and not too greasy. You'll also see a lot of flounder, halibut and salmon: plank (or planked) salmon – where the fish is slow-cooked on a wood plank (usually cedar) – is a highlight.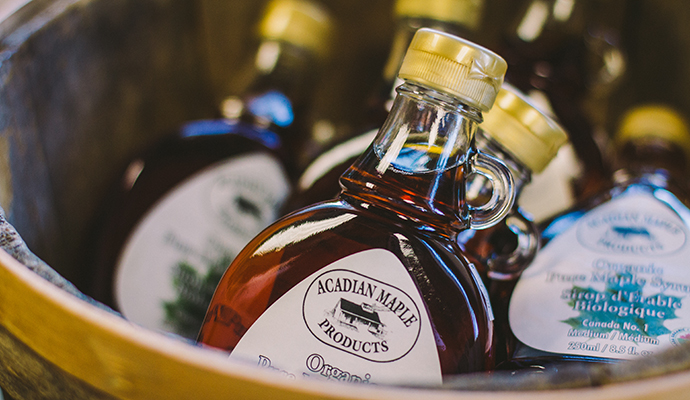 Maple syrup is a speciality of the region © Nova Scotia Tourism
Then there's the shellfish. Top of the pile is lobster – Nova Scotia is the world's largest exporter of the crustacean, but more than enough remains to grace menus throughout the province. It is usually steamed or boiled in seawater, then served with butter – fancier methods of presentation, such as lobster thermidor or lobster Newburg, are seen less often. The larger supermarkets often have glass lobster tanks – at Sobeys stores you can choose a lobster and have it cooked whilst you wait, at no extra cost.
But the province's waters offer other treats, too. Enjoy some of the world's most delicious scallops, plus tasty mussels, oysters, crab and clams. Seafood chowder (a thick, chunky creamy seafood soup) can be a meal in itself. Those who choose not to eat, or want a change from, seafood need not worry. You will usually find a reasonable selection of chicken, turkey, pork, beef and (to a lesser degree) lamb dishes. Upmarket steak restaurants tend to use beef flown in from Alberta, Canada, or the USA.
Drink
Glenora Distillery in Glenville, Cape Breton Island © Nova Scotia Tourism Agency
You'll find big-name Canadian and American beers everywhere, but even more popular are Nova Scotia-produced brands. Best known (and much-loved locally) is Keith's, and the love affair continues even though the brewery is now owned by Labatt's, a subsidiary of Anheuser-Busch InBev. Beer fans are spoilt for choice with an increasing number of microbreweries and brewpubs dotted around both Halifax and the rest of the province. Another tipple that you should sample is Nova Scotia's single malt whisky, distilled on Cape Breton Island. Whisky is now also distilled in Guysborough and River John.
Other good distilleries include those in Lunenburg and Lequille (near Annapolis Royal). With an abundance of delicious apples, you won't be surprised to hear that very good cider is produced locally. Visitors from the UK may get a surprise when they taste it though: unless called hard cider, it will be nothing stronger than sweet, refreshing apple juice.
Accommodation
The province offers a range of places to stay, from wilderness campsites through to deluxe hotels and resorts. Virtually all of these are listed on Nova Scotia's official tourism website, and also appear in the official annual Doers & Dreamers guide. Outside the biggest urban centres, relatively few properties are open year-round: for most, the season runs mid May to early October. In listings, we have noted those places only open in season; otherwise, assume they are open year-round.
Hotels
Halifax and Sydney are home to the big-name (relatively) high-rise hotels. Dotted about the province's shoreline are resorts off ering everything from standard rooms to three- or four-bedroom private chalets, and numerous activities, which often include a golf course.
Motels
Motels range from traditional family-owned single-storey buildings (some have seen better days) where you can park right outside the door of your room, to brand-new international chains, often with heated indoor swimming pools.
B&Bs
For me, one of the joys of travelling around Nova Scotia is its B&Bs and small inns. Several are housed in beautifully renovated historic buildings, many of which are heritage properties, and are tastefully decorated with period(ish) antiques. Despite the historical surroundings, amenities are modern and the plumbing works well. Each property is unique and full of character, and good hosts can quickly recognise whether you want your own space, or whether you'd like to sit, chat and perhaps benefit from their local knowledge. Breakfasts are generally superb. A good place to start looking is the website.