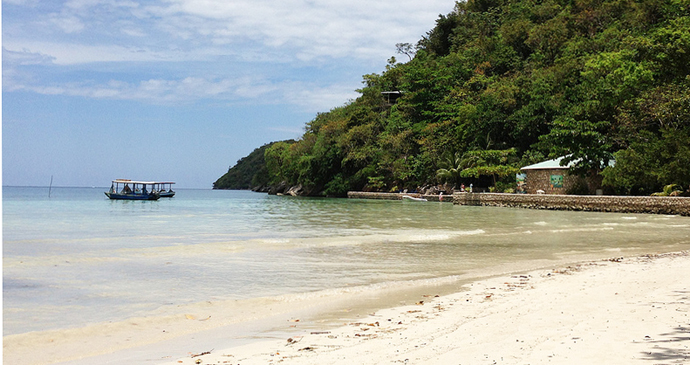 Boats in the bay at Paradise Beach © Andrew Wiseman, Wikipedia
Visas
Getting there and away
Getting around
Visas
All visitors to Haiti require a passport, the expiry date of which must be valid for six months beyond the length of your stay. If you are arriving by air, a return flight ticket is also required, but entry itself is visa-free, except for nationals of the Dominican Republic, Colombia and Panama. There's a tourist landing fee of US$10 paid on arrival at a small booth just before immigration – you'll need the receipt when your passport is stamped. A stay of up to three months is permitted on arrival. When being stamped in, the green immigration landing card you must complete has a tear-off slip at the bottm marked 'Départ/Departure' which you'll be given back – keep this safe, as you need to hand it in when leaving Haiti.
If you are intending to stay in Haiti longer than three months, there are two options. The first is to leave the country and re-enter, thus giving you a fresh three-month entry stamp. This is most easily and economically done by making a side trip to the Dominican Republic – there are direct road transport links from Port-au-Prince to Santo Domingo through the border at Malpasse/Jimaní, and from Cap-Haïtien to Santiago through the border at Ouanaminthe/Dajabón. With your own vehicle this can be a day trip or less, and is relatively hassle-free.
Getting there and away
By air
Haiti's main entry point is Aéroport International Toussaint Louverture (code PAP; tel: 2250 1120/1123) in Port-au-Prince. The busiest route to Haiti by far is through Miami, allowing plentiful connections from international and domestic American flights. The secondary airport is Hugo Chavez International Cap-Haïtien (code CAP; tel: 2262 0313/8539), expanded in recent years (with Venezuelan money – hence the name) to allow international flights.
Of the major international carriers, American Airlines offer the most flights to Port-au-Prince – twice daily from Miami and once a day from New York JFK and Fort Lauderdale, Florida. There is also a daily flight from Miami to Cap-Haïtien. Delta Airlines fly daily from JFK. United Airlines fly three times a week from New York/Newark (EWR). Jet Blue fly to Port-au-Prince from Fort Lauderdale, New York JFK and with a high-season service from Boston. Air Canada connects to Port-au-Prince with four flights a week from Montréal. Air France fly four times weekly from Miami and from Paris (via Pointe à Pitre in Guadeloupe). You can also fly from Paris to Port-au-Prince with Air Caraïbes.
Smaller airlines also abound. Haitian airline Sunrise Airways fly from Port-au-Prince to Santo Domingo in the Dominican Republic, and Santiago and Camaguey in Cuba. Direct services are reportedly planned to Havana and Kingston (Jamaica). Spirit Air fly to Fort Lauderdale, Florida. Insel Air fly to Miami, as well as Curacao in the Dutch Antilles. Intercarribbean fly to Providenciales
By land
There are four official border points between Haiti and the Dominican Republic. The busiest is at Malpasse (to Jimaní) between Port-au-Prince and Santo Domingo, followed by Ouanaminthe/Dajabón, between Cap-Haïtien and Santiago in the north. In both cases, there are direct public transport links between the cities on either side of the border, taking the hassle out of the crossings. The two less frequently used border points are from Anse-à-Pitre to Pedernales in the far south, and Belladère to Elías Piña (Comendador) in the centre.
Immigration is open 08.00–18.00 (from 09.00 in the Dominican Republic, but note that the country is 1 hour ahead of Haiti). There are various charges levied on both sides of the border, all payable in US dollars: US$10 each way to enter/leave the DR, and US$10 to leave Haiti. Technically, US$10 must also be paid to enter Haiti by land too, but for some reason I've only ever been charged a token US$1.
From Port-au-Prince, three coach companies have daily services to Santo Domingo: Terra Bus (Av Pan Americaine, Pétionville; tel: 2257 2153), Caribe Tours (cnr rues Clerveaux & Gabart, Pétionville; tel: 2257 9379/3785 1946), and Capital Coach Line (8 Rue Borno, Pétionville; tel: 2512 5989; www.capitalcoachline.com). Capital also has departures from a depot on Route de Tabarre, near the US embassy. The coaches are air conditioned and a sandwich and drink is provided en route. One-way tickets cost around US$40, but you can also opt to have the border fees bundled into the cost of the ticket. Travel time is 8 hours.
From Cap-Haïtien, Caribe Tours (Rue 24B; tel: 2260 1258/3614 0264) have a similar coach service to Santiago, taking 6 hours and costing US$25 one-way, plus border fees. The coach continues to Santo Domingo, an 11-hour trip costing US$30.
Getting around
Haiti is not a large country to travel around, and has a road network of variable (although improving) quality, and a decent selection of internal flights from Port-au-Prince.
Port-au-Prince sits squarely in the centre of the national highway system, and the fact that all roads lead to the capital makes it either a convenient base to travel from, or an unavoidable annoyance if you'd prefer to avoid getting sucked into its traffic gridlock. From Port-au-Prince, Route National (RN) 1 heads north to Gonaïves and then over the mountains to Cap-Haïtien. At Gonaïves, the road also splits to lead to Port-de-Paix along RN5. East of the capital, RN3 passes through Mirebalais and Hinche, and continues on to Cap. In the south, RN2 passes through Léogâne and Miragoâne on the way to Les Cayes and Port Salut. Side branches split off towards Jacmel (RN4) and Jérémie (RN6). For the most part, these roads are well paved. Notable exceptions include the terribly pot-holed road from Gonaïves to Port-de-Paix, and the unsealed stretches from Hinche to Cap-Haïtien. Away from the national highways, road quality can be highly variable. The rainy climate means that unmaintained tarmac roads quickly attract pot-holes, while unsealed roads of packed earth or gravel can become equally slow and treacherous in heavy rains.
For trip planning, by far the best map commercially available is the Haïti Carte Touristique, produced by the Ministry of Tourism. You can find it in larger supermarkets and some bookshops in Port-au-Prince and Pétionville, costing around US$4. It's a little outdated in places and carries a few errors (all corrected in this book), but has a useful street map of Port-au-Prince on the reverse side.
By car
Having your own vehicle gives you the maximum amount of freedom to get around in Haiti. You'll need either your driving licence from your home country or an international driving permit to get behind the wheel. Wearing seatbelts is compulsory, although a rule more honoured in the breach than in the observance.
If you're working with an organisation, it's possible you might have access to one of their vehicles, otherwise there are plenty of car-rental companies in Haiti, including most of the international companies (who are mostly based near the airport in Port-au-Prince). The default vehicle of choice is some sort of 4×4 – few people drive regular cars if they have a choice, as Haitian roads are demanding on vehicle maintenance. Be warned that rental prices are high – starting at around US$150/day or US$200 if you also want a driver. At the time of writing, fuel cost around 200HTG (US$3.25) for a gallon of petrol.
Traffic drives on the right, and wherever there's a clear road there's a tendency for drivers to put their foot down. Too many Haitians drive offensively rather than defensively, and this can take some getting used to. In heavy traffic, no space seems small enough to squeeze a vehicle into, and no corner too blind to try to overtake on. Get used to using your horn. If at all possible, avoid driving at night – a frightening proportion of drivers seem to eschew the use of headlights, and pedestrians walking in the dark can be hard to see. When parking, it's not uncommon to pay a guardian a few gourdes to watch your vehicle (you'll usually be approached beforehand).
By bus
Haiti's towns and cities are stitched together by a wide variety of transport of varying shapes and sizes. I'm using the terminology 'bus' here in its loosest sense – you can be lucky enough to get an air-conditioned mini-coach, travel with the chickens on a bone-rattling bus, or (most likely) squeeze into a minibus or covered pick-up truck known as a taptap.
For most destinations you'll get a choice of different transport types, but most will leave from a standard departure point, called an estasyon. The term 'bus station' is far too formal to apply here – in most cases they're more like a car park surrounded by a moderate swirl of anarchy. Touts shout out for passengers, while even more people offer food and drinks for the journey and mobile-phone top-ups.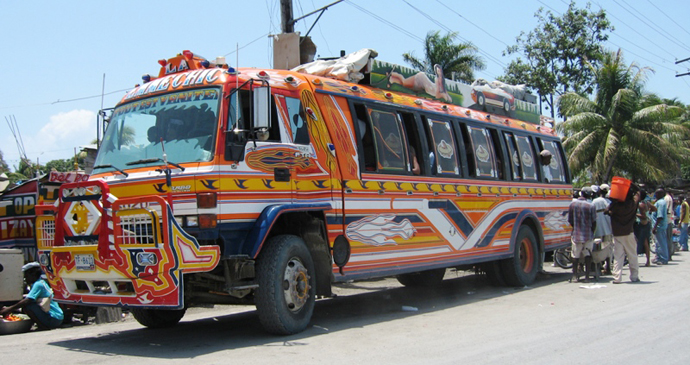 Brightly coloured taptap bus in Port Salut © LeRoc, Wikipedia
Best of the bus options are the regional travel companies offering air-conditioned coaches or minibuses to regional destinations. They usually have dedicated stations with seating areas and toilets and sell tickets in advance, and you'll get your own seat. These bus companies are a relatively new – and very welcome – development in Haiti. Destinations served from Port-au-Prince include Cap-Haïtien, Jacmel, Gonaïves, Jérémie, Les Cayes and Port-de-Paix.
Also available – and considerably less comfortable – are the imported American school buses. The more organised bus companies brightly repaint them (slogans often invoke a love of Jesus or the Psalms), but don't be too surprised if you get on a bus whose apparent destination appears to be a school somewhere in the midwest of the USA. Inside, basic seats take three passengers on each side of the aisle, with a seventh quite often squeezed onto a stool in the aisle itself.
More common for journeys of up to a few hours are taptaps. These are fill-and-go vehicles – either minibuses or pick-up trucks with a roof added and bench seating along the back.
Do not expect comfort. Your luggage will hopefully squeeze into the above-seat racks or below, otherwise you'll be expected to tip the guys who put your bag on the roof. For long distances, tickets are sold a day in advance, and buses roughly adhere to a set departure time. For all bus trips, if the journey is more than about 4 hours, expect at least one meal stop.
More common for journeys of up to a few hours are taptaps. These are fill-and-go vehicles – either minibuses or pick-up trucks with a roof added and bench seating along the back. Seats next to the driver are more comfortable, and attract a slightly higher fare. A pick-up taptap should take six passengers on each bench, but invariably squeezes in a few more in the middle (often sat on the sacks and pots of fellow passengers), and maybe a couple more on the roof rack. As well as transport between towns, taptaps also ply set routes within cities. Just stand at the side of the road and flag them down as they approach – take the same approach in rural areas where transport is scanty.
By moto-taxi
In practical terms, the quickest and easiest way to get around town (and frequently between towns) is to grab a motorbike-taxi ('moto-taxi', or just plain 'moto'). Fares vary – a 10-minute ride in Port-au-Prince will cost two or three times the equivalent distance in somewhere like Jacmel. Drivers occasionally wear crash helmets themselves, but I've never come across one offering a helmet to a passenger. Two adults can ride pillion, but it's not uncommon to see motos picking up four kids at the school gate to take them home.
Bikes are usually sturdy Chinese imports, although places like Jacmel and Gonaïves seem to specialise in weedy little scooters. Either way, moto drivers are often reckless with both their bikes and their passengers: hitting the gas whenever the road is clear, or trying to squeeze narrowly between trucks when traffic is tight. Feel free to tell your driver to slow down or otherwise take care as you see fit (I once had to reprimand a driver for sending text messages while driving at high speed). The corollary to this is that, if you find a particularly good and trustworthy driver, take his number and use him again.
While taking motos is almost unavoidable in Haiti if you don't have your own vehicle, not all travel insurance policies cover riding pillion on a motorbike, so check your fine print. Accidents are certainly not rare – one resident of Cap-Haïtien joked to me that the emergency unit of the local hospital was dubbed 'Haojin' by medical staff, after the most popular brand of motorbike ridden by accident victims.