Getting there and away
Getting around
Visas
All visitors to Grenada must be able to present a valid passport and a return or an onward ticket. Visitors from the UK, US, Canada, Commonwealth countries, EU countries, Caribbean countries, Japan, Norway, and Israel do not need a visa.
There is no departure tax on leaving Grenada's Maurice Bishop International Airport. Unlike on some other islands, the tax has been built in to your ticket. Travellers departing Lauriston Airport in Carriacou and connecting to an international flight the same day must pay a departure tax of EC$60. If you are flying from Lauriston and staying in Grenada then you must pay a departure tax of EC$10.
Getting there and away
By air
Grenada's Maurice Bishop International Airport services flights to and from the United Kingdom, the United States, Canada and the Caribbean. The airport is located in the southwest of Grenada and is very close to the large resorts and beaches of Grand Anse.
By sea
Cruise ship
Grenada is visited by several cruise lines. The cruise-ship terminal is located in the capital, St George's, where two ships are able to put in at the same time. Additional ships either berth at the port or in St George's Harbour where passengers are transported by tender to the cruise-ship terminal. Cruise prices vary according to time of year and cabin type, and schedules are also subject to change. When booking cruises, you have the option of choosing shore excursions in advance.
Private yacht
Visitors to Grenada, Carriacou and Petite Martinique arriving by private or charter vessel should notify authorities within two hours of arrival at one of the following ports of entry: Grenada Marine, Grenada Yacht Club, Grenville Harbour, Hillsborough (Carriacou), Le Phare Bleu, or Prickly Bay Marina. A clearance form can be downloaded from the internet and you must purchase a cruising permit which is valid for a month and allows you to sail Grenada's waters unrestricted. Other documentation requirements include: three crew and/or passenger lists; immigration cards for crew members and passengers landing; ships, stores and health declaration; a port clearance from the last port of call; a valid passport for all crew and passengers. Grenada uses the Red Right Returning Rule.
Getting around
Getting around Grenada, Carriacou and Petite Martinique is relatively straightforward. The public transport system of buses is very efficient and inexpensive and taxis are widely available. Without doubt the most convenient and flexible way to explore the islands, however, is by rental car. Both Grenada and Carriacou have a good selection of car-hire firms.
By bus
Many bus drivers in Grenada have their own colourful slogans, nicknames or mottos plastered on both front and rear windows, making your trip a fun ride.
Grenada has an excellent bus system. It is very convenient, affordable and extremely reliable. The only real downside is that many buses tend to stop operating after around 19.00 on most days and are very scarce on Sundays.
The bus system is straightforward. Almost all bus routes start and finish at the bus terminus on Melville Street. The terminus is very easy to find. It is a busy and noisy place, yet deceptively well organised, with droves of buses seeming to arrive and depart in an orderly fashion. The buses are the minibus variety and can be identified by the prefix H on their number plate as well as the route number and destinations printed on the front windscreen.
Many drivers also have their own colourful slogans, nicknames or mottos plastered on both front and rear windows. Some bus drivers may be accompanied by a 'conductor' who makes appeals to potential passengers and collects money. Where there is no conductor simply pay the driver at the end of your trip. Catching a bus is great value for money and fares will rarely top EC$10.
There is an 'off-route' system that takes in the beaches, hotels and bays of the southwest peninsula and is a little more expensive. In Carriacou, the buses follow the same system, beginning and ending their routes at the terminus in Hillsborough. There are no buses on Petite Martinique.
By taxi
Grenada's taxi drivers are licensed by the government and should prominently display their official credentials. The price of journeys from Maurice Bishop International Airport are fixed but in other places you should agree the fare before getting into the taxi. Many taxi drivers will also offer island tours, and fares are negotiable. Be sure you are clear on the fare before you set off and that you know whether the dollar price quoted is US or EC.
Car hire
You have a good choice of car-hire companies in Grenada and Carriacou. The most common cars are small 4×4 vehicles. Prices vary according to car type and season but are on average between US$50 and US$70 per day with discounted rates usually offered for longer periods. Collision damage waiver is often an additional cost – please ask. Many hire companies offer free drop-off and pick-up at the airport and hotels. Check the car over very carefully before signing your rental agreement. Look for scratches and bumps, test lights and brakes, examine tyre tread and make sure any bodywork defects are properly recorded.
Between the steep, winding roads and possible muddy tracks, driving in Grenada can be unpredictable, so make sure you're happy with your car before driving off.
If the vehicle has poor tyre tread, request replacements. If the car handles poorly when driven, return it and request a replacement straight away. Do not settle for something that feels or looks wrong. Grenada has very steep and winding roads, some along high cliffs. If you are exploring the interior, you may also have to drive along rough, perhaps muddy vehicle tracks. Be sure you are happy with your car before driving off.
The Grenada government requires the purchase of a visitor's temporary driving licence. This costs EC$60 for a three-month licence and is either obtained from the car-hire company itself or from a local police station (if the latter is the case the rental company will take you there). In order to hire a car and purchase a visitor's licence, you must be able to present either your domestic or international driving licence, so make sure you bring it on holiday with you.
Water taxi
An interesting, fun and often quite wet way to either explore or simply get from A to B is to take a water taxi. A ride on one of these colourfully painted wooden motorboats can cost as little as US$5 or as much as US$100; it all depends on where and how far you would like to go. During the cruise-ship season water taxis make frequent runs between the cruise-ship terminal and Grand Anse Beach. Simply follow the signs to the water taxis in the Esplanade shopping mall. Prices are usually on a per-person basis. Th ey also operate from the Carenage in St George's.
Water taxis may also take you further afield to other beaches or to off shore islands. Some of these trips may include a spot of fishing and a barbecue on the beach. They can be great fun. Many hotels can set you up with water taxis that they recommend. Alternatively you can simply look for one and negotiate. Very few actually advertise, however.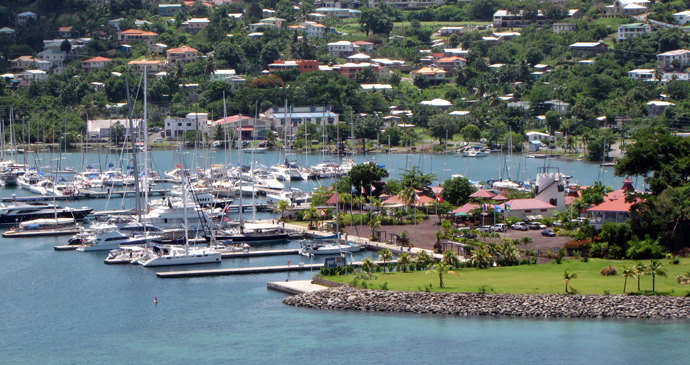 In Carriacou water taxis can take you to Sandy Island, White Island, Petite Martinique, or even further afield to places like the Tobago Cays, five beautiful desert islands that belong to St Vincent and which were a location for the film Pirates of the Caribbean.
Hitching
Hitching a ride is common in Grenada and, if your budget is very tight, or if buses do not operate along your planned route, it is an inexpensive way to get around. You will often see people trying to get a ride, especially on Sundays and in the evenings when fewer buses operate.
Hitching may involve long waits, of course, sometimes in heavy downpours, but together with travelling by bus, it is a nice way to meet local people and experience a part of their lives and their island that may not be possible in other circumstances.