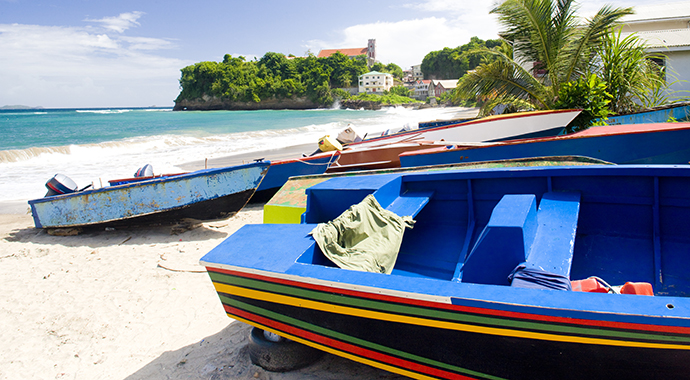 Sauteurs Bay is a beautiful, usually deserted bay on the north coast of the island © Richard Semik, Shutterstock
Author's take
Grenada is a scenic and interesting island. It has picture-postcard beaches where you can while away the hours by a turquoise sea, watching sailboats passing by, dreaming, relaxing with a book. There are plenty of comfortable resort hotels and self-catering villas to choose from and most are located along the shoreline or have ocean views. Restaurants are plentiful and the choice of cuisine is varied and often world class.
Inland the island is mountainous and forest-covered. Nature-lovers and hikers can explore trails to waterfalls, mountain peaks, and secret coves. The tropical countryside has lush rainforest, colourful plants, diverse fauna, and farmlands growing root crops, citrus, nutmegs and the spices for which this island has become famous.
I urge you to explore beyond the loungers and the beaches if you can, to discover more of these three alluring islands and to engage with their friendly and interesting people.
Watersports enthusiasts can scuba-dive to interesting shipwrecks, an underwater sculpture gallery, and colourful coral reef systems. Sailing is big here. The islands host several international regattas each year, there are operators offering a range of day charters and tours, and well-equipped marinas and haul-out facilities are located in many of the natural anchorages, bays and inlets of Grenada's south coast.
Cultural heritage comes alive in the form of historic rum distilleries, cocoa estates, nutmeg processing stations, plantation ruins, and village feasts. On next-door Carriacou the string band and maroon festivals, Big Drum Dance, traditional boat launchings, Amerindian artefacts, and community saracas offer a potent and intoxicating link to the past.
Carriacou should not be missed, and you should try to visit for longer than just a day; three would do it, if your time is limited. The magical islands of the southern Grenadines are not only steeped in history and tradition, they are also beautiful, remote, romantic and, in many senses, very carefree.
People travel for many reasons and you may want to do as little as possible and recharge. In this day and age, it is understandable. Nevertheless I do urge you to explore beyond the loungers and the beaches if you can, to discover more of these three alluring islands and to engage with their friendly and interesting people. Have a memorable journey.
Author's story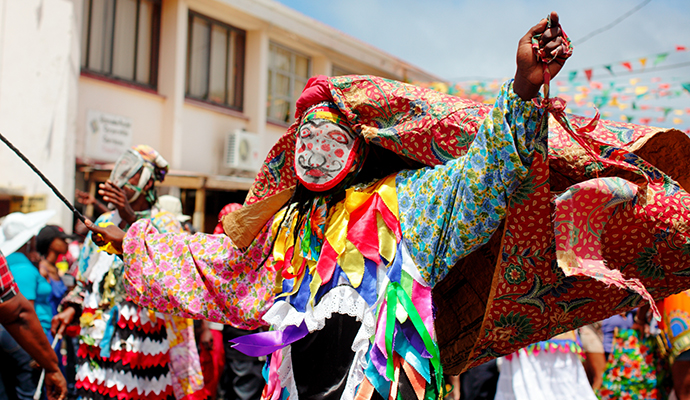 Shakespeare Mas is one of the most curious cultural traditions at the Carriacou carnival © Paul Crask
Grenada has become very familiar to me now; at least a good part of it. I am not wealthy enough to indulge in the luxury resorts of the southwest peninsula, though I do drop in, wide-eyed, and take a look around. My friends know that I am far more comfortable walking a trail or talking to farmers, learning about the nutmeg industry, sampling rum, or watching chocolate being made; getting messy. I do like the beaches (how can you not?), but I think my favourite one is at the end of a swampy walking trail and has a shipwreck on it.
In order to experience something completely new, I timed my latest trip to take in the annual carnival at Carriacou. I hadn't really given much thought about what to expect – small island carnivals are usually quite similar – and so, on J'Ouvert morning, the sight of jab-jabs covered from head to toe in a combination of engine oil and paint, with fish and shellfish sticking out of their mouths and horns out of their heads, or dragging cattle skulls around on ropes, did take me a little by surprise. And I wondered what the tourists disembarking the Osprey ferry made of it; first impressions and all …
The biggest surprise for me this time was the Shakespeare Mas; a spectacle I still find it difficult to get my head around. Two groups of people, full of rum and village pride, recite Shakespeare in literary combat before beating the hell out of each other with sticks. I couldn't get enough of it; and when I think of it now, I wonder if it really happened or whether I had simply drunk too much good local rum by that point.
As well as carnival, I came across some interesting new places when travelling around for this edition, and I discovered that a few other things had sadly disappeared; gone forever. Without doubt the greatest loss for me personally was a man called Mott Green, the pioneer of organic Grenada chocolate-making, who I had befriended on previous trips and who had tragically died while working on a new solar-powered cooling system. He died being innovative and different; true to the way he had lived his life on the spice island. This edition is in his memory.
The chocolate-making sector had grown, thanks to Mott, and I was able to visit two new and interesting factories at Victoria and Crayfish Bay, as well as see another being built at the fabulous Belmont Estate, a place that has always been close to my heart. I even had a chance to make some, and now I'm hooked!