Highlights and itineraries
Getting to Dominica is no easy feat and it's not always possible to do it in a single day. You may have to overnight in Antigua, Barbados, St Martin, Guadeloupe or Martinique – it all depends where you are coming from. Often when people consider coming to Dominica they think about their connecting flight first, then their long-haul flight, and then somewhere to stay. Believe me, you really have to want to come here; but it is worth it!
Although Dominica does have beaches, that's not the reason you come here. You come to get wet, muddy and sweaty; to free up and feel alive. So if you're looking for all of this with a side of powder-white sand beaches, fine dining and cocktails at sunset, I would recommend making your stay on Dominica part of an eastern-Caribbean multi-destination holiday.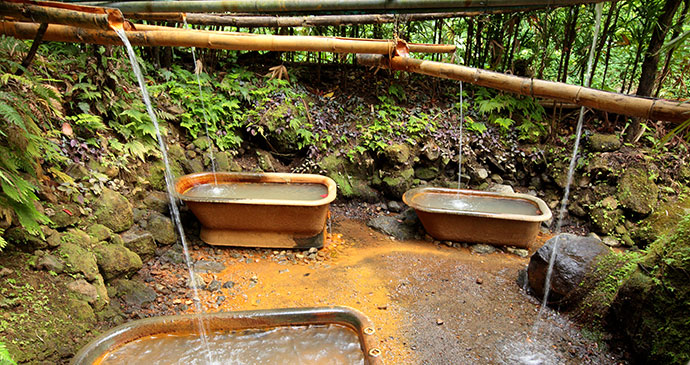 Travellers come to Dominica for its dramatic, unspoilt and diverse natural habitats. Its cluster of nine active and dormant volcanoes and swathes of undisturbed rainforest make it unique to this region. This means it is an island for travellers who enjoy nature and the great outdoors. Its vast network of hiking trails are the main draw. The 200km Wai'tukubuli National Trail is a trek without equal in the eastern Caribbean and the island's signature hike, the Boiling Lake Trail, is on most hikers' bucket lists.
Dominica is also a popular destination for scuba divers and natural science enthusiasts. The island has endemic reptile, amphibian and bird species, sperm whales can be seen all year round, and the coral reefs and marine life are pristine and diverse.
In the interior, try the Boiling Lake hike followed by a swim up Ti Tou Gorge and then a hot sulphur bath at Wotten Waven to work on those tired and aching muscles. Dinner in the Roseau Valley; try Papillote Wilderness Retreat or River Rock Café. On another day, climb Morne Trois Pitons and follow it with a cool down at Mero Beach, where there are several nice places for drinks and eats; Romance Café is a great option.
In the north visit the Cabrits National Park trails, Fort Shirley garrison, a swim at Purple Turtle Beach or Douglas Bay, and then a late afternoon trip up the Indian River. Purple Turtle is handy for lunch and there are several decent restaurants in the Picard area for dinner. Try Iguana Café at Glanvillea for something a little different, or some great seafood at Sisters Beach Bar in Picard.
In the east go to Victoria Falls and/or Sari Sari Falls (but only when it isn't raining). Riverside Café at Citrus Creek Plantation is a great place for a late lunch and a bathe in the Taberi River.
In the west, there is snorkelling at Champagne then down to Scotts Head for a climb up to the top of Cachacrou and then a swim and some more snorkelling to cool off . Late lunch and a cold beer in Scotts Head or Soufriere; Cocoyea by the church in Soufriere is a good choice and if you fancy lobster, give Anna a call at Chez Wen.