Author's take
A lady taking part in Dominica's Carnival © Paul Crask
Wai'tukubuli is the name the indigenous Amerindians, the Kalinago, gave to this island before Columbus turned up. It means 'tall is her body' and from the moment you land here you can understand why. Volcanic peaks dominate the landscape and vast swathes of rainforest cover the entire island in a blanket of greens. From high elevations, hundreds of streams and rivers make their way down to the sea, some tumbling from cliff s as waterfalls, others meandering slowly, creating crystal clear pools and fresh water lakes along the way. Volcanic activity is evident in the form of fumaroles, hot springs, black sand beaches, and a boiling lake. Endemic species of parrots, hummingbirds, and a mesmerising variety of tropical plants and flowers add further colour and interest, and the heritages of South America, Africa and Europe combine to create a fascinating bouillon of music, dance, food, language and cultural festivals.
Excluding those who turn up for the day on cruise ships, Dominica has relatively few visitors. With no international airport and a name many still confuse with the Dominican Republic, you can legitimately consider yourself to be on a Caribbean island that has, despite many efforts to the contrary, somehow managed to stay off the beaten track. It is branded the 'Nature Island' with good reason, for it is very different to the image of the Caribbean that most conjure up in their minds. Indeed people from this region often describe Dominica as 'how the Caribbean used to be', before the rest of the world moved in.
Dominica is a destination for nature lovers, for hikers, scuba divers, culture vultures, and those who are looking for peace, relaxation and a place to recharge. Hundreds of hiking trails criss-cross the island, and the 200km Wai'tukubuli National Trail is a mouthwatering prospect for serious trekkers. Dominica's scuba diving is some of the best in the eastern Caribbean, whales and dolphins are off the coast all year round, and the Kalinago Territory and cultural events such as Creole, Carnival and Independence make this a fascinating place for those interested in heritage and the arts. Dominica is also an island with its share of problems, of course. For starters it is relatively poor in financial terms, relying heavily on donor countries, remittances and low-interest loans. Its banana industry was almost wiped out by changes to world trade rules, there are many abandoned and struggling farms, and its eco and agro tourism sectors are still in their infancy. Poverty is real here, there is no safety net for the homeless and the abandoned, and career opportunities for young people are limited.
Despite its challenges, Dominica remains a safe place and, once you break the ice, you will find its people are genuine and friendly. Get away from the population centres and you will also discover a natural environment that will take your breath away and give you a fresh perspective on life. Make an effort to engage with people, offer them encouragement, support cultural events, and buy locally made crafts and products if you can. Dominica offers you an unforgettable holiday as well as an opportunity to make a positive difference to people in a very direct way. Dominica is interesting. It is raw and natural, it is still relatively undiscovered, and it is extremely beautiful. I hope you enjoy it.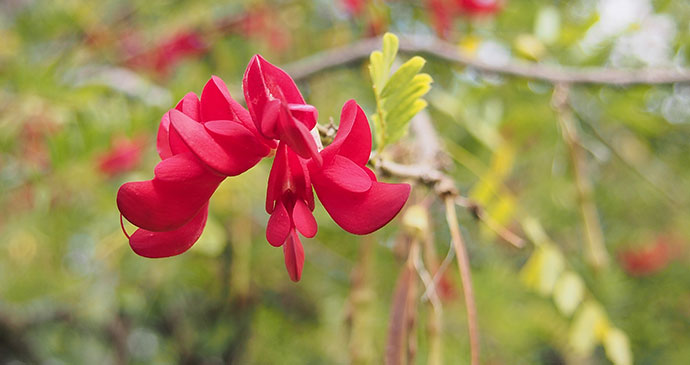 The Bwa Kwaib, Dominica's national flower, is one of the many beautiful tropical plants that you'll witness when exploring the island © Paul Crask
Author's story
My wife was born on Dominica and then grew up in England, where I met her in 1991 after living in Japan and backpacking around the world until my money ran out. I spent weekdays commuting by train to London where I worked, and at weekends we would walk the dog, decorate the house, go to movies and a restaurant, stroll to the local pub for a drink; the usual stuff . By 2005 we were ready for a change and we left our jobs, packed up our belongings and moved to the island. My friends told me I was going away to 'live the dream' but I suspect they thought I was heading for the Dominican Republic. No-one had heard of this place. Many still haven't.
Now, over ten years later, I find myself writing the third edition of this book and the Caribbean's 'nature island' feels as familiar to me as England once did. But there is no routine, for life here seems to change from day to day; none is ever the same. Though certainly not without its own set of challenges, life on Dominica offers a freedom and a sense of vitality that reminds me of the carefree tramping around the world of my youth. Perhaps it's the clean air of the rainforest, the freshness of the water, the food I harvest from the fertile soil of my garden, the opportunities to explore – and get lost – and the people I meet along the way. But writing this guide and the other pieces of work that now make up my 'working' life is always a pleasure. Travel to Dominica with an open mind and the spirit for adventure, and I think you will understand what I mean.