Author's take
'If you think you understand Lebanon, you haven't been studying it long enough'
(A popular saying)
Lebanon is a pint-sized country accounting for less than 2% of the size of the landmass of its former colonial ruler, France. It may be small on a global map but, like the Tardis in the Dr Who TV series, appearances can be deceptive, and Lebanon manages to pack a lot in within its diminutive borders. The country's capital, Beirut, for many years the subject of a global media frenzy during the devastating 1975–90 civil war, has always attracted the vast majority of visitors drawn to its high-octane nightlife, exclusive beach clubs, fine dining and eclectic and upmarket shopping, a tradition that continues to this day. Yet with a history spanning some 7,000 years, Lebanon offers the visitor so much more than these hedonistic pursuits. Phoenicians, Greeks, Romans, the various Arab dynasties, Crusaders, Ottomans and the French have all vied for mastery of this tiny eastern Mediterranean landmass, and they have left their architectural and cultural footprints all over the country, with Lebanon's premier sites at Aanjar, Baalbek, Byblos (Jbail), the Qadisha Valley and Tyre (Sour) all given World Heritage site status by UNESCO. The must-see Jeita Grotto, by contrast, showcases history fashioned by nature, resulting in a beautiful array of stalactite and stalagmite formations. Adrenalin junkies and sporty types are also well catered for with Lebanon's numerous ski resorts suitable for the beginner and seasoned skier alike; paragliding around mountain vistas; hiking and trekking in the Qadisha Valley; or walking and cycling the Lebanon Mountain Trail (LMT) are also great ways to get off the beaten track and get up close and personal with some of Lebanon's diverse communities to experience the beauty and tranquility of rural Lebanon.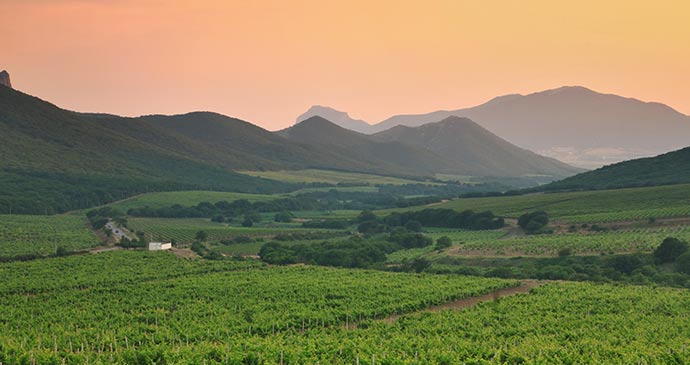 Lebanon produces award-winning wines © Anton Petrus, Shutterstock
Of course, despite these mezze of attractions and pursuits for the visitor, not everything in the Lebanese garden is rosy and the country, like the region as a whole, continues to face many challenges. Lebanon technically remains in a state of war with its southern neighbour, Israel, and conflict between Hezbollah and the Jewish state never seems far away. Without doubt, however, it is the ongoing turmoil in neighbouring Syria which is weighing most heavily on Lebanon's present and future development and has seriously blighted the country's tourist industry over the last few years. Lebanon is currently hosting well over 1½ million refugees from this conflict and, in addition to the strain this puts on an already challenged economy, has been exacerbated by intermittent sectarian fighting and targeted assassinations in parts of the capital and elsewhere around the country, yet overall Lebanon has remained remarkably resilient during one of the most turbulent periods in modern Middle Eastern history.
Despite these many problems that Lebanon faces – and will no doubt overcome if its history is anything to go by – the country remains essentially a safe place for tourists and other visitors. The Lebanese are invariably a cultured and welcoming people with the hassles often experienced by visitors in other parts of the region largely absent here, so do not hesitate in accepting any hospitality offered when in the country. If, like me, you prefer to visit less mainstream but totally rewarding destinations, I hope that you will find this guide a helpful companion on your Lebanese journey and that you leave, like I have, with an enduring fascination and love for the country and the Arab world.
Ahlan wa sahlan fi Lubnan
(Welcome to Lebanon!)
Author's story
When I decided to embark on a photojournalistic study of Beirut's post-war reconstruction for my degree project in photography, Lebanon seemed to fit the bill perfectly as a destination that had been off the tourist radar for many years but was familiar to the world through the reports and images of its devastating 15-year-long civil war. I wanted to learn more about this tiny but significant country which had entered the public consciousness in an overtly negative manner.
I recall one evening sitting in a bar quenching my thirst on the local brew Almaza, listening to the sound of the 1970s Bee Gees' hit 'Stayin' Alive', when it occurred to me that Beirut and Lebanon were doing much more than that. Stained by the blood of war Lebanon may have been, but the friendliness and hospitality of the Lebanese never ceased to amaze me, nor their desire to move forward and rebuild their shattered country. Lebanon without doubt represents the pinnacle of my forays to Arab countries. Despite its civil war, the country off ers so much variety in cultural, historical and political terms when compared with Jordan, Syria and its other neighbours, and provides probably the best introduction to any visitor wanting to appreciate and gain a greater understanding of the Middle East.