Eating and drinking
Accommodation
Eating and drinking
Food
Few people depart Lebanon with anything other than positive experiences of Lebanese cuisine. As with many other aspects of Lebanese culture its eating and drinking options are incredibly diverse, mirroring the Arab, Turkish and, more recently, French presence on its shores. When you factor in the country's own favourable geographic and climatic conditions, which help to nurture a range of tasty and healthy ingredients such as cheese, chicken, fish, lamb, olives, wheat and a host of fresh fruit and vegetables, Lebanon's gastronomy is quite justifiably renowned throughout the Middle East, and beyond. Like the French, the Lebanese take their food very seriously and lunch or dinner can be a lengthy and sociable occasion. The favourite and main meal of the day is the eclectic mezze, a wide array of up to 40 small savoury dishes, served hot and/or cold.
The most popular meat dishes are chicken and lamb, which often accompany a mezze. The national dish is known as kibbeh, minced lamb and onions fried into conical-shape mortars which are served hot or cold and even raw. A main course may also consist of a fish dish, fried or grilled, with the coastal regions of Byblos and Tyre serving locally caught fresh fish in extremely picturesque settings. Desserts often pander to the Arabic sweet tooth and a popular option is baklava, a very sweet and syrupy pastry with pistachio nuts.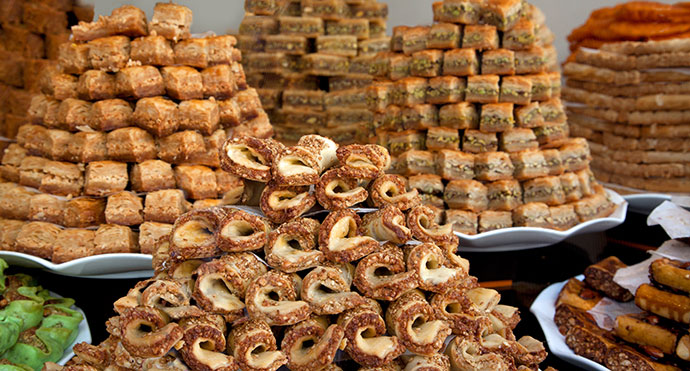 Baklava is a popular dessert in Lebanon © Artens, Shutterstock
Vegetarians
Following a meat-free diet and lifestyle will in no way preclude you from enjoying the wide range of excellent Lebanese cuisine. The country's geography and climate, coupled with its agricultural output of an abundance of fruit and vegetables, ensures that vegetarians are well catered for in Lebanon. Many mezze dishes are in any case vegetable based such as hummus, fattoush, moutabel and tabbouleh, the latter being an extremely popular dish, and you will have little problem avoiding meat dishes in most Lebanese restaurants, though restaurants catering solely for vegetarians are not widespread.
Drink
Unlike many of its Muslim neighbours, Lebanon is far from being a 'dry' country, with bars, cafés and restaurants serving a wide choice of alcoholic beverages, though in more conservative towns, such as Sidon in the south, the availability of beer, spirits or wine is limited to just one venue at the present time. The national drink is arak, a high-alcohol and potent aniseed-flavoured beverage resembling Greek ouzo or French anise, which is often drunk as an accompaniment to a mezze meal owing in part to its palate-cleansing properties between dishes. Beer is predominantly Almaza, a refreshing local bottled and draught lager, which is available in bars and supermarkets almost everywhere; though brands such as Heineken and Mexican beer and even draught Guinness are also available.
Accommodation
Aside from your airline ticket, the cost of accommodation, pretty much like anywhere else in the world, is likely to be your largest single financial outlay during your visit. Fortunately, with Lebanon's constantly evolving tourist industry and popularity there continues to be an ever-increasing range of hotels and other lodging options catering for most budgets and interests ranging from large, five-star luxury establishments and chains to smaller hostels, eco-lodges and camping, serving travellers with shallower pockets and an interest in more authentic surroundings. Not surprisingly, the widest choice of accommodation is in the capital, Beirut.
The big international chains such as Four Seasons, Hilton, Intercontinental, Mövenpick, Radisson, Ramada and Rotana are all represented in the capital and a double room in any of these, with all the usual refinements and facilities you would expect to find in their western equivalents, can easily cost upwards of US$200 a night.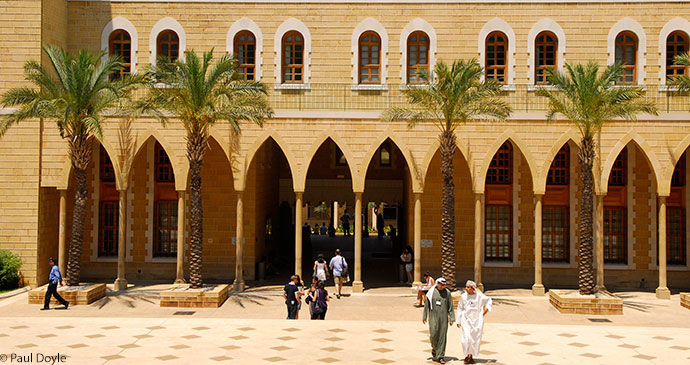 Accommodation in the mid range and budget categories tend to proliferate around the Hamra and Gemmayze districts in west and east Beirut respectively and generally are clean and functional, albeit without the five-star bells and whistles of jacuzzi, swimming pools, health spas, etc. Mid-range establishments normally all come with en-suite facilities and vary in price from around US$100–150 a night for a double room, though with a little shopping around and staying for a few consecutive nights you could net a cheaper price.
In the budget category, a double room in the capital, almost always with shared bath and toilet facilities, can be obtained for around US$50 whilst a dorm room can be found for less than US$20. As with the five-star options, it is still a good strategy to enquire about discounted rates for extended and/or low-season stays.
Away from the capital your choices of accommodation become more limited, with the luxury hotel offerings a little thin on the ground; but on the plus side prices drop considerably even in main towns like Tripoli, Tyre, Sidon and Byblos, which generally are home to smaller B&B and boutique type options which often have a more atmospheric and local feel. The budget traveller is becoming increasingly well catered for as a growing number of hostels provide an affordable alternative to the hotels.