Visas
Getting there and away
Getting around
Visas
Citizens from certain countries will be issued with a tourist visa at their port of entry, valid for up to three months (a passport valid for six months from the date of entry will need to be provided). Citizens of all other countries should contact their local Israeli consulate or Israel's Ministry of the Interior.
Israel does not hold diplomatic relations with most Arab and predominantly Muslim countries, so Israeli citizens are not permitted to travel to such places. Moreover, foreign nationals who have an Israeli visa stamp inside their passports will be refused or find it difficult to travel to many of these countries. This is, however, less of a problem now than a few years back. Currently, on arrival to Israel visitors are issued with a slip of paper with a bar code valid for three months. This effectively replaces the visa and needs to be kept in the passport, as it is often asked for in hotels and will be required for your tax refund and eventual departure from Israel. Other than that, there will be nothing left in the passport to suggest you have visited Israel.
Getting there and away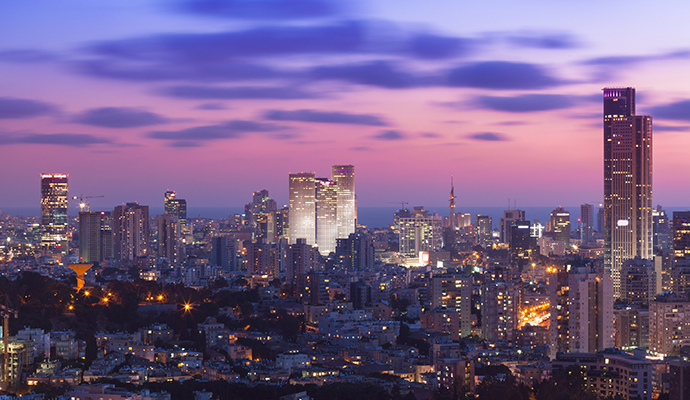 With regular direct flights to Tel Aviv from the UK, it's easy to visit Israel for a long weekend © Dmitry Pistrov, Shutterstock
By air
Ben-Gurion International Airport (TLV) is Israel's main international airport, although more and more charter flights now go to Ovda Airport near Eilat; and Tel Aviv revealed a plush, new terminal in 2004.
By land
Of its neighbours Israel only has diplomatic relations with Jordan and Egypt and therefore it is only possible to travel overland (or by any other means for that matter) between these countries.
By sea
Ferry lines have been closed due to lack of traffic for several years, but it is still possible to get on one of the increasingly popular cruises departing from Haifa's port.
Getting around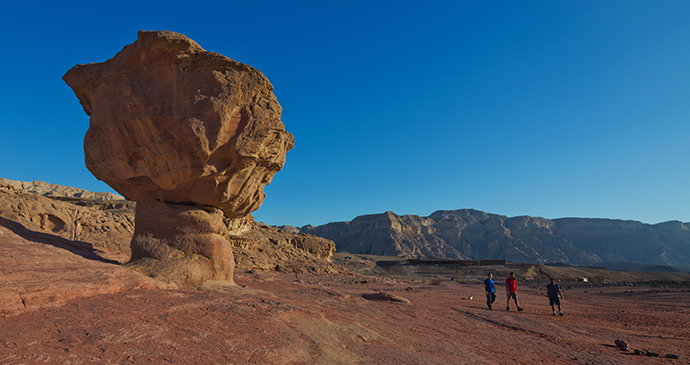 It's useful to rent a car to explore the more remote regions of the country © Dafna Tal, IMOT
Israel is wonderfully compact, making travel easy, affordable and free of draining, long-distance journeys. It is in fact possible to drive from Israel's northernmost point in the Golan Heights to the southernmost tip of Eilat on the Red Sea in about 8 hours. While public transport is good in most urban regions, travelling around areas such as the Golan Heights and Negev and Arava deserts can be arduous and time-consuming without your own wheels, so renting a car is highly recommended to get the most out of your time in these beautiful, wild and remote regions. It is important to note that, with the exception of some services in Haifa, none of Israel's public transport runs on Shabbat or religious holidays.
By bus
Buses are the most commonly used form of public transport in Israel, and both inter- and intra-city networks are very developed. Conditions are good, and although inter-city buses can get crowded, all are air conditioned, clean and comfortable (in particular long-distance coaches, for which seats need to be reserved). Tickets can be purchased either at ticket booths inside bus stations or from the driver. Discounts for students and senior citizens are available. Remember that Israeli bus drivers strictly observe bus stops and will not pick up or drop off passengers on request anywhere other than the designated stop.
By train
Although bus travel still forms the core of public transport, Israel's train network is growing extremely quickly and, with massive rush-hour congestion problems around all main cities, it is becoming a very popular commuter option. Train services are particularly useful for those travelling up and down the Mediterranean coast and between Jerusalem and Tel Aviv (via the airport). Tickets can be purchased at either ticket booths or automated vending machines (also in English) at all train stations.
By metro
Israel's one and only underground system is located in Haifa, the country's third-largest city. Designed to help residents navigate the steep geography of the city, it has five stops running between Paris Square near the port and the Central Carmel area. Two metro systems are in their fledgling development phases in Tel Aviv and Jerusalem but it will be many years before they are fully functional.
By taxi
All major towns and cities have large numbers of taxis which can be hailed from the street, telephoned for or found at taxi ranks. Rates increase during Shabbat. Taxi drivers almost always try to negotiate a price with foreigners and are reluctant to run the meter. Insist they use the meter or find another taxi.
Shared taxis, known as sherut, run along the main intra- and inter-city bus routes and consist of small minibuses that generally only depart when full. Their appeal is that apart from being marginally cheaper, they can be stopped anywhere along the route and often run on Shabbat.
By car
If your budget runs to it, renting a car is the best way to get the most out of your trip to Israel, especially in regions where public transport is sparser. To rent a car you must be over 21 years of age and be in possession of an international driving licence. Driving in Israel is on the right-hand side of the road and most signs are in Hebrew, Arabic and English. However, the quality of English spelling can vary drastically and be a bit confusing at times. It is the law to wear seatbelts and using mobile phones while driving is strictly illegal and subject to fines.