Eating and drinking
Accommodation
Eating and drinking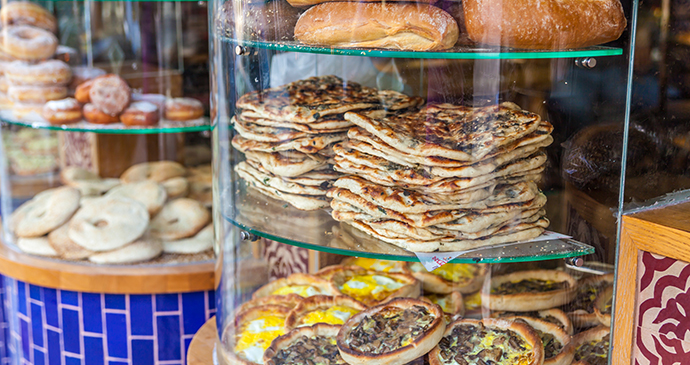 Israel is a virtual casserole dish of cultures, traditions, culinary styles, religions and nationalities © Kvitka Fabian, Shutterstock
Food
With such a diverse population, there is not really such a thing as 'Israeli food'. Culinary styles have blended together from all across the world to leave a rather eclectic mix of cuisines. Apart from the insuppressibly popular Middle Eastern fast foods such as hummus and falafel, both kosher and non-kosher restaurants are well and equally represented. Tel Aviv is undoubtedly the culinary centre of the country, and is home to the bulk of non-kosher restaurants. While Jerusalem may be considered a little more conservative than experimental, secular Tel Aviv, it has a wonderful mixture of cuisines, including some creative vegetarian places. Haifa too has benefited from its varied population and offers a wealth of great eateries. For rustic country food, juicy, succulent steaks and age-old, traditional Druze dishes the wilds of the Golan Heights, with its cattle ranches, farming communities and sweeping lands, is the best bet, while Eilat offers the complete opposite with themed restaurants and beach bars.
Drinks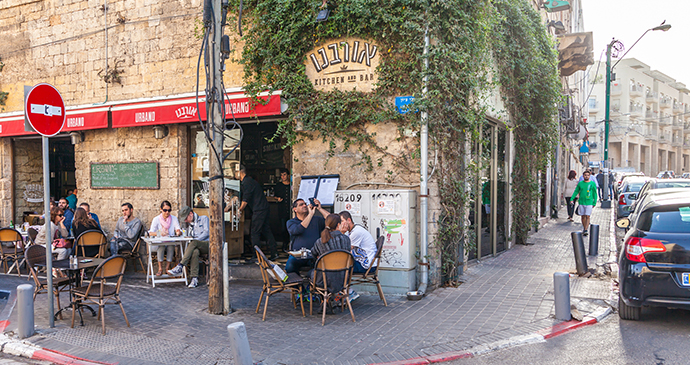 As well as world-class gastronomic delights, you can also find plenty of laidback sandwich bars and cafés found on leafy boulevards in Tel Aviv © Kvitka Fabian, Shutterstock
Israelis love their coffee, so you will find cafés in the most unlikely of places. Be sure to try the strong, aromatic Arabic coffee that is hugely popular in Israel. A word of warning, however: avoid drinking the entire contents of the cup as a thick layer of coffee sediment sits at the bottom, which is rather unpleasant to swallow.
While Israelis aren't particularly big drinkers, they love the whole bar scene and most alcohols are represented. The local beers are Goldstar and the better known, but less popular Maccabee; both are more or less respectable, but they pale in comparison to a very good, albeit a little commercialised, Jem's or other more low-key brews of the booming craft beer industry. Beer enthusiasts will feel particularly at home in Tel Aviv, where some bars specialising in local beer have an endless variety on offer. Israel is furthermore a proud producer of excellent quality wines, regularly winning prizes at international fairs.
Accommodation
While it may appear that Israel has more than its fair share of hotels, statistics released by the government have revealed that the country is close to bursting with respect to availability of rooms versus the number of visitors. Needless to say, booking ahead in the height of summer and national holidays is highly recommended, especially in Jerusalem, Tel Aviv and Eilat. Other areas are slightly less pressured, so you are more likely to find somewhere at the last minute. In general, however, the higher-end establishments seem to fill up fastest. Rooms in hotels and private guesthouses are cheaper on weekdays and can be twice as much on national holidays.
Israel has a sweeping array of accommodation types, and although luxury hotels, cabins and resorts still form the vast majority of options, an increase in backpackers means more hostels and budget choices are slowly appearing. One of the greatest problems facing travellers is the policy of almost all zimmers (Israel's luxurious rural cabins) and many hotels to have a two-night minimum stay on weekends; this generally doesn't apply to hostels or campsites. It is worth taking this into account when making travel plans. Having said that, there is no public transport on Shabbat, and services and attractions close early or don't open at all, so settling somewhere nice for the weekend is a good idea.