Author's take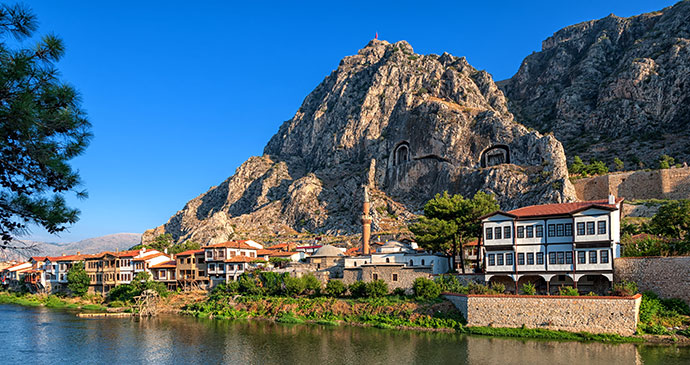 Ottoman houses in Amasya © Boris Stroujko, Shutterstock
Early Christians escaping persecution carved out churches and entire cities underground; mountain Hittites and Urartians built fairytale castles on impossible crags; power-mad chieftains honoured themselves with fantasy palaces and colossal statues.
Eastern Turkey remains for most people an unknown, a complete blank, with many unsure whether or not it is accessible to travellers. Until 2000 access was indeed difficult, with whole tracts under martial law and designated as military zones. Travel for sheer interest or pleasure's sake was difficult to arrange. Now you can travel freely almost anywhere. Permits are no longer required to visit places close to sensitive borders, such as Ani, the Armenian ghost town. The only thing for which a permit is still required is the ascent of Mount Ararat, a highly specialised permit which must be applied for two months in advance, but which is nevertheless simply a formality, guaranteed to be granted when the mountain is open.
Aimed at adventurous, possibly even eccentric, people of all ages and on all budgets, visitors should be aware that pampering is rarely on offer here. Instead there is the excitement of entering another world, a big black hole beyond Europe, far away from the familiar centres of civilisation. Eastern Turkey is like a country within a country, light years away from the sophistication of İstanbul and the glamour of the Mediterranean coastline. Wild and rugged, the Anatolian Plateau was home to civilisations of an entirely different kind, all of who left their relics for exploration. Early Christians escaping persecution carved out churches and entire cities underground; mountain Hittites and Urartians built fairytale castles on impossible crags; power-mad chieftains honoured themselves with fantasy palaces and colossal statues. Mountains, lakes and volcanoes dominate the landscape.
The huge surge in popularity of Turkey's well-known tourist spots, like İstanbul and the Aegean/Mediterranean coast, has led to increasing curiosity about the rest of the country, which even most Turks have not visited and know little about. Many British have now bought houses and settled in western parts of Turkey, especially Kaş and Kalkan, and, as they become more familiar with their immediate surroundings, they are starting to become interested in what the eastern region has to offer. William Dalrymple's widely read book From the Holy Mountain has also raised awareness of the many churches and monasteries of the Tûr Abdin in the extreme southeast and their dwindling Christian communities. Press coverage of turbulent conditions in the countries bordering eastern Turkey, notably Syria, Iran and Iraq, intrigue people as to what the region is like, especially as petty crime is virtually non-existent and travel here is now safe and straightforward.
One option for newcomers to Turkey is to take a two-centre holiday, with one week perhaps on the coast or in cosmopolitan İstanbul, and a second week of total contrast in eastern Turkey. Turkish Airlines and their domestic subsidiary AnadoluJet (along with others like Pegasus Airlines, Sun Express and Onur Air) have an excellent domestic network offering regular, cheap and reliable flights that link all parts of eastern Turkey with key cities such as İstanbul, Izmir, Antalya and Ankara. These can be tapped into from the many budget and charter international airlines that now fly to Turkey, thereby bringing an exotic destination within easy reach, both financially and in travelling time.
Thanks to Turkey's recent high growth rate, government investment in tourist infrastructure across the country has continued to rise. Many enterprising Turks have also invested their personal savings in tourism projects like boutique hotels in restored historic buildings, and fine restaurants such as those in Mardin and Midyat. The government's forward-planning strategy aims to put Turkey in the top five most popular tourist destinations in the world by 2023, so visitor numbers to the eastern part of the country are bound to rise accordingly.
The road network in eastern Turkey has been dramatically improved, with new tarmac surfaces transforming journey times. Inter-city coaches provide excellent, cheap and punctual connections between all major cities. Turkey represents very good value for money for those travelling on pound sterling and the US dollar, making it a much cheaper destination than Europe. Rail travel in eastern Turkey is especially economical, and is highly rewarding, if time-consuming, with comfortable trains that pass through spectacular scenery and gorges that cannot be seen by road.
Author's story
Most people only know one face of Turkey – İstanbul and the western Mediterranean shores. My motive in writing this book was to lift the veil a little on Turkey's other face, east of Ankara, the two-thirds of the country where 55 of its 81 provinces are to be found In many ways this is the real Turkey, closer to the original roots of its own civilisations, the Hittites, the Urartians and the Seljuks.
I discovered Turkey backwards. The Lebanese Civil War had broken out, forcing the closure of the government-sponsored Arabic course I had been attending in Shemlan. It would take six weeks to reassemble itself in London, so here was my chance to explore Turkey properly on full evacuation expenses. The other students, eager to return to Europe, got on ferries from Beirut to Marseilles, while I headed north in my Citroën 2CV, entering Turkey from the Syrian Bab Al-Hawa border post. Where was the demonic, dangerous place I had been warned about? I never found it. Instead I meandered through empty landscapes of power and intensity scattered with the remnants of civilisations previously unknown to me. Mount Ararat took my breath away and I vowed to climb it one day. Thirty years later researching the first edition of my guide provided the chance. To explore this highly complex region of Turkey properly will take another 30 years, and even then I know I will only be scratching the surface.
You can read more about Diana's travel experiences in her interview with us. You can also listen here to Diana Darke's From Our Own Correspondent piece for some of the background to the region and read her piece on the BBC website about the Syriac revival.