Author's take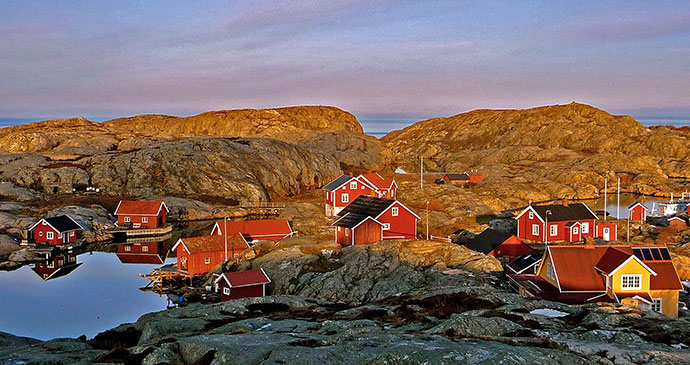 Weather Islands © Hans Schub, West Sweden Tourist Board
Admittedly, the largest and best-known of all the Scandinavian countries, Sweden, for many people, is still a cold, remote and ruinously expensive place, lost somewhere on Europe's northern fringe. Sweden? Let alone West Sweden! Why would anyone want to go there?
First off, let's dispel a few misconceptions: with up to 20 hours of daylight in the summer, the average summer temperature in Gothenburg is much the same as in London; it's faster to fly from London to Gothenburg than it is to Barcelona; and lunch of succulent fresh fish served with locally sourced vegetables will cost considerably less than in London. With this guidebook in hand, the very first in English to the region of West Sweden, you will soon discover that this part of Sweden offers a tremendous variety of experiences to anyone looking for something a little different: hop on a boat and catch fresh mussels for lunch; paddle your own kayak round the archipelagos of the west coast; cycle through meadows of wild flowers along the banks of the Göta Canal … or simply find your own perfect smultronställe (the place where the wild strawberries grow), as the Swedes call it, perhaps by a lakeshore or a clearing in the forest, breathe the fresh air scented with pine and relish the unspoilt nature; this is what West Sweden is all about.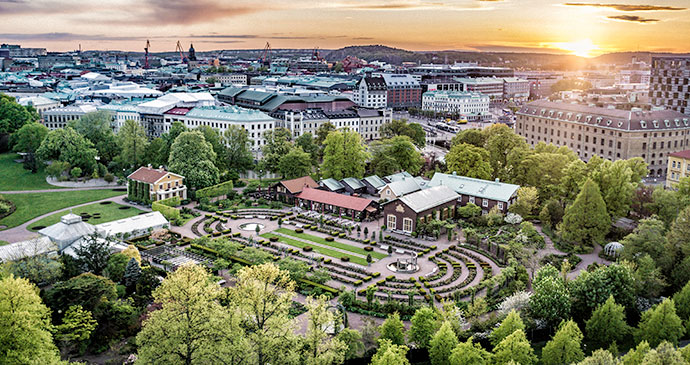 Gothenburg is one of Sweden's most handsome cities © Per Pixel Petersson, vastverige.com
Gothenburg, the focal point of West Sweden, is a chic and cosmopolitan sort of place. Perfectly manageable in terms of size, this laid-back coastal city, crisscrossed by elegant boulevards and meandering canals, is a real treat. As you'd expect from art and style-conscious Sweden, the country's second city has a raft of excellent galleries and museums, which are sure to impress in their range as well as presentation. Gothenburg is also building a reputation for fine dining: a range of top-notch restaurants showcasing western Swedish cuisine take their cue from the sea; anything from juicy catfish or creamy lobster, soup, to fresh mussels with dill, or oysters served with slivers of tangy lime and ginger could be on the menu. What's more, Gothenburgers have an enviable reputation throughout the rest of Sweden for being friendly, down-to-earth and less reserved than their compatriots in other parts of the country. Together with their neighbours, they share a tremendous pride in their region and are genuinely delighted that more and more visitors are discovering this unique part of Sweden. Indeed, what helps to make West Sweden so very special is the glorious coastline which runs north from Gothenburg all the way to the Norwegian border. Spanning a distance of around 150km, the coast splinters into a bewildering array of 8,000 islands and skerries, whose sheltered waters are ideally suited to leisurely exploration by boat or kayak.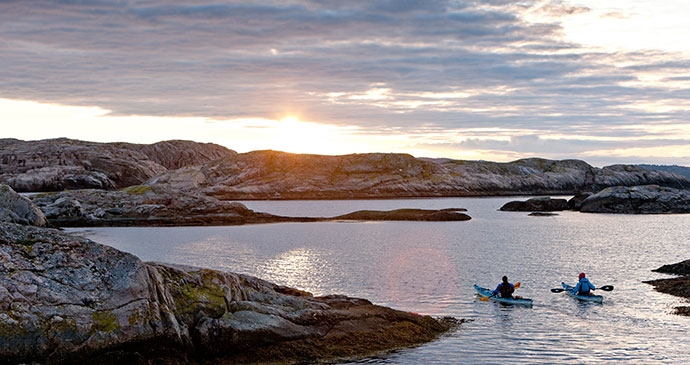 The Bohuslän coast is ideal kayaking terrain © Henrik Trygg, West Sweden Tourist Board
The Bohuslän coast is justifiably known for its angular granite rocks and outcrops, which have been worn silky smooth by the erosive action of the sea. The granite ranges in colour from earthy brown to dusky grey, though it is at its most alluring between the towns of Lysekil and Strömstad where it bears a pinky hue – at sunset the combination of the golden yellow of the sky, the aquamarine of the sea and the pink of the granite is a West Sweden classic.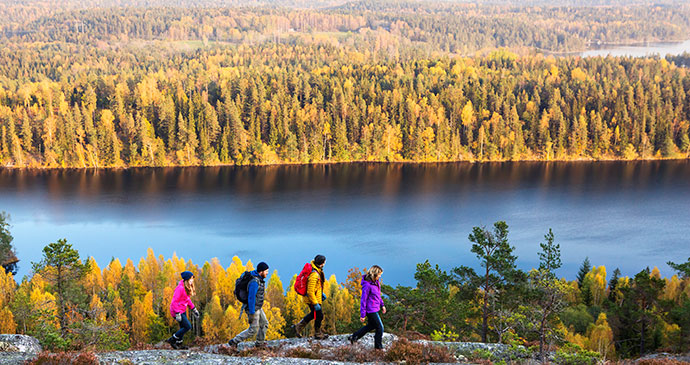 Dalsland is home to some gorgeous hiking routes © Roger Borgelid, vastverige.com
Inland, Sweden's wooded heartland begins to show its face. Gone are the rocky outcrops of the western coastal shores and instead dense forests of spruce and birch dominate the landscape: this is Dalsland – a province that thrills in billing itself as Sweden in miniature. Notable towns and villages are few; instead this is a land of countless lakes (it has more lakes than any other region in Sweden), impressive rivers and the beginnings of the mountain chain that forms the border between Sweden and Norway, running all the way up to Lapland. Dalsland is a place to experience nature in the raw and, as such, offers a tantalising taste of the wilder side of Sweden, which proliferates in regions to the north of here.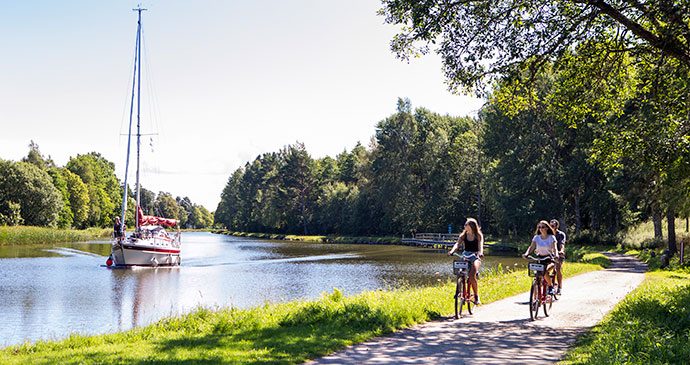 The 200km-long Göta Canal is a masterpiece of engineering © Roger Borgelid, vastverige.com
East across Lake Vänern, Västergötland is predominantly a province of rich, flat agricultural land with a stirring Viking past, dotted with farm shops selling locally produced organic goods. However, in the east of the province, one of the region's defining features makes its mark: the 200km-long Göta Canal. Built in the early 1800s to connect Stockholm with Gothenburg, this masterpiece of engineering boasts no fewer than 58 locks, and enables boats to sail inland between the two cities in around four days. Today, three handsome, wooden passenger ships, the oldest dating from 1874 and designed to fit the narrowest of the locks like a glove, serenely ply the waters of the canal on their way between the Baltic and the North Sea.