Eating and drinking
One of the Via Dinarica's many unique features is that, unlike other hiking trails that go through remote wilderness, there are frequent opportunities to have a hot meal right along the trail. Because there are countless ancient villages nestled within the nooks and crannies of the Dinaric Alps, the trail offers a real introduction to local lifestyles, including local cuisine as well as the characteristic warm hospitality. Highland food is the truest expression of Balkan food: heavy in bread, heavy in meat, and as local and fresh as can be. Portions tend to be large, and finishing your plate is always considered a sign of good appreciation to the host. Vegetarians may find it challenging to find meatless main dishes, as even some vegetable soups are cooked in meat broth. Bean stew is, however, very popular and very common.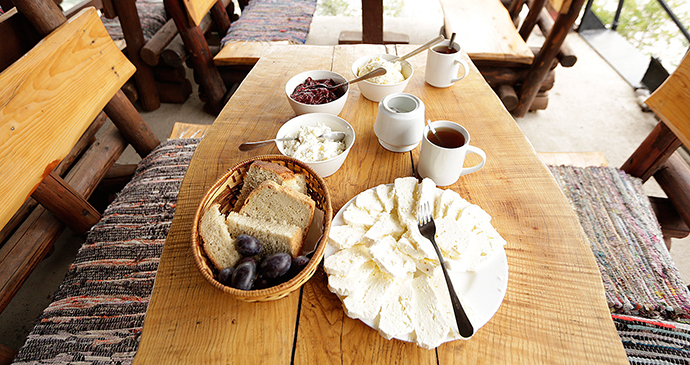 A traditional highland breakfast of fresh cheese, homemade bread and jam, and a strong 'kafa' or coffee © Elma Okić
Drinking along the Via Dinarica is also a unique experience. Its defining feature is the famous local alcohol, rakija. This drink, usually translated to English as brandy, is a distilled hard alcohol made from a great variety of fruits and other plants that are prevalent in the Dinaric Alps. Some very common flavours include plum, pear, apple, quince, mixed herbs and honey. You might be offered rakija at every meal, no matter the time of day, as it is considered a natural remedy for many ailments and a great source of vitality when hiking. Your hosts will often join you in a glass of rakija, in another expression of the convivial hospitality of the Balkans.
Beer is also a part of the drinking culture, but with less tradition, and usually less variety. Another interesting traditional drink that you will come across at mountain restaurants is kiselo mlijeko (sour milk) which is a thick, very natural yoghurt that pairs well with salty dishes such as pita and uštipci.
Accommodation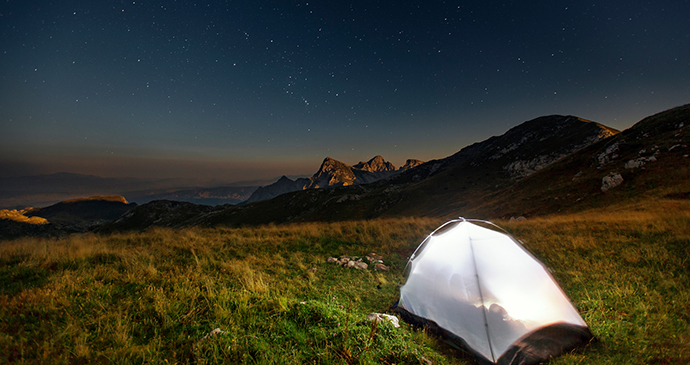 Outback camping on the White Trail © Adnan Bubalo
Accommodation along the Via Dinarica can vary widely. You'll occasionally need to set up a tent along the trail, but you will find that you can sleep with a roof over your head on most nights. Some accommodation types are self-serviced, meaning the only service they may offer is running water, but there are also many cosy houses and inns that offer home-cooked food and beds in private rooms. There, you will always meet the warm hospitality Bosnia and Herzegovina is famous for.
Hotels and motels exist in small cities and towns that the trail passes near. Private rooms, private bathrooms with towels, Wi-Fi and restaurants are always part of the deal. Along the Via Dinarica rooms cost between 30KM and 60KM but can be significantly more expensive in Sarajevo and Mostar.
Pansions are small inns with private rooms. They are similar to households, but are run more like a business. Pansions almost always have Wi-Fi and decent bathrooms, though bathrooms are not always connected to private rooms. They offer home-cooked food, towels and bedding, and a cosy atmosphere. Rooms cost between 20KM and 60KM.
Households, also called guesthouses, are private houses that offer comfortable accommodation in the form of small dormitories or private rooms. They have restaurant areas where they serve home-cooked comfort food, and offer an ambience of traditional, 'ethno-style' Balkan character. They have decent bathrooms, electricity, and sometimes have Wi-Fi, but they are more rustic than a hotel. Rooms cost between 10KM and 60KM.
There are several horse farms along the Via Dinarica Trail that provide accommodation. Most of them also offer guided horseriding excursions on or near the Via Dinarica Trail.