Getting there and away
Getting around
Visas for The Vendée, France
Short stays
Citizens of Ireland and other EU countries do not need a visa to visit France. At the time of writing, citizens of the UK also have no need of a visa to visit France. (The ongoing Brexit negotiations between the UK and its soon-to-be-former EU partners will determine any future requirements.) A valid passport or National Identity Card is currently sufficient.
There is no 90-day limit on the length of stay, though there may be certain limitations imposed on citizens of some of the member countries who have recently joined the EU.
Citizens of the United States, Canada, Australia and New Zealand and certain other countries can visit France as tourists for up to 90 days with a valid passport, and have no need of visas for The Vendée either.
Citizens of other countries visiting France will need to obtain a Schengen visa, valid for up to 90 days, which involves showing that you have sufficient funds and the necessary travel insurance. You should apply well in advance.
Longer stays
Even if staying beyond 90 days, citizens of the UK, Ireland and other EU countries currently have no need for visas for The Vendée, nor do they need a residence card (carte de séjour) provided they are living and working legally in France.
Citizens of the United States, Canada, Australia and New Zealand and certain other countries who wish to stay in France for longer than 90 days should also contact their nearest French Embassy/Consulate well in advance of their trip, as the procedure can be very lengthy, and it is not possible to extend visas from inside France. 
Those who hold a long-term visa will need to obtain a carte de séjour from the office of the mayor (mairie) within eight days of their arrival in France.
Getting there and away
By air
Although there are no international airports within the Vendée itself, the area is easily accessible through the nearby airports of Nantes (Aéroport Nantes Atlantique) and La Rochelle (La Rochelle-Île de Ré). A variety of airlines currently fly directly from several airports in the UK, and from Ireland, particularly during the summer.
By sea
Particularly for the many campers travelling from the UK and Ireland, taking the ferry or tunnel across the water to France and then driving down to the Vendée can be a practical and attractive option. If you are travelling as a family, it can also be cost effective and allows you to take as much luggage as your vehicle can hold. The shortest driving times can be obtained by taking the ferry to St-Malo in Brittany.
By train/tunnel
For car drivers, the tunnel provides an alternative to sea travel. For foot passengers, an improved rail network to the region makes travelling by train a realistic alternative, though once in the region the options for getting about by public transport do somewhat hamper your flexibility.
Getting around
By bike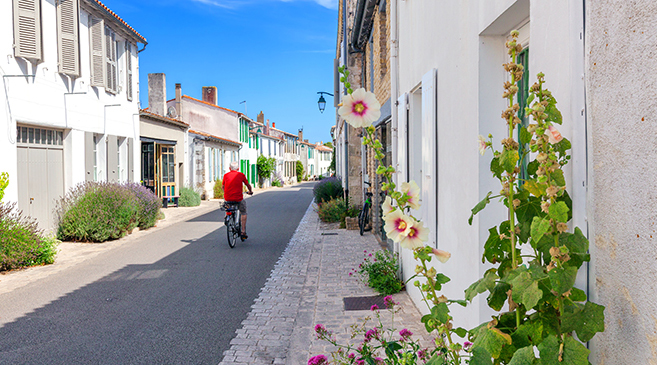 Cycling is one of the most popular ways to explore the Vendée © Zzzz17, Shutterstock
For many visitors, cycling around the Vendée is a real treasure, with its flat landscape and hundreds of kilometres of cycle paths. Cycling the Vendée is best suited to those who are not adrenalin junkies or hard-core off-roaders, but is certainly ideal for families, novices and those who perhaps haven't put foot to pedal for some time.
By car
If you plan to see much of this area in a condensed period of time, then taking your own vehicle or hiring one is the only practicable option. On the other hand, if you are intending to stay in one location for a beach holiday, and don't mind a bit of travel logistics to get there in the first place, a car may be unnecessary. Taking your own car to France requires awareness of some specific legal requirements.
Public transport
If you are a fanatic of public transport and love logistics, you could get round the main towns in the Vendée using buses. The train can also be useful if you want to visit cities/towns like Nantes, La Rochelle, St-Gilles-Croix-de-Vie, St-Hilaire-de-Riez, La Baule and St-Nazaire. The rail network also reaches Les Sables-d'Olonne, La Roche-sur-Yon, Chantonnay, Pouzauges and Luçon, among others.