Authors' take
'The Vendée; oh yes, we used to camp there years ago with the children – wonderful beaches.' That was the refrain in the 1970s, but accommodation, entertainment and gastronomy here have moved resolutely upmarket since then. Motorways speed you towards the coast; modern museums are fitted with state-of-the-art displays; dedicated cycleways and footpaths criss-cross the area; so it's time to go back to this large French département, and discover its many other attractions. Some, like the world-famous Puy du Fou theme park, are blockbusters; some, such as the causeway to Noirmoutier island, have been formed by nature; some, like prehistoric stones and Romanesque churches, bear witness to man's beliefs and building skills through the centuries.
Lying between the major cities of Nantes and La Rochelle, the Vendée is tucked cosily into the top of the Bay of Biscay, just south of Brittany. Admittedly, unless you are heading specifically to it, you are unlikely to pass through. But that would be a pity.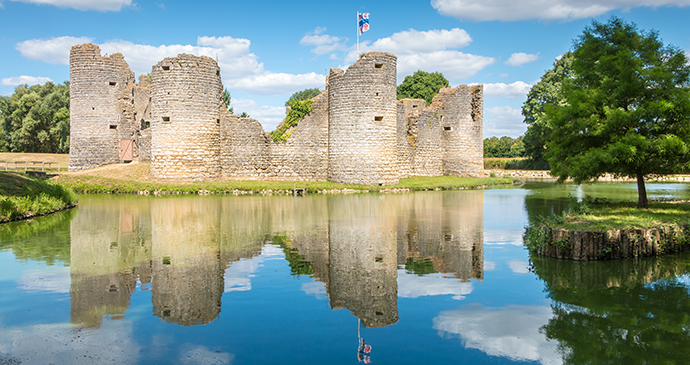 The Château de Commequiers is just one of the Vendée's many historic sights © Pierre Olivier, Shutterstock
The Vendée's turbulent post-Revolutionary wars have been airbrushed out of French history for a couple of centuries, causing the département to be seen as an ultra-Catholic and rabidly royalist stronghold. Added to this undeserved air of suspicion, the bourgeois French from everywhere else can be snooty about the region's surge of mass tourism as paid holidays became the norm in the 1930s. Ironically, nowadays some of the poshest Parisians have sought out their own boltholes here: either a traditional stone logis, or manor house, on the edge of an inland village; an elegantly updated dwelling in the chic streets of Noirmoutier island; or a sun-bleached pad on the even less accessible – and therefore even more upmarket – island of Yeu.
There are stately homes, unusual museums and charming gardens to visit, plus quirky rural events and busy market days; flea markets, craft fairs and – of course – local food, such as the region's ham and mogettes (white haricot beans), barbecued quail, grilled sardines, or eels cooked over cowpat fires. Village festivals make for a fun Sunday outing, usually headlining a different, often food-related local tradition – from oyster-fishing to the baking of brioche.
Houses connected with local celebrities such as politician Georges Clemenceau, painter Charles Milcendeau and military hero Marshal Jean de Lattre de Tassigny, give fascinating insights into provincial French life.
Extra treats on the coast include watersports of all kinds, and some 200km of coastal cycleway. Inland, you can take to treetop trails in the forests, pedal mountain bikes up and down the hills, paddle canoes through the marshes, ride on a steam train, go birdwatching, sip wine at a vineyard, or visit some breathtaking summer son et lumière shows.
Oh, and the beaches are still brilliant, of course.
Author's story
During a camping holiday in France in 1970, my husband and I idly scanned an estate agent's window (as you do) and noticed one could buy a whole house for £1,200. We jettisoned our aged ridge tent, equipped ourselves with a hefty DIY book, and began a 50-year love affair with the Vendée – along with an unsuspected ability to plumb in water supplies and build slightly wonky furniture. Though I had lived a good deal in France, I found my vocabulary increasing daily during countless conversations with artisans and builders' merchants.
Of course, the children wanted nothing more than trips to the fabulous beaches – and the Vendée could provide a new one for every day of the holidays. But I found it hard to sit still for long (yes, even on a beach), and would be dragging them to other diversions, from markets to menhirs, castles to windmills. They learned to dread the words: 'While we're here, why don't we just visit…'.
Years working as a sub-editor on various UK magazines, checking often unreliable facts in travel articles, made me think I could do as well – if not better. So eventually I thought I should write my Vendée knowledge down to help the steadily increasing numbers of British families I would see there. My first guide appeared in 1994, and ran to four editions. Now, with Murray Stewart's enthusiastic input, I hope it will continue to offer Vendée visitors (and residents) loads of ideas for a great holiday.
Angela Bird