Climate
When to visit
Highlights and itineraries
Climate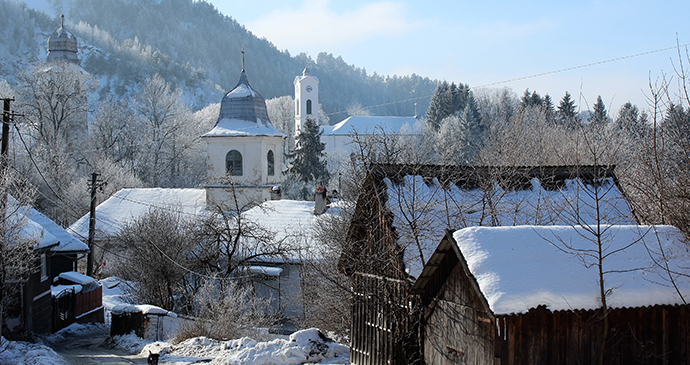 Falls of heavy snow are likely between December and mid-March © Paul Brummell
Romania has a temperate-continental climate, with four distinct seasons. The spring is pleasant with cool mornings and nights and warm days. Summer is hot, especially in the south of the country, where Bucharest has an average high temperature in July of almost 30°C. Summer temperatures in Transylvania are usually a few degrees cooler than this, with the average high temperature in Cluj-Napoca around 25°C in July, but air conditioning in both city hotel rooms and transportation is particularly welcome. High mountain areas in Transylvania still feel fresh in the summer months. During the summer, you might encounter an intense and violent thunderstorm, with dramatic displays of lightning and sudden bursts of torrential rain. Autumns are cool, with meadows and trees producing beautifully coloured foliage, making the landscape look like a pastoral painting. Winters can be bitterly cold and snowcovered, especially in the mountains, where temperatures can drop to –20°C. The average high temperature in Cluj-Napoca in January is around 0°C. A bitter, icy wind called the crivăţ sears through from Siberia, though its effects are more strongly felt in southeastern Romania. Transylvania is, however, often hit by winter fog, which can ground early morning flights to Cluj-Napoca and make driving difficult. Falls of heavy snow are likely at some point between December and mid-March, although the onset of winter snows can vary considerably from year to year. Nonetheless, your chances of a white Christmas are pretty high in Transylvania: around 85% in Cluj-Napoca. And, buoyed by the advantages of snow cannons, the main ski resorts around Braşov are usually able to offer snow from December until April. If you are hiring a car in the Transylvanian winter, make sure it is equipped with winter tyres.
Precipitation overall is relatively modest, averaging around 635mm a year in Transylvania, and peaks during the summer months, though there are on average a few precipitation days during each month of the year. In Cluj-Napoca this ranges from an average of five days of precipitation in February and March to 11 in May and June. Flooding can be a problem, its effects worsened by deforestation.
Weather forecasts are available on the AccuWeather website.
When to visit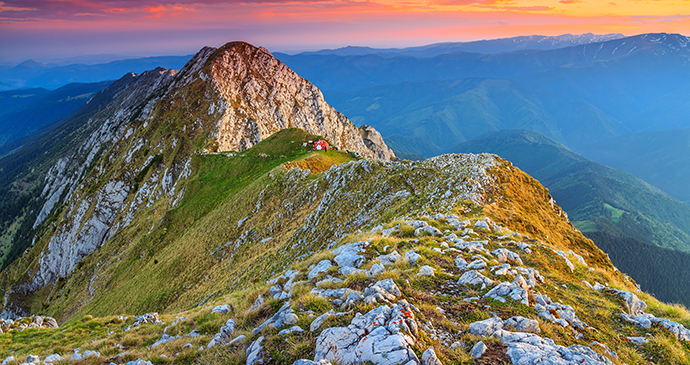 Spring and autumn are the best times to tackle strenuous hiking routes © Gaspar Janos, Shutterstock
Romanian winters are cold, especially in the mountains and on the high plateaux of Transylvania. This is the most challenging time to travel, with some high mountain passes closed, but Transylvania also offers a range of winter pursuits. Snow cannons help to ensure good skiing at the most important winter resort, Poiana Braşov, from December to April, and there is skiing at a range of other upland resorts too, though the season may be shorter. Winter is also the time to try out the Hotel of Ice at Lake Balea. April and, especially, May bring forth the best of the wild flowers carpeting the hay-meadows of the Carpathian lowlands and, avoiding the searing heat of the summer, are generally an excellent time to visit Transylvania, though spring rains are a risk. The summer months are considered the peak tourist season, including for domestic Romanian tourists, but can sizzle, and the larger cities of Braşov, Sibiu and Cluj-Napoca in particular can be stifling in summer, although Cluj-Napoca is a major student city and quieter during the summer break. This is a good time to visit more mountainous destinations.
While autumn offers less meteorological predictability than the height of summer, it is also a good time to visit, as the leaves paint the landscape in beautiful hues and there are many festivals connected with the harvest.
Spring and autumn are best for tackling strenuous hiking routes and give good opportunities for wildlife-watching. Note too that many accommodation providers offer discounted rates away from the summer season. In more touristy places such as Braşov and Sighişoara the difference between high- and off-season rates can be considerable. Conversely, many attractions open for longer periods in summer.
Highlights and itineraries
Transylvania offers such an abundance of adventure, culture, history and natural interest that there really is something for everybody. Those wanting to ski will find slopes that suit all levels, from beginner to expert. Hikers, cyclists or simply those who wish to ramble through stunning countryside, track bear or wolf, watch birds or admire wild flowers can find some of the best environments in Europe in which to do all of these. There are now a number of UNESCO World Heritage-listed sights: the Dacian fortresses of the Orăştie Mountains, the medieval citadel of Sighişoara and remarkable Saxon fortified churches; not to mention delightful cities such as Sibiu and Braşov, offering a mix of medieval cityscapes and thoroughly modern festivals. And there are quirkier options to be had too, from following the trail of Dracula to joining the locals in health tourism options including taking the waters at numerous spas and spending time underground in a salt mine.
Getting around Transylvania still takes time: the motorway construction programme is years behind schedule and Romanian trains proceed at a gentle pace. But with horse-drawn carts still to be seen on many Transylvanian roads, and a range of truly spectacular drives to be had, travelling is part of the fun of a Transylvanian holiday.
Suggested itineraries

A long weekend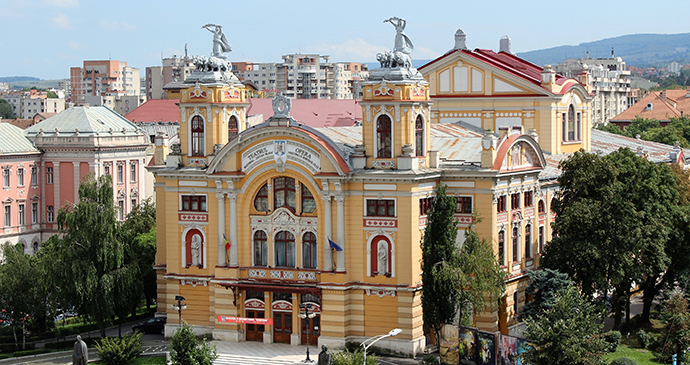 If you've only got a weekend to spare, make sure a performance at the Opera House in Cluj-Napoca is on your itinerary © Paul Brummell
Fly to Cluj-Napoca or Sibiu on one of the low-cost airlines. In Cluj, spend a leisurely morning exploring the town, admiring the view from the citadel hill, and talking in the fine Gothic interior of St Michael's Church and the controversial statue of Hungarian King Matthias Corvinus – his birthplace is also nearby. Enjoy a sustaining lunch in one of the many student pubs in this young, vibrant city and walk off the calories on a promenade around Cluj's lovely botanical garden. In the evening, tuck into a meal in a traditional restaurant or take in a performance at the brightly coloured Romanian National Theatre and Opera House.
The following day, take a trip to the nearby town of Turda and get a feel for the distinctively Romanian pursuit of therapeutic visits to the depths of a salt mine, complete with subterranean amusement park and boating lake. A walk through the scenic Turda Gorge is a great way to get some exercise and a taste of the Transylvanian countryside.
Alternatively, fly to Sibiu and spend the day wandering the streets of the beautifully restored historic centre. Take in the artistic treasures of the Brukenthal Museum before enjoying lunch alfresco at one of the many pavement café terraces. The following day could be spent either learning about Transylvanian rural architecture at the Astra open-air museum just outside the city, or for the more restless taking a day trip to Braşov, another fine Saxon city. Explore the medieval pedestrianised centre before taking a cable car up Tâmpa Hill to look down on the city.
One week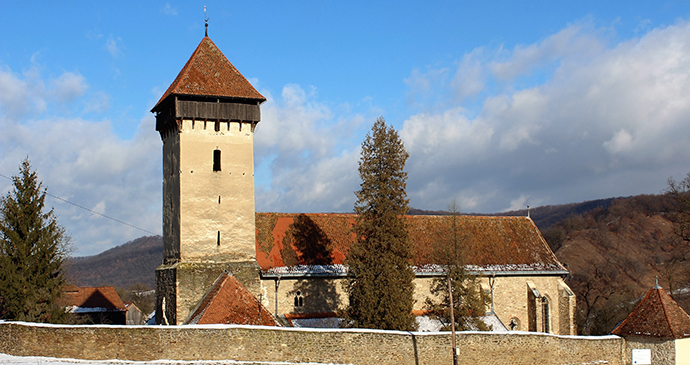 One week allows you to explore the fortified churches of former Saxon villages such as Mălâncrav © Paul Brummell 
A week allows for a fine holiday exploring the fortified church villages of the former Saxon communities of southern Transylvania. Fly to Cluj-Napoca or Sibiu and stay locally in one of the traditional guesthouses in Biertan, Viscri, Saschiz, Mălâncrav or Micloşoara. Late spring or early summer is an ideal time to stay in this area, when the wild flowers in the meadows are at their finest.
Two weeks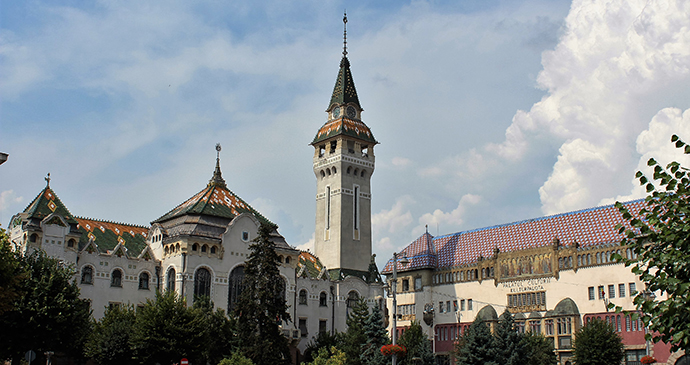 If you've got longer to spend in Transylvania, Târgu Mureș is a good place to stop © Paul Brummell 
Fly to Bucharest and hire a car. Drive up to Transylvania through the wine-growing Prahova Valley. Stay with Dan and Luminiţa Marin at their Zărneşti guesthouse and visit the sights in the surrounding area, like Bran Castle and the Libearty Bear Sanctuary, as well as some invigorating and inspiring walks in the Piatra Craiului National Park. Make Braşov your next base and enjoy the sights of this beautiful Saxon city. Head leisurely northwards along the E60 highway, taking in the gorgeous medieval citadel of Sighişoara, as well as some of the fortified Saxon church villages, like Saschiz, Viscri and Biertan.You might want a breather by now, so visit Sovata-Băi and wallow in the warm, salty Lacul Ursu. Take in the unusual attraction of Praid's salt mine, complete with subterranean restaurant and cinema, and pick up some folk pottery in nearby Corund. Târgu Mureş is a good next stop, with some fine buildings. You shouldn't miss the stained-glass windows of its Art Nouveau Palace of Culture. The E60 continues to cosmopolitan Cluj-Napoca, but you might fancy a spot of hiking in the Apuseni Mountains or a lakeside rest at Lacul Fântânele in the Kalotaszeg region of gentle rolling hills and traditional ethnic Hungarian villages.