Authors' take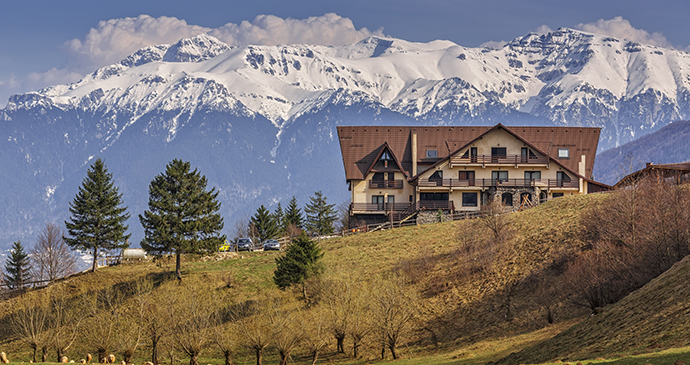 The Bucegi Mountains are just one example of Transylvania's incredible scenery © Photosebia, Shutterstock
Transylvania! The name is so evocative that it demands an exclamation mark, although perhaps it should be a question mark – Transylvania? What is it? Where is it?
In the popular imagination, Transylvania is filled with forest-covered mountains, sinister castles on rocky crags, counts with pallid skin and pointed teeth, wolves, bears, werewolves, eagles, haystacks and ancient farmsteads. But while some of this imagery has its roots in the real region of Transylvania, much of it emerges from the pen of Bram Stoker, the Irish novelist who never even visited the place. Forget about Dracula if you can, for the real Transylvania is a region much more interesting, and less dangerous.
Transylvania is an ideal escape from the hectic, stressed-out Western world. It's impossible to rush; the roads will see to that. You have to take your time, go with the flow and admire the scenery en route.
'Transylvania had been a familiar name as long as I could remember. It was the very essence and symbol of remote, leafy, half-mythical strangeness; and, on the spot, it seemed remoter still, and more fraught with charms.' So wrote Patrick Leigh Fermor of his romantic walk across this strange and beautiful land in 1934. The real Transylvania, the land beyond the forest, is a place captured within the sheltering arc of the Carpathian Mountains. Its upland forests hold some of Europe's most important populations of bears, wolves and lynx, while further down the hillsides its meadows, still cut by scythe, play host to a late spring pageant of glorious wild flowers.
Its peoples and places reflect the shaping hands of its complex history. From the remote hill fortresses of its Dacian kings and the colonies established by the Romans emerge the roots which were to give birth to the Romanian people. Hungary was for centuries the dominant power, and ethnic Hungarians still form the majority of the population in the Székely lands, the ancestors of which people guarded the eastern frontiers of the Hungarian Kingdom. From beautifully carved wooden gates to a distinctive chimney-shaped cake, the Székely region is proud of its identity. In the south, the German-speaking Transylvanian Saxons were also brought to the region by the Hungarian kings to help guard its frontiers. While most have now departed for Germany they have left behind a legacy of beautiful villages centred on the remarkable fortified churches which are one of the most distinctive cultural features of the region.
Transylvania is an ideal escape from the hectic, stressed-out Western world. It's impossible to rush; the roads will see to that. You have to take your time, go with the flow and admire the scenery en route. And its tourist offering is developing impressively. While the region still has its share of clumsily renovated communistera hotels, with surly reception staff and beige décor, there is a broadening range of hotels and guesthouses based around sensitively restored noble manors, village cottages and historic townhouses. Its largest cities, Cluj-Napoca, Sibiu and Braşov, combine historic centres with alluring cultural programmes, and Transylvania now boasts world-class theatre, film and music festivals. From birdwatching to mountain biking and skiing to botany, Transylvania is an attractive destination for seekers of many types of activity holidays, as well as for those looking for holiday inactivity and enjoying the slow pace of traditional village life. And with both hotel and restaurant costs much lower than in much of western Europe, it remains an affordable destination, too.
So come to Transylvania. There's no need to bring any garlic – you'll find plenty in the local food anyway.
Author's story
Lucy Mallows
I wanted to write a travel guide that could lead travellers around a region that has an incredibly complicated history and blend of cultures and faiths, with Romanians, Hungarians, Saxons and Roma all struggling together and apart during the brutal Ceauşescu dictatorship. It is also quite a difficult region to visit; the infrastructure is not always in place and the roads are often diabolical.
For an English-speaking visitor, there is a confusion of languages to wrestle with: Romanian, Hungarian, German, Romani and a complicated geographical demographic. However, Transylvania is an immensely rewarding country to visit, there is so much to discover and enjoy: romantic castles, Saxon fortress churches, secluded villages with ancient traditions and folk crafts, haystacks and hay-laden horse-drawn carts, gorgeous countryside, forests, rolling hills, more bears than anywhere else in Europe and welcoming, hospitable people offering delicious dishes and a wide range of lethal alcoholic drinks.
I haven't even mentioned Dracula yet! Although the Count's inspiration, Vlad III Ţepeş (the Impaler) was, in fact, a prince of Wallachia, a region to the south of Transylvania, Irish author Bram Stoker and later Hollywood placed him firmly in the more atmospheric setting of Transylvania and there are many places where his bloodthirsty name is evoked.
Bradt's unique brief gave me the chance to express personal feelings about the region (and Transylvania always elicits strong reactions). I hope readers will gain a deeper understanding of the region and a love for this unique, complicated and exciting part of Europe.