Eating and drinking
Accommodation
Eating and drinking
The cuisine of Romania is a reflection of the country's history and geographical location. Transylvanian cuisine (you will also hear it expressed as ardelean) reflects the wider array of Romanian dishes, but with a stronger influence from Hungarian and German ideas and flavours, with Hungarian dishes such as chicken paprikash featuring on menus.
Breakfast
Breakfast is often quite a simple affair enhanced with natural local produce. Crusty bread (pâine) is accompanied by homemade jam (gem). Many small guesthouses offer their own yoghurt and the honey may have come from local beehives. Lorries with many-coloured hives installed in the side tour the countryside pursuing the best blossoms. Acacia honey (salcâm) is particularly good. There may also be cheese (brânză), perhaps a Cheddar-like caşcaval or the unsalted semi-soft ewe's milk caş, a feta-like cheese, sometimes mixed with fresh dill and stuffed into fresh peppers. Two great spreads, often found at breakfast buffets in hotels, are the green salată de vinete, made from aubergines, and the reddish zacuscă, which may contain various vegetables but usually includes peppers, tomato, onion and carrot.
Snacks
One of the delights of Romanian towns is the hole-in-the-wall places that specialise in freshly made snacks (gustări) and pastries, notably covrigi, spirals of salted bread shaped like pretzels. These come in various flavours, from simple affairs with a topping of sesame seeds to more complex concoctions filled with cherry jam or chocolate. They are cheap and very good. More elaborate and sweeter Romanian snacks include gogoşi, sweet doughnuts and papanaşi, cheese-filled pastries slathered with cream and jam.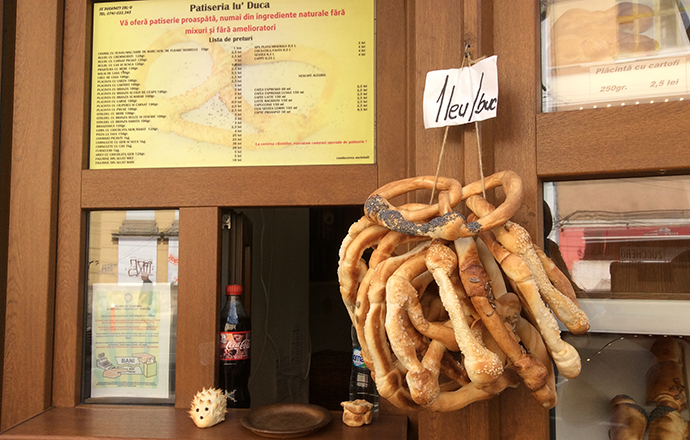 Covrigi – a popular Romanian snack © Adriana Mitsue Ivama Brummell
In areas with a large ethnic Hungarian population, notably Mureş, Harghita and Covasna counties, and at fairs and markets everywhere in Transylvania, you will also come across typically Hungarian snacks, notably lángos, giant frisbees of deep-fried dough, served with an imaginative selection of toppings: sour cream, grated cheese, ketchup or even cabbage. A distinctive Székely culinary contribution is the chimney-shaped kürtös kalács, a hollow cylinder of sweet bread rolled in sugar, cinnamon, coconut or walnuts and cooked by wrapping it around metal poles on a kind of barbecue. It is fascinating to watch these being made on the spot.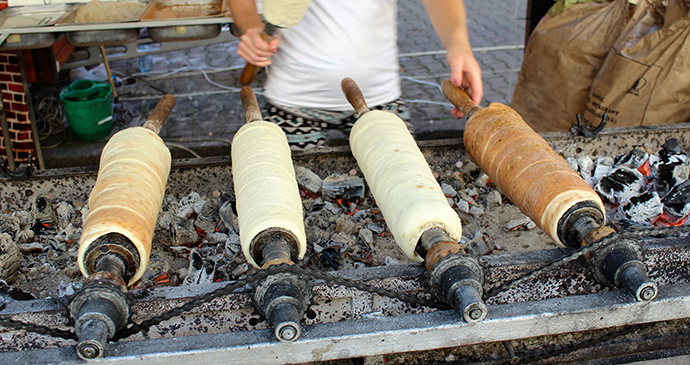 A distinctive Székely culinary contribution is the chimney-shaped kürtös kalács © Adriana Mitsue Ivama Brummell
Lunch and dinner
Lunch (dejunul/masa de prânz) is usually the main meal of the day for most Romanians. Dinner (cina) is more modest.
There is still an emphasis on meat in many restaurant menus and guesthouse offerings. Pork has a central place in the Romanian culinary consciousness, and the slaughter of a pig in the run-up to Christmas remains an important event in the calendar of many Romanian families. Vegetarians can ask for something fără carne, meaning 'without meat', or for mâncare de post, traditionally the dishes served during periods of fasting, observed by many Orthodox Romanians, when meat is avoided.
Soups are a very popular element of the Transylvanian diet. Romanians draw a fundamental distinction between an ordinary soup, or supă, and a sour soup, known as ciorbă or borş. Sour soups are prepared with the addition of a liquid, also called borş, made of wheat or barley bran fermented in water.
Mămăligă, made from stone-ground cornmeal (polenta) is the unofficial national dish and is as essential to Romanian cuisine as pasta is to Italian. It forms the basis of a large number of heavy but hearty dishes, such as bulz, an oven-roasted mix of mămăligă and cheese. You may also come across balmoş, a smooth and rich puree of corn flour and whey cream. Mămăligă also forms the chief accompaniment to many signature Romanian dishes. Pride of place here goes to sarmale (cabbage or sometimes vine leaves stuffed with minced pork).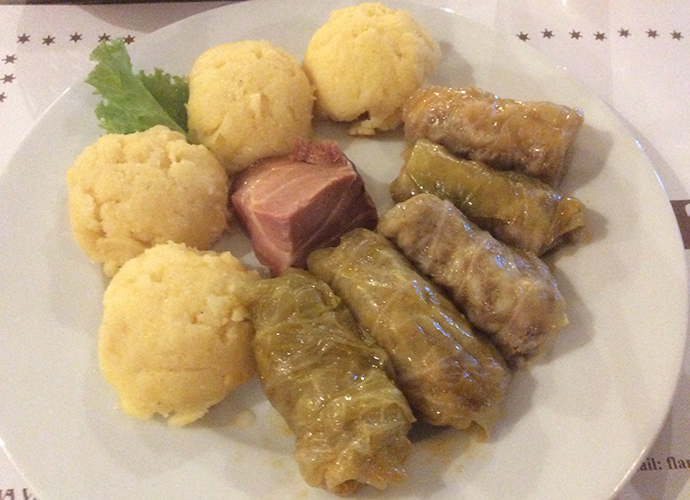 Sarmale with mămăligă is a popular dish © Adriana Mitsue Ivama Brummell
Romanians are also highly attached to the barbecue (grătar). The distinctively Romanian contribution here are the little skinless sausages known as mititei or mici (literally 'small ones'). You will see these being cooked up on roadside barbecues all over the region.
Drinks
Romanian restaurants often offer good homemade lemonade, which may be flavoured with ginger or other products. This is usually served up not in a glass, but in a jar with a straw, and sweetened with honey to taste. Another great nonalcoholic drink is must, freshly pressed grape juice which appears at the time of the autumn grape harvest.
Romania produces some good beers, usually served in a half-litre mug known as a halbă. A spriţ (spritzer) ofwhite wine mixed with sparkling mineral water is a popular summer drink. Mulled wine (vin fiert) with sugar and cinnamon is great on cold winter days. For something stronger, try ţuică fi artă (hot plum brandy with sugar and peppercorns).
Accommodation
The range and quality of accommodation options across Transylvania has improved markedly in recent years. There is a good choice of hotels and guesthouses available in most places, suiting most budgets, and a pleasing increase in the number of more imaginative offerings, from village houses refurbished sensitively in traditional styles as guesthouses to opportunities to stay in restored aristocratic manors. In some places there are relatively few options at the very top and bottom of the scale: high-end hotels and hostels. And you should book early if your visit is likely to coincide with everyone else's: for example to Sibiu during the theatre festival, Cluj-Napoca when the Untold Festival is on, or Sovata-Băi at the height of summer. That said, you can usually find somewhere with available rooms at your chosen destination, even if not your first choice. Prices have risen in recent years but Transylvania is still cheaper than almost anywhere in western Europe.
Hotels
The hotel scene in Transylvania has been transformed in recent years. Yes, you will still find unrestored examples of the former Communist-era hotels, which have a certain charm for those in search of Communist retro architecture and design, but at the cost of creaking smoke-filled lifts, dodgy plumbing and erratic hot water. These are now mostly to be found in those spa resorts, like Sângeorz-Băi, where investment hasn't really taken off in a big way since the revolution, or in those mid-sized towns bypassed by business and tourists. But in most other places, the former Communist hotels have been refurbished out of recognition, and joined by newcomers. Both Târgu Mureş and Cluj-Napoca offer a good range of modern offerings, with the latter sporting some funkier boutique hotels of a type found only occasionally elsewhere in the region. Sibiu, Braşov and Sighişoara all have a great selection of atmospheric places in refurbished historic buildings right in their medieval cores.
Motels

Roadside motels are a common sight along Transylvania's highways. Some of these are mainly geared to long-distance truck drivers (the presence of adjacent truck parks is the giveaway), but others have more of an eye on passing tourists. You will sometimes see roadside places describing themselves with the Romanian word popas, which means resting place, but with a distinctly rustic connotation. These cluster around the more scenic parts of the main European highways through Transylvania, for example the Bogăţii Forest stretch of the E60 between Braşov and Sighişoara, and are usually a good bet for traditional Romanian cooking served up in a rural life-themed dining room. Some, though not all, also offer accommodation.
Pensions and guesthouses
Since the fall of Ceauşescu in 1989 and the arrival of private enterprise there has been a boom in the family-run accommodation known here as pensions (pensiuni). The term covers a large range of establishments, from small guesthouses to places with several floors of rooms and capacious restaurants which are hotels in all but name. Pensions in rural areas have their own classification system, based on daisies (margarete), running from the basic one daisy to the luxury five daisies. These are awarded on the basis of the fulfilment of quite technical criteria, so only give a general sense of how nice the place is. Many pensions have been set up by former Romanian migrants to western Europe who have invested their savings from that work into setting up a business back home. All too often they have gone for purpose built modern-looking constructions which, while comfortable enough, are out of tune with the surrounding rural environment. But this is starting to change, and there are an increasing number of pensions and guesthouses more focused on celebrating the best of Romanian rural traditions.
A particularly important role in the development of foreign tourism in Transylvania is being played by those families who have sympathetically restored traditional properties, whether grand manor houses or humble village homes, and converted these to relatively high-end tourist accommodation. Some of the most notable examples are the work of aristocratic ethnic Hungarian families, seeking to breathe new life into properties once seized by the Communists, but now restored to them. The other end of the rural guesthouse scale is made up of families who rent out a room or two to tourists (look for signs saying camere de închiriat). The availability of this kind of accommodation varies markedly. In some Transylvanian villages, for example Rimetea in Alba County, it can seem that almost every house has holiday rooms available, whereas in many other picturesque villages you will see none.
The Romanian Ecotourism Association (Asociaţia de Ecotourism din România) provides an ecotourism certification, and is a good source of further information about the sector.
Mountain refuges
In and around the national and natural parks in mountain areas in Romania are hikers' huts (cabane). These vary enormously in size and standard, from some which are essentially decent if unfancy high-altitude hotel accommodation, with private bedrooms, to very basic huts where you need to use your own sleeping bag on a dormitory bed or even the floor. The prices vary accordingly. There is an equally wide variation in their degree of accessibility. They are not supposed to turn anyone away, which is where the floors come in to play. They are marked on all good hiking maps. Note that these are different from the emergency shelters found in some high mountain areas popular with climbers and trekkers, which are not charged accommodation but places for emergency use only if you are stranded by a sudden change in the weather.
Hostels
The hostel network is not well developed in Transylvania, although there is at least one reasonable and central hostel in the major cities, plus tourist hotspots such as Sighişoara. Hostelling International Romania has only 11 accredited hostels in Romania, only three of which are in Transylvania: one each in Braşov, Cluj-Napoca and Sibiu.
Campsites
Campsites (locuri de campare) are not particularly developed in Transylvania, and vary considerably in quality. Many also offer little wooden huts (căsuţe) for rental, though the outwardly bucolic charms of these hide the fact that they are decidedly spartan. The website of campsite specialists ACSI has a digest of more than 40 campsites in Romania. 'Wild camping' is not allowed and, given the range of Romanian carnivores, as well as the challenges that can be posed by stray dogs and sheepdogs, would not in any case be advisable without an expert guide. National parks have strict regulations on where camping is possible: usually in areas immediately adjacent to the cabane.