January
Carnival
An important event among the ethnic Hungarian communities in Transylvania is Farsang, Hungarian Carnival season, which runs between Epiphany and Ash Wednesday. The final three days of this period are traditionally the main focus of merriment. In Rimetea, in Alba County, for example, the main event is known as the Burial of Carnival (Înmormântarea Fărşangului), in which young men of the village dressed up in all manner of outfits, from clowns to soldiers to priests, process alongside a donkey pulling a cart carrying a coffin, which is destroyed at the end of the proceedings. Among ethnic Romanian communities, the equivalent period of pre-Lent merriment is known as Săptămână Nebunlior ('mad week').
February
Dragobete
Celebrated on 24 February, this is the Romanian equivalent of St Valentine's Day. Dragobete was by legend the kind son of Baba Dochia, the old woman who in Romanian mythology is associated with the coming of spring. Girls and boys traditionally pick the first flowers of spring on this day for their loved ones. A separate and rather curious Romanian superstition associated with Baba Dochia involves choosing a day between 1 and 9 March: if the day turns out to be fair, good luck ensues, but woe betide you if it turns out to be a miserable day.
March
Mărţişor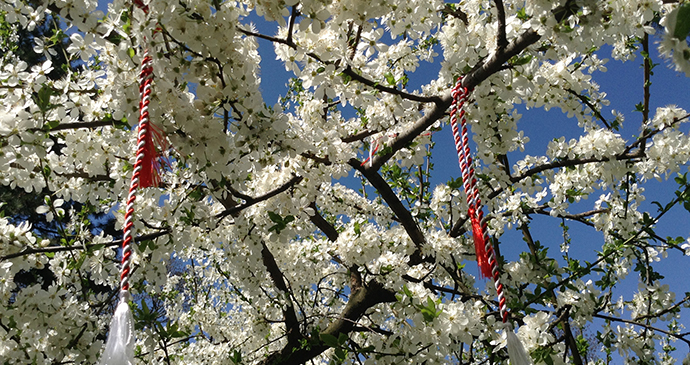 Cherry trees with mărţişor attached are a common sight during March © Adriana Mitsue Ivama Brummell
Celebrated on 1 March and literally meaning 'little March', this is an important spring celebration throughout Romania, and centres on a small talisman with a length of red and white string attached to it, also known as a mărţişor. They are sold at shops and stalls everywhere from Dragobete until International Women's day on 8 March, and usually display symbols associated with either good luck or springtime: a fourleaf clover, chimney sweep, a horseshoe, a ladybird or snowdrop. In Romania, they are generally only given by men to women. By tradition girls and women wear these talismans through the month of March, then hang them up in fruit trees. If you stroll through a Romanian park in April, you will find lengths of red and white string dangling picturesquely from the branches of cherry trees. On 8 March, for International Women's Day, it is customary for Romanian men to buy flowers for close female friends and work colleagues.
April
St George's Day (Sângeorz)
Falling on 23 April, this is celebrated in many parts of Transylvania with festivals linked to springtime and fertility. One variant of the theme involves a young man covered in green branches and twigs being taken from house to house in the village, where he is liberally doused with water for his pains. And at the end of the procession he is thrown into the village fountain. St George's Day is also by tradition the day on which shepherds take their flocks up to their summer pastures in the mountains, coming back down on St Demetrios's Day, 26 October.
May
Armindeni
In rural areas the coming of spring on 1 May is marked by customs of pagan origin aimed at ensuring a good crop to come and avoiding natural disasters like drought or hailstorms. A green branch is traditionally placed by the gate or door of the house. The tradition of planting a 'tree of life' on this day in the courtyard of a house, which is then richly decorated, is rarely seen nowadays. The day is also known in many parts of Romania as Ziua Beţivului ('drunkards' day').
The Measurement of the Milk Festival (Măsurişul Laptelui)
Also known as Sâmbra in some areas, this feast is traditionally held in shepherding areas across the region in spring, usually in or around early May, when the sheep are taken up to the sheepfold (stâna) where they will spend the summer. The sheep and their new pastures are blessed by a priest, and then the ewes are milked by each family, and the results measured. There is a practical reason for this: the milk tally determines the share of the cheese produced by the shepherd while up in the summer pastures that will go to each family. The milk-measuring part of proceedings is followed by music, dancing and food. Where these festivals have been preserved, they have largely remained local community events. The hills around Ciucea near Huedin in Cluj County are one of the best places to see these festivals, but they are found in many areas.
June
Midsummer (Sânziene)
The pagan midsummer festival of Sânziene is celebrated on 24 June. As a celebration of the powers of the sun, it is associated with the lighting of campfires, and in some places a test of bravery in attempting to jump over them. Romanians traditionally believe that good fairies known as Sânzienele fly around the countryside on the night before 24 June, and that every herb they touch during their flight will be given an additional healing potency. One particular flower, also known in Romanian as sânziene, is specifically associated with the day: this is the yellow-flowered plant known in English as lady's bedstraw, and in Latin as Galium verum. This is collected by unmarried girls and in some places placed under the girl's pillow at night, so that she may dream about her future partner. In others, the tradition is to create wreaths from these flowers. The wreaths are thrown onto the roof of the house: if they stay there, the girl will get married soon; if they fall down, she'll have to wait a while yet. Village celebrations of Sânziene also tend to involve the local girls dressing up as fairies, with floral garlands on their heads.
July
The Girls' Fair (Târgul Fetelor)
This is another festival which developed to meet the exigencies of Romanian rural life. With families living in often isolated villages, the pool of potential spouses was decidedly limited, with all the attendant risks around in-breeding in rural communities. The Girls' Fair was a way of combating this, in providing a setting in which girls and boys looking to wed could get a chance to meet potential partners hailing from a much wider area. It is said that girls would even bring their dowries along in a cart, to help to seal a deal. These fairs today have lost their original purpose, and become more general celebrations of rural traditions, with plenty of folk music and dance. By far the most famous example of the genre is the Mount Găina Girls' Fair, held in July above the village of Avram Iancu in the Apuseni Mountains. This is one of the most popular rural festivals in Transylvania, attracting thousands of visitors each year, but note that its purpose has changed entirely. It is now basically a folk-music festival focused around a stage high up on a mountain plateau, with the festival-goers camping out in tents.
September
Răvăşitul Oilor, Bran
A kind of coming-home party for the sheep returning from their mountain pastures, this festival features plenty of sheep-related activity, such as cheese tasting and even a most beautiful sheep competition.
October
Cabbage festival, Moşna
A relatively recent tradition usually held over the second weekend in October and highlighting the impressive local quality of this vegetable. Folk music, dancing and, of course, cabbage-related cuisine all feature.
Open-air market, Negreni
On the second weekend of every October, the village of Negreni (which is known throughout the region as Fekete-tó, Hungarian for 'Black Lake') turns into a vast open-air market and fair when all the hotels and pensions are booked up long in advance as people arrive from all over Romania – and many from Hungary – to meet up with their mates, buy farming equipment, catch up on gossip, eat mici (spicy skinless sausages) and toast everyone's good health with endless shots of ţuică. Many traders turn up on the Thursday and Friday, and there is an animal market on the following Monday; however, the best day is Saturday, especially if you're looking for folk crafts, antiques or unusual, ancient musical instruments.
November
St Andrew's Night (Noaptea Sfântului Andrei)
This falls on 29 November, the eve of St Andrew's Day, commemorating Romania's patron saint. While Romania has imported Halloween traditions from elsewhere, via Hollywood, St Andrew's Night is the home-grown version, the 'night of the vampires' at which it is said that vampires and undead souls (strigoi) come out. This is traditionally the time for vampire-related partying, though party-goers ensure that doors and window frames are liberally rubbed with garlic.
December
Christmas (Crăciun)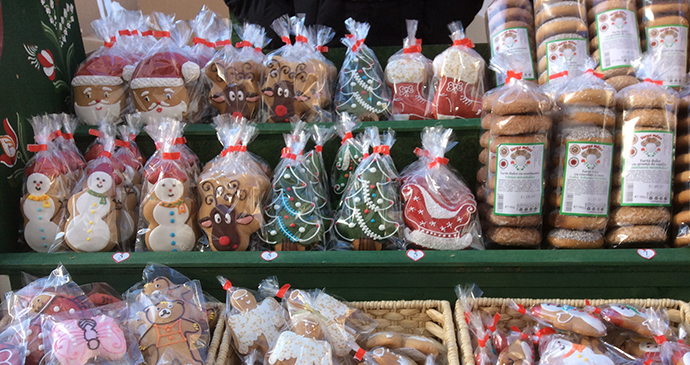 Christmas treats on sale at a market © Adriana Mitsue Ivama Brummell
The Christmas season in Romania is celebrated with enthusiasm, and kicks off around the time of Romania's national day, 1 December, with the opening of Christmas markets in the larger towns. These are well worth catching if you are in Romania over this period: little wooden huts dispense mulled wine (vin fiert) and an array of sweet Christmas goodies, there will usually be concerts programmed in the evenings, and children get to visit Santa's grotto. He's known as Moş Crăciun in Romania.