Visas
Getting there and away
Getting around
Visas
UK visitors must have a passport. Schengen area visitors face no entry restrictions, but should have a valid passport (this, or a photo driving licence, are supposed to be carried at all times, but you will rarely be called out on this). Most non-EU visitors (including those from the US, Canada, Australia and New Zealand) can stay a maximum of 90 days in Greece and other Schengen-zone countries (most of the EU, but not the UK). Your passport may not be checked if arriving from another EU country, but you need to have it stamped to avoid problems leaving the country. After the UK leaves the European Union, documentation requirements for UK citizens may change. Check before travelling. If you want to stay longer you are best to contact a Greek embassy before you make your trip.
Getting there and away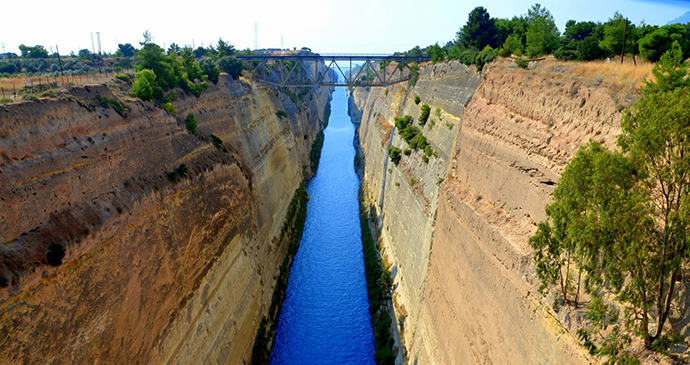 By air
The Peloponnese has only two 'main' airports at the present time, Kalamata and Araxos (near Patra), which used to cater mainly to charter flights, and these are still available in the high season. It is worth noting that both these airports have minimal facilities and you would be wise to organise your onward transport in advance. Flights to the Greek capital, Athens, are a good alternative. It is only an hour by road from the Peloponnese and there are reasonable bus and train connections. Kalamata also has internal flights daily to and from Thessaloniki (in northern Greece – see www.olympicair.com).
By car
If you are planning to be in Greece for any length of time it is perfectly possible to bring your car over from the UK. You are allowed it in the country for six months (keep hold of your ferry ticket to prove when you came in). Although this is rarely checked, if you are caught out your car will be immediately impounded and the fine to release it can be more than it is worth. Driving a UK car on the right-hand side of the road is not as difficult as everyone seems to think it is.
By ferry
Several companies run daily ferries from Italy to Patra in the northeast of the Peloponnese, usually via Corfu. They leave from Venice, Ancona, Bari and Brindisi, with the crossing times getting progressively shorter (from Venice they can be as long as 35 hours, from Brindisi as short as 14 hours). The longer ferry journeys are more expensive, but this is somewhat offset by the price of driving further down Italy. You are always best to book in advance (which you can do via www.directferries.co.uk, www.ferries.gr or www.aferry.com).
There are various forms of accommodation aboard, and these can raise the price quite considerably. It is worth knowing that 'deck' class does not mean you are confined outside! You are allowed in the communal areas inside, and in the low season will often find a spot to stretch out and sleep. In the high season you are likely to be obliged to sleep out on the deck, although there are usually plenty of sheltered areas (a sleeping mat or even a pop-up tent is an advantage). A new option for those with camper vans is the ability to stay in them overnight.
You can also get local ferries from Piraeus, the port of Athens, to various ports along the east and south coast of the Peloponnese.
Getting around
By train
Trains are the cheapest form of public transport in Greece, mainly because they are so bad. The exception is the good connection from Athens and its airport to Corinth. Rail buffs should not despair as the short but spectacular rack-and-pinion railway line up to Kalavryta is one of the best rides in Europe.
By bus
Buses are normally fast and efficient, at least on main road routes, and the buses themselves are modern, comfortable and normally air conditioned. Athens to Kalamata is about the longest single bus ride you might want to take. It takes 3½ to 4 hours and costs €23 at present. On intercity routes such as this one you buy a ticket in advance and seating is assigned, although old Greek ladies often don't understand this. More rural routes are a bit more casual. You buy your ticket from a conductor or the driver on the bus, and the timetable often goes out of the window. You will rarely be alone waiting for a bus, so trust what the locals tell you. If there are only a couple of buses a day they tend to be first thing and in the early afternoon.
By car and motorbike
Unless you want to confine yourself to the major towns and sites, or have a lot of time on your hands, having your own vehicle is by far the best way to explore the Peloponnese. The easiest way to do this would be to hire a car in advance and pick it up at the airport or ferry port. In peak season you can get a small car for around €30 a day. You are always best to get the most comprehensive insurance cover you can.
By taxi
Taxis are much cheaper than in most other European countries. While using them to travel around the whole area would probably be prohibitive, they can be a useful alternative to public transport. In towns they run on the meter (on tariff 1, changing to tariff 2 if they drive out of town). In rural areas there are normally set prices for various journeys. Agree on the charge before starting your journey. A very rough estimate of cost in rural areas would be €1 per kilometre.
Cycling
Despite its high mountains many people enjoy cycling around the Peloponnese, although high summer should be avoided. Many of the resorts hire out mountain bikes. Bringing your own bike by aeroplane is often possible as well, but should be discussed in advance with your airline.
Hitching
Hitchhiking is often risky and is not recommended alone. It also seems to have fallen out of favour in much of Greece, so you might not have much luck. The exception is rural areas where it is not uncommon for people to wave down cars to take them to the next village, most often the elderly. If you are driving then picking them up is at your own discretion, but it can be an excellent way to interact a bit.
Walking
Walking and hiking are the best ways to explore the natural landscape of the Peloponnese. Even a short wander into the olive groves can be a delight. Good trainers or lightweight walking boots are normally sufficient. Lightweight but sturdy long trousers are recommended in spring, when the grass and thorns are high. Walking alone in the mountains is always a risk – make sure someone (perhaps your hotel owner) is aware of your intentions and knows roughly when to expect you back. A mobile phone can also be a good idea as coverage can be surprisingly extensive.