Forget the islands. This statement will come as a shock to most travellers to Greece, and rightly so. The Greek islands contain some of the most stunning destinations on Earth, and consistently feature in bucket lists and polls of where to visit 'before you die'. Their fame, however, means that mainland Greece is often ignored, and this is unjust. In fact, parts of the mainland could make a claim to beat the islands in scenery, history, wildlife and culture. The Peloponnese, a distinct area the size of Wales, is the best place to experience this. 
The Peloponnese offers something of a time machine. Twenty years ago in Greece you could still see old men going to their fields on donkey back, old women clad in black preparing vegetables on their doorsteps, main roads blocked by herds of goats, olives being picked with no more aid than a triangular wooden ladder and a big stick, tractors made from converted lawnmowers, and village shops seemingly unchanged since the 1940s. This Greece has disappeared in most of the more visited islands, but in the Peloponnese it endures.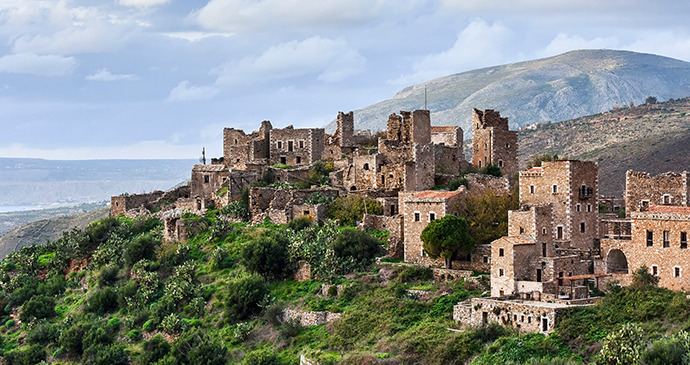 This is not to say that nothing has changed. In fact the Peloponnese has been at the forefront of an important shift in the emphasis of Greek tourism. As people realise that 'beach holidays' are available more cheaply elsewhere, Greece has had to concentrate on its other strengths, and also realise that its old standards of cheap and cheerful accommodation, and food, can no longer apply. Fundamentally this is a rethinking of what the country has to offer, a concentration on 'culture and nature' rather than 'sun and sand'. Greece, and particularly the Peloponnese, has always had these aspects, but they have been limited to the more adventurous traveller. Now it is slowly being opened up to all, with due care that it is not spoilt in the process.
The author's story
When researching the first edition of this book in 2008 I often found myself having to justify why I thought Greece needed another guide. Pausanias had started the whole industry back in the 2nd century, and since then Greece has remained one of the most written about, and travelled, countries on Earth. On top of this the perceived wisdom was that Greece had had its day as a destination. It was a staid country where nothing much would now change apart from steadily rising prices. Things have changed since then, of course, and Greece has shown that it is a country with plenty more to offer than just history.
The economic and political crises of the last few years, however, have not changed the reasons I gave for writing this guidebook in the first place. In 25 years of travelling around the Peloponnese I never found the guidebook of my dreams; the book that would lead me from secret coves to unexplored ruins via vibrant festivals in mountaintop villages. I still haven't found that book, but I hope I have written something that comes close.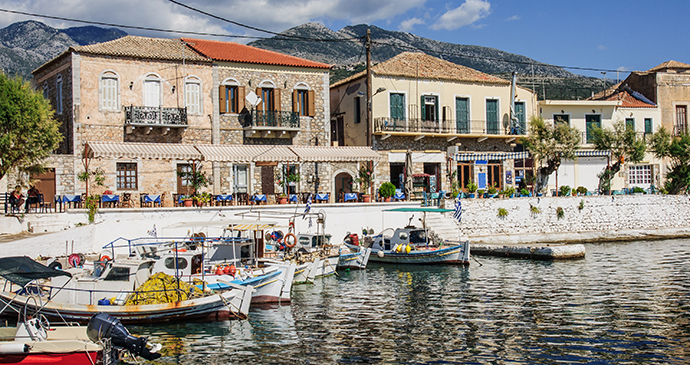 I first visited the area, in particular the Mani, as a 15-year-old backpacker, inspired equally by my mum and the author Sir Patrick (Paddy) Leigh Fermor, and slept under the stars on beaches, in ruined tower houses and olive groves. My love for the place has continued, and is fortunately shared by my partner. Jemima, our daughter, was born in Kalamata in 2006; not strictly the Mani, but close enough, at least according to Paddy himself.
My small family lived in the Mani while the first edition of this book was researched and written, a sometimes problematic decision, but ultimately rewarding. I drove over from the UK with a carload consisting of Greek history books stuffed down footwells, a doll's house, a cot, and a Fisher Price garage. A full-sized garage would have been more appropriate; in the course of two years exploring, my car went through a passenger door, a full set of tyres, brake pads, an exhaust, and a clutch.
Recent years have brought new adventures. Now a Physics teacher, of all things, we lived in Suffolk for 8 years before relocating first to the old Greek city of Alexandria in Egypt, and then the very un-Greek Suzhou in China. I regretfully gave up the updating of this edition to Philip Briggs, but couldn't be happier with the result. Hopefully we will be back in Greece soon.