Visas
Getting there and away
Getting around
Visas
Tourist visits totalling no more than 90 days over any 180-day period by nationals of the EU, Australia, Canada, New Zealand and the US do not require a visa.
Getting there and away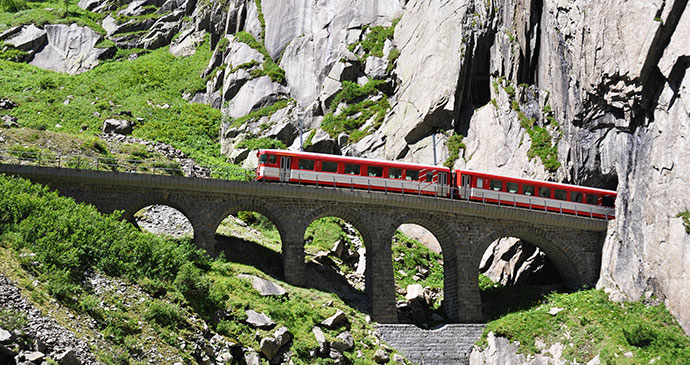 The Gotthard Pass is probably the best known of the Swiss Alpine passes and has long been a major trade route between northern Europe and Italy © Alexander Chaikin, Shutterstock
By rail
The Channel Tunnel and Eurostar services to Lille, Paris Gare du Nord and Brussels have transformed the rail map of Europe, opening up possibilities for practical day journeys to Switzerland. TGV (Train à Grande Vitesse) services to Switzerland are operated by Lyria. Journey time from Paris to Basel is 3 hours, to Zürich is 4 hours, Geneva in 3 hours, Lausanne in 3½ hours, Neuchâtel in 4 hours, Bern in 4½ hours and Interlaken in 5½ hours. Passengers travelling first class on Lyria trains are given light meals and drinks at no extra charge.
For those combining a visit to Switzerland with other countries, the range of trans-European trains is impressive. Switzerland's principal stations link directly to cities including Berlin, Frankfurt, Milan, Lyon, Marseille, Nice, Venice, Hamburg, Vienna, Munich and Zagreb, many via ICE – Inter-City Express, the German high-speed train.
European rail passes
For those planning extensive rail travel in countries neighbouring Switzerland, it may be sensible to think of a rail pass for Europe. An invaluable guide to the pros and cons of the various passes is available at seat61.com, options include InterRail/InterRail 26+ and Eurail Pass.
By air
Four Swiss airports receive regular flights from the British Isles: Basel, Bern, Geneva and Zürich. The easiest connections between air terminal and railway station are at Zürich and Geneva where the two facilities are adjacent. Both have frequent train services to many parts of Switzerland.
Many North American airports are served by Swiss, including Chicago, Denver, Los Angeles, New York/Newark, Toronto and Washington DC.
Getting around
Switzerland has the densest network of public transport in the world. For two-thirds of Swiss people it is less than five minutes' walk from their homes to the nearest public transport; 97.5% live less than a kilometre away.
By rail
A range of passes has been created to suit the travel requirements of most visitors. These not only make use of the system much easier; they also represent excellent value (and accompanied children under 16 travel free).
The Swiss Travel Pass entitles the holder to unlimited travel for three, four, eight or 15 consecutive days on more than 29,000km (18,000 miles) of railway, boat and postal bus networks and on the municipal transport systems of 90 towns and cities. It also entitles the holder to 50% discounts on nearly all mountain railways and aerial cableways.
Other passes included The Swiss Travel Pass Flex, Swiss Half Fare Card and Swiss Family Card. There is also a wide range of regional passes which usually cover trains, buses and boats.
By car
Given the extent of Swiss public transport, there is almost nowhere that cannot be reached by it and a short walk. However, if using a car is unavoidable, 1,150 Click & Drive hire cars are available at 405 SBB railway stations – provided by Mobility for a basic charge covering three hours. To use Click & Drive, an initial registration with a driving licence must first be completed at any of 75 of the largest SBB stations – you will then be handed the Mobility card, which serves as the key to all of the hire cars. After completing this procedure, you will be able to reserve your car online. There are nine different categories of vehicle to choose from, including Smart car, Renault Zoe (electro) and seven-seat Ford S-Max. Search sbb.ch/en for further details.