Visas
Getting there and away
Getting around
Visas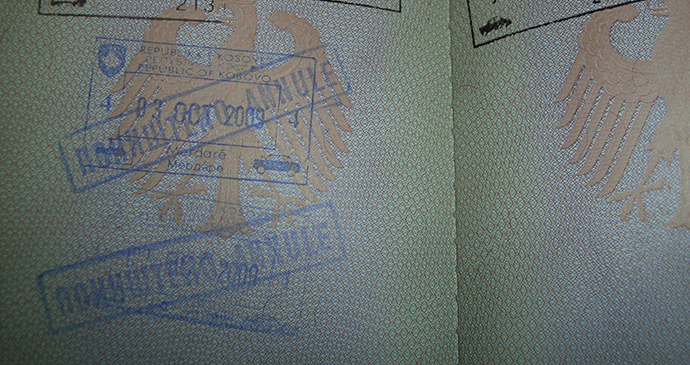 Kosovo stamps in a passport after having been annulled by Serbian border guards © Count zero ice, Wikimedia Commons
Most foreign visitors do not require visas for a short stay in the country. Passport-holders of the following countries may stay in Serbia for a period up to 90 days without the requirement of a visa: Andorra, Argentina, Australia, Austria, Belgium, Bolivia, Canada, Chile, Costa Rica, Croatia, Cuba, Cyprus, Czech Republic, Denmark, Estonia, Finland, France, Germany, Greece, Hungary, Iceland, Ireland, Israel, Italy, Japan, Latvia, Liechtenstein, Lithuania, Luxembourg, Mexico, Monaco, Netherlands, New Zealand, Norway, Poland, Portugal, San Marino, Seychelles, Singapore, Slovakia, Slovenia, Spain, Sweden, Switzerland, Tunisia, United Kingdom, United States of America and Vatican City.
Following Kosovo's unilateral declaration of independence in 2008 there was initially a great deal of uncertainty regarding the border crossing from Kosovo into Serbia. Because Serbia did not recognise the new republic, it was reported that on some occasions Serbian guards had not allowed travellers to travel into Serbia from Kosovo unless they had begun their journey in Serbia in the first place. A little while after the declared independence, the Kosovan authorities started stamping passports with a 'Republic of Kosovo' stamp, which did not help matters. Although this remains a grey area, partially dependent on the whims of the border guards, it is safest to assume that it will not be possible to cross the border from Kosovo into Serbia unless you originally began your journey in Serbia (and therefore have a Serbian entrance stamp) and are returning directly. So in short, travel Serbia–Kosovo–Serbia should present no problem but something like Serbia–Kosovo–Macedonia–Serbia might be problematic due to the absence of a Serbia exit stamp.
Getting there and away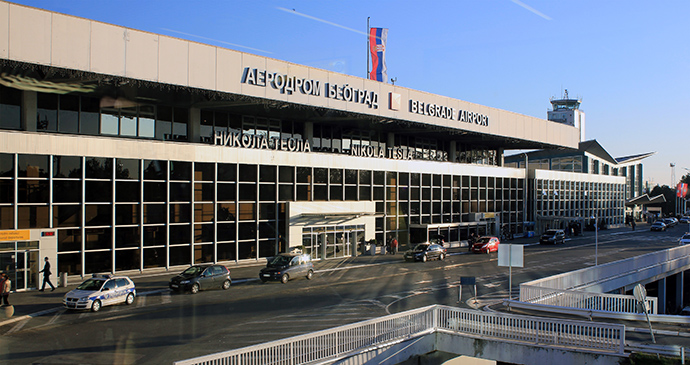 Belgrade's Nikola Tesla Airport can be reached from destinations across Europe © Bestalex, Wikimedia Commons

By air

Several airlines serve Belgrade directly. These include the national carrier Air Serbia, Aeroflot, Air France, Alitalia, Austrian Airlines, Eurowings, Lufthansa, Malev, Montenegro, Olympic Airways Swiss, Tarom, Turkish Airlines and Wizz Air. At Belgrade's Nikola Tesla Airport, Terminal 2 deals with all international traffic, while domestic flights use Terminal 1. Although Belgrade handles virtually all of Serbia's international traffic, Niš's Constantine the Great Airport currently receives a limited number of international flights and this is likely to increase in the future.
By train
Belgrade can be reached directly by train from all of the surrounding countries, as well as some beyond. From Zagreb the journey takes around 6 hours. From Venice via Zagreb the overnight journey to Belgrade takes around 16 hours and requires a change and a 2-hour stopover in the early hours of the morning. Direct services are also available from Ljubljana, which take around 9 hours.
Rail connections are also good with Budapest to the north, and go via Novi Sad, Subotica and the Hungarian border at Horgoš, although the journey time at around 7 hours is not really long enough to be convenient for an overnighter. Direct routes also exist between Greece, Romania, Turkey, Macedonia and Bulgaria and Belgrade, although the railway route between Sarajevo and Belgrade is rather circuitous and it is generally better to travel between Bosnia and Herzegovina and Serbia by bus. From Montenegro, there is a convenient overnight service between Bar and Belgrade by way of the Montenegrin capital, Podgorica, however, this journey is really better done during the daytime in order to make the most of the stunning scenery along the way.
By bus
There are direct bus routes to Serbia from all over western and northern Europe. For the longer journeys, given the cost, time and discomfort involved, flying is probably a more attractive option.
By car
With Serbia's landlocked position, surrounded by a total of eight other countries, it is little surprise that there are many options available if you are driving your own vehicle. Insurance policies from countries that have signed the Vehicle Insurance Convention are fully valid, but citizens of other countries must purchase an insurance policy when entering Serbia. Whatever your country of origin, it may be hard persuading immigration officials that a particular policy from any of these countries is valid for Serbia (it should state it clearly on your document, or you should have a covering letter) and they may try and insist that you purchase compulsory insurance anyway.
Getting around
By bus
This is the most popular and practical means of getting around the country. There are services between most towns and, from Belgrade in particular, there are frequent departures to even far-flung parts of the country. Most towns of any size have a purpose-built bus station that will have left-luggage and snack facilities. Timetables of departures and arrivals are shown on large boards, usually in Cyrillic.
Many larger bus stations will sell you a peronska karta with your ticket – either a platform ticket or a token for a turnstile. This generally adds 30–70din to the total ticket price. It is also possible to buy a peronska karta only and then go through and choose your own bus, paying the driver or conductor. This will give you more flexibility on busy routes as, generally, the ticket counter will just sell you a ticket on the next bus available. Sometimes, particularly if the bus is due to leave, they just sell you a platform ticket anyway and let you sort it out on the bus.
In most of Serbia, especially the north, there is usually a small charge of around 40–70din to put your luggage in the storage compartment of the bus. The conductor or driver will do this for you and give you a ticket in exchange.
By train

Trains are an alternative on some routes, although the Serbian railway network has deteriorated over the past two decades as a result of poor maintenance, lack of investment, management–trade union clashes and war damage. In practical terms, trains are cheaper than the bus option but they are usually slower and more prone to breakdown.
Overall, trains are a good way to travel if you are not in any great hurry. The common perception is that Serbian trains generally leave on time but arrive at their destinations late. Certainly, they are a good way to meet people, especially on longer trips.
By car
Driving is reasonably straightforward, and takes place on the right – mostly. Most main roads are in reasonable condition, although minor roads in the countryside can be in quite poor repair with pot-holes and loose stones. Because of the preponderance of blind corners and the occasional speed-crazed local, driving at night in rural areas can sometimes prove to be a nerve-racking experience that is probably best avoided.
Road tolls are charged on the major trunk roads; foreign-registered cars pay a premium, about 2½ times more than nationals.