Climate
Northern Greece has a Mediterranean climate near the coasts and a continental climate at higher altitudes, especially on Olympus and in the Rhodope and Pindus mountains, where heavy snow is common in winter. Occasionally, in winter, Macedonia is buffeted by the mighty Vardaris wind, that descends down the Vardar valley from North Macedonia, then meets the high mountains of Greece, where it picks up steam and swoops down to Thessaloníki. Although there are occasional thunder showers, spring is lovely everywhere, especially in the months of May and June. Summers can be very hot, especially on the plain of Thessaly where 40°C is not uncommon, but the Aegean coasts and islands are cooled by the meltémi wind from the north, which can occasionally wreak havoc with ferry schedules. The rainiest season is in autumn, especially after mid-October, but it's also when the mountain woodlands burst into colour.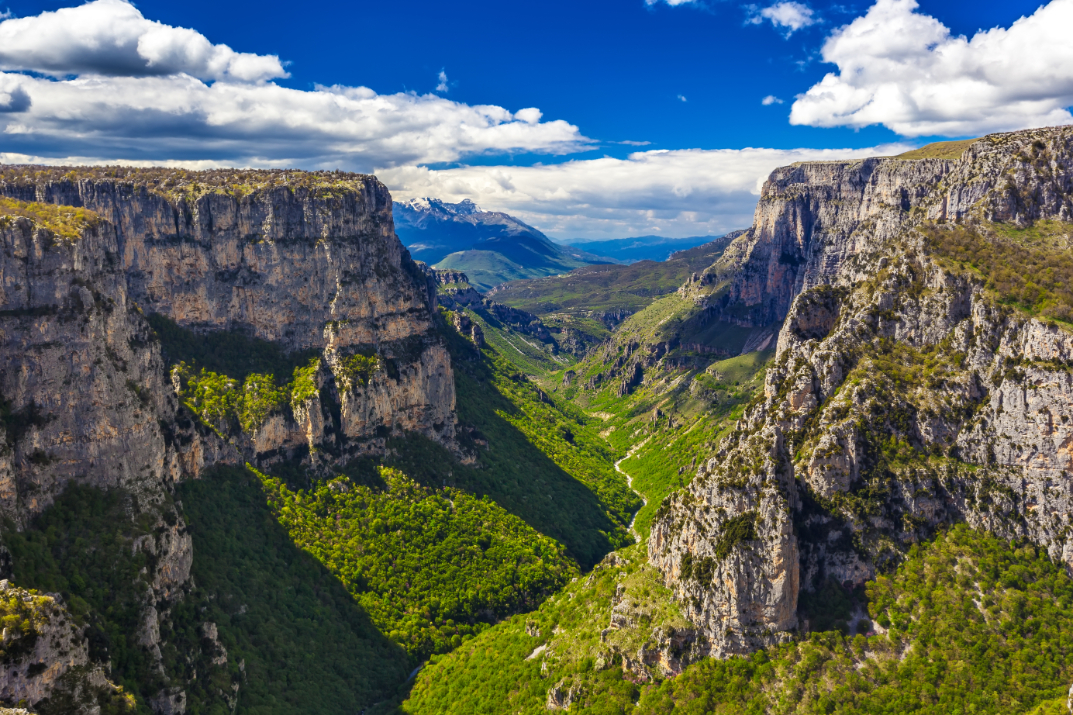 When to visit
Any time is a good time to see some part of northern Greece. Winter offers a lively city scene in Thessaloníki, a chance to play in the snow in the many ski resorts, or see archaeological sites in lonely splendour (a loneliness punctuated only by a few Japanese tour buses, the only consistent winter travellers to Greece). Spring is a time for wildflowers, pleasant temperatures and for participating in Greek Easter, the biggest holiday on the calendar. May and June are generally calm and warm (beach hotels stay open from Easter or May into September or October) and great for hiking or touring by car. July and August are the most popular months for sun lovers and people with children – the busiest, hottest and priciest time. The coasts are cooled by winds, but inland it can be stifling. The weather generally stays fine into mid-October, with the bonus of brilliant colour in the mountain forests. The wet season begins at the end of October when it can rain 'tables and chairs', as the Greeks say.
Suggested itineraries
Below are suggestions on how best to organise a driving tour of the highlights.
A weekend
Thessaloníki is a year-round destination – in fact it's livelier out of season with its numerous festivals (see box, page 76). Visit its World Heritagelisted Byzantine churches, the Galerius Palace complex and Rotonda, its fabulous archaeology and Byzantine museums and take in the vibrant restaurant and bar scene in and around the Ladádika district.
Eight days in ancient Macedon
Spend the first two days in Thessaloníki, as described above.
Day 3 Head south to Ancient Dion in the morning and to Litóchoro on Mount Olympus in the afternoon for a brief stroll up the beautiful Enipéas Gorge.
Day 4 Take the scenic route via Trílofos to Vergína for a morning in Ancient Aigai; then to Aristotle's school, the tombs of Lefkádia, and Náoussa.
Day 5 Visit Alexander's birthplace, Ancient Pella, then take the fast Egnatía Ódos east to Philippi, overnighting in Kavála.
Day 6 Take in Amphipolis and Aristotle's birthplace, Stageira; then late in the afternoon, Ouranoúpolis.
Day 7 Enjoy a cruise around Mount Athos, and relax on the beach.
Day 8 Visit Olynthos and more of Chalkidikí, depending on your flight arrangements.
Two weeks
Follow the eight-day itinerary opposite for the first three days.
Days 4–5 From Litóchoro, drive through the Vale of Tempe to Vólos and the Pelion.
Day 6 Cross the plain of Thessaly in 2 hours to Kalambáka for Meteora.
Day 7 Have lunch in Métsovo, then travel on to Ioánnina.
Days 8–9 Explore the Zagorochória and Víkos Gorge.
Day 10 Visit Kónitsa with its beautiful bridge and Samarína, before winding up to Kastoriá.
Day 11 Spend the morning in Kastoriá, and the afternoon at the Préspa Lakes; overnight there or in Flórina.
Day 12 Take in Édessa and the hot springs of Loutráki.
Day 13 Head to Véria and Vergína for the royal tombs. Day 14 Make time for a visit to Ancient Pella before returning to Thessaloníki.
Three weeks
Follow the two-week itinerary above for days 1–14, then from Pella take the highway around Thessaloníki for Lake Kerkíni, and overnight in Sérres.
Day 15 Go hiking or kayaking in the Néstos Gorge; then overnight in Xánthi.
Day 16 Spend time in Xánthi and Ancient Abdera, then cross the Néstos Delta for Alexandroúpolis.
Day 17 Explore the Évros Delta, Féres and Dadiá Forest, or alternatively – if ferry schedules permit – make an overnight/day trip to Samothráki.
Day 18 Visit Ancient Philippi and Kavála.
Day 19 Amphipolis, Stageira and Ouranoúpolis.
Day 20 Take a morning cruise around Mount Athos, or see more of Chalkidikí or Thessaloníki