Eating and drinking
Life's fundamental principle is the satisfaction of the needs and wants of the stomach.
Epicurus, 3rd century BC
Epicurus may have lent his name to gourmets, but in reality his philosophy advocated maximising simple pleasures: rather than continually seeking novelty, Epicurus suggests making bread and olives taste sublime by fasting for a couple of days. In that way Greeks have long been epicureans: centuries of occupation and poverty taught them to relish food more than cuisine. But what has changed in the 21st century is that cuisine has inescapably arrived.
Breakfast, lunch and dinner
In resort areas, hotels and restaurants offer familiar breakfasts, lunches and dinners at familiar western European hours. One recent incentive among hotels is to win the coveted 'Greek breakfast' label, meaning they feature homemade flaky pies, breads, cakes, yogurt and honey. Greeks themselves get by with something light, supplemented mid-morning with a cheese pie or other snack. You can eat lunch at noon, but if you want to do as the Greeks do in summer, get your sightseeing business done by 14.00, then indulge in a long lunch with wine, followed by a nap to avoid the afternoon heat. Get up at 18.00 for a swim and an ice cream, followed by the vólta, the evening stroll and a drink. Greeks rarely eat before 22.00 and meals can go on into the small hours. Children are welcome (they too nap in the afternoon).
An average taverna meal – if you don't order a major fish – usually costs around €20–30 with carafes of house wine. Bread will come whether or not you've ordered it, with a small service charge added. Prices at sophisticated, blatantly touristy, places with views can be much higher. In many resorts, waiters are paid a cut of the profits (which is why some obnoxiously tout for custom); tipping is discretionary but appreciated. A law designed to catch tax evaders requires that you take a receipt (apóthixi) 150m from the door; the police make periodic checks.
Classic Greek dishes
Greek cooking methods tend to be simple, with strong Turkish and Italian influences. One criticism levelled at Greek food is that it's served tepid. Once you get used to it, you realise that many dishes are actually tastier once they're left to cool in their own juices, especially in the summer. Many dishes need no introduction (but always taste better in Greece) – taramasalata (taramá), moussaka, gýros, stuffed vine leaves, Greek salads with feta, Greek yogurt and baklava have achieved the universality of lasagne and chicken tikka. A classic meal begins with little plates (mezédes) shared around the table: olives, tzatziki (cucumbers and yogurt), prawns, tirosaláta (feta cheese dip), tirokafterí (a pungent cheese dip), salted fish, roasted peppers, cheese or spinach pies (spanakópita), a salad, or saganáki (fried cheese sprinkled with lemon).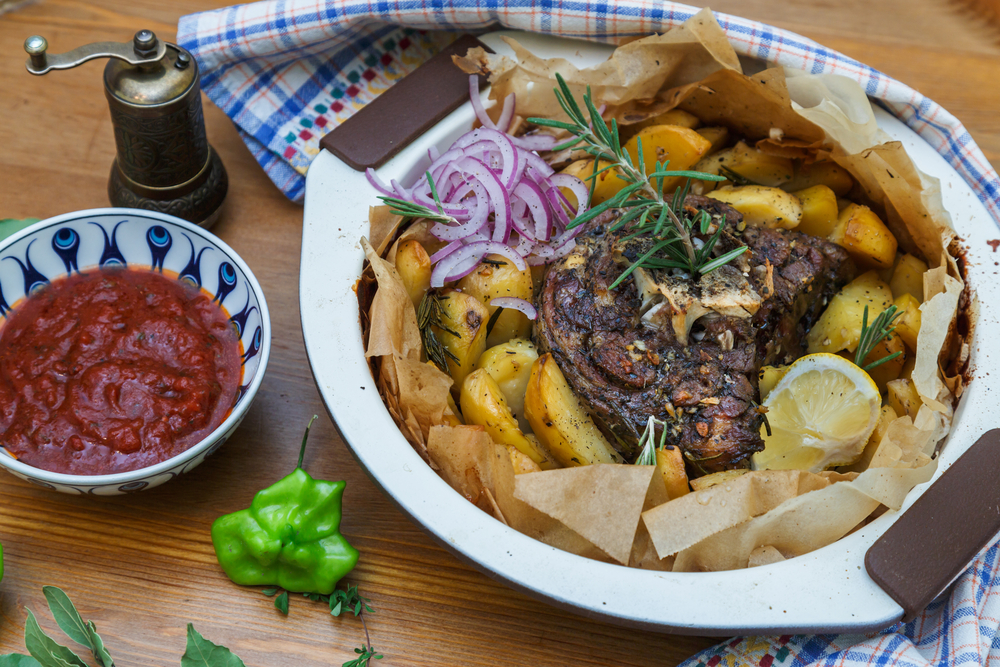 Main courses could be a gorgeously fresh omelette, or an oven dish or stew (called 'ready dishes' as they're already prepared) such as lamb kleftikó (slow cooked with wine and vegetables), stifádo (spiced beef stew with baby onions), kokinistó (beef cooked with tomatoes and a hint of cinnamon), lamb or veal youvétsi (baked with tomatoes and tear-drop pasta), or kréas stin stámna (lamb or beef baked in a clay dish). Meats grilled to order come under the heading tis óras ('the on times'): pork chops (brizóles), lamb cutlets sold by the kilo (paidákia), kebabs (souvláki), minced steak (biftéki), meatballs (keftédes or sousoukákia), sausage (lukániko) or chicken (koutópoulo).
Seafood is fresh and delicious, but expensive, although you can usually find cheapies like whitebait (marídes), sardines (sardéle), cuttlefish (soupiá) and squid rings (kalamári). Baked or fried bakaliáros (fresh Mediterranean cod) is always a treat and shouldn't break the bank. Some places serve fish soups – psarósoupa (with potatoes and carrots) or kakaviá (Greek bouillabaisse), which are meals in themselves with hunks of fresh bread and a bottle of wine. Prawns (garídes) are lightly fried or baked with garlic, tomatoes and feta (garídes saganáki), a popular dish from the 1960s as is spaghetti with spiny lobster (astakomakaronáda). Often each type of fish has its own price, priced by weight; you may be asked to pick out the one you want and the owner puts it on the scale in front of you. Greeks make lovely sweets, puddings, cakes and ice creams, but tend to eat them in the late afternoon after their siesta, although desserts are now common in restaurants as well.
Specialities of Northern Greece
Dining out is one of the joys of northern Greece, with its recipes brought over with refugees in 1923 from Asia Minor and the Black Sea; Th essaloníki has long been one of the food capitals of Greece, although it's probably best known for its bougátsa, fl aky pies introduced aft er 1923. Th e handmade pastry is left to prove until doubled in size, then tossed in the air three to seven times until it becomes thin, filled with creamy custard or soft cheese (but you can also fi nd spinach or minced meat), then baked and sold in bougatsaría. Every town in the north has at least one.
You'll find old Ottoman-era dishes such as hunkár begendí (stewed lamb with aubergine purée), Th racian kavourmás (lean beef or pork cooked slowly in broth and fat, with spices, then preserved in a jar or formed into a log, sliced and eaten as a mezé or with potatoes), Izmir-style meatballs in a spicy tomato sauce (soutzoukákia) and pastoúrma (Anatolian-style pastrami, made from beef, lamb or camel; Sary in Dráma is famous for it). You may even see mantza, a traditional Pomok dish of veal or pork combined with vegetables or pasta. Th e sweets of the north, many brought over by Anatolian pastry chefs – Xánthi's karióka, Véria's revaní, Komotiní's soutzouk loukoum and Sérres's akanés – are renowned.
Epirus is a land of cheeses and pies (egg pie, pastry pie, milk pie), feta cheese and anthótyro (fresh whey cheese made from sheep or goat's milk) pie, pies fi lled with lamb and trahanás (a dried pebbly mixture of grain and yogurt or fermented milk, an ancient way of preserving milk, oft en made into soups). Métsovo's smoked cheese is oft en used to make bougiourdí (cheese baked with tomatoes and peppers); also look out for batzossaganáki (fried local cheese). But wherever you go you'll find surprises: Pelion's chestnuts, little apples, and wild herbs; buffalo milk cheeses and meats from Lake Kerkíni; red saffron from Krókos, honey from Chalkidikí, cherries from Édessa, beans from Préspa, red and green peppers from Flórina, wild mushrooms from everywhere in the mountains, and even truffles (troúfes) around Meteora and Grevená. Every gýros counter has a shaker of boúkovo, 'the chilli flakes of the Balkans' similar to hot paprika, which is sprinkled on soups, stews, beans, roast or grilled meats.
Accommodation
Northern Greece has a vast range of accommodation, from five-star glamorous resorts to traditional inns and campsites.
Hotels
Nearly all Greek hotels have websites, where you can – at least in the case of larger hotels – book rooms online (in some cases you can save money by doing this directly, but for smaller hotels you'lll have to contact them by phone or email or rely on w booking.com or similar). Off season (ie: mid-September to mid-July) you can generally get a discount, sometimes as much as 40%. Bear this in mind when looking at price categories. Charges include an 8% government tax, a 4.5% community bed tax, a 12% stamp tax, an optional 10% surcharge for stays of only one or two days, and an air-conditioning surcharge in cheaper hotels, as well as a 20% surcharge for an extra bed. If your hotelier fails to abide by the posted prices, or if you have any other reason to believe all is not on the level, take your complaint to the tourist police (% 171). In July and August, hotels may require a minimum three-day (or longer) stay.
Guesthouses and studios
Guesthouses, often with basic studios (sink, table and chairs, a couple of gas rings, fridge, utensils and dishes), are generally family-run affairs and cheaper than hotels. Many are purpose-built blocks, but in some places (notably in the Zagorochória and Pelion) you'll find charming bed-and-breakfast conversions of traditional mansions. Depending on facilities and location, a double room or studio will run between €40 and €60 for two people sharing in high season. Until June and after August, prices are always negotiable. Owners will often drop the price per day the longer you stay.
Apartments and villas
Although apartments and villas used to be concentrated in resorts, you can now find them nearly everywhere in northern Greece via w airbnb.com, w booking.com, w homeaway.co.uk, etc. Also try: Five Star Greece fivestargreece.com. Luxury, upmarket villas on the Pelion, Skiáthos, Skópelos, Alónissos & Diáporos. The Greek Villas thegreekvillas.com. Villas on the Ionian coast & Skiáthos. James Villas jamesvillas.co.uk. Villa holidays in Epirus & Chalkidikí. Sunvil sunvil.co.uk. Well-run company with self-catering properties in Chalkidikí, Epirus, Kavála, Thássos, Skópelos, etc.
Camping
Greece in summer is perfect for sleeping out of doors. Unauthorised camping is illegal (the law was enacted to displace Roma camps), though each village enforces the ban as it sees fit. It often depends on the proximity of organised campsites – these are liberally scattered along the coasts, but you can also find them near attractions such as Meteora, and are mainly geared towards campervans and charge on a sliding scale.For two people with a small tent and a normal car, prices start at €15 a night.
The most minimalist campsites have toilets (but not always toilet paper) and showers (but not always hot water). In general, the standard is pretty good, with small shops and a bar, sometimes a taverna and a pool. There's a complete list at greececamping.gr. In remote areas in the mountains no-one cares if you wild camp (often it's the only option), but if you do, make sure you leave no sign of your presence. If the police are in some places lackadaisical about enforcing the camping regulations, they come down hard on anyone lighting a fire in a forest, and may very well land you with a big fine or jail you for two months.