Climate
When to visit
Highlights and itineraries
Climate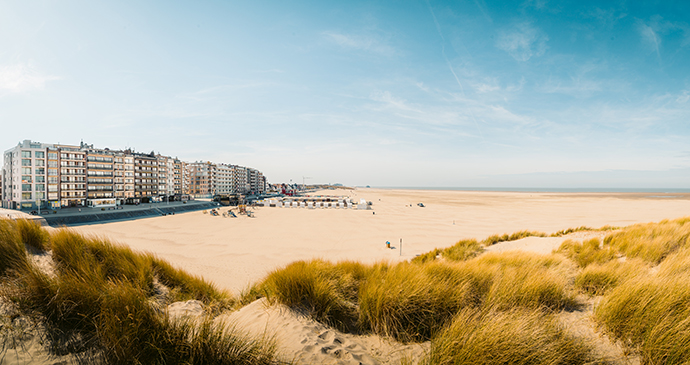 Despite its temperamental climate, Belgium's North Sea beaches can enjoy warm temperatures in the summer © canadastock, Shutterstock
Notorious for its four-seasons-in-one-day climate, Flanders lies on the same latitude as the south of England and experiences similar weather patterns – it is luck of the draw as to whether it will be a summer of heatwaves, or one of endless rain, though the latter has tended to dominate of late (just don't say global warming). Between spring (Mar–May) and autumn (Sep–Nov) you can expect temperatures to fluctuate between 14°C and 6°C and cool, sunny days to be intermingled with overcast, drizzly days. During summer temperatures hover around the 20°C mark, but in winter (Dec–Feb), when the Baltic breezes come whistling down uninterrupted from the North Pole, temperatures plummet, rarely rising above 6°C and occasionally dropping to –5°C. However, even the darkest days have their splendour, and the changeability of the weather is better than solid grey. And, there's something incredibly romantic about dashing from café to café across soaked but sparkling cobblestone streets.
As a guide, July tends to be the hottest month, January the coolest, November the wettest and February the driest. During summer, the sun rises between 05.00 and 06.00 and doesn't set until 22.00. During winter, the days shorten considerably – sunrise is between 07.00 and 08.00 and sunset between 16.00 and 17.00.
When to visit
Flanders is best visited during spring and summer, or just before Christmas. From March to May the countryside is alive with newborn lambs and calves, and orchards are filled with blossom; July and August are marked by an impressive array of music and folk festivals and parades; and come December romantic Christmas markets line cobblestone squares. There are a few provisos: avoid the coast during winter when it becomes a series of ghost towns whipped by gale-force winds and rain; and be aware that from mid-November to February many of the smaller towns – and the World War I memorial sites – tend to go into hibernation; and that in July and August you'll be battling the selfie sticks in Bruges, so plan your trip accordingly.
Highlights and itineraries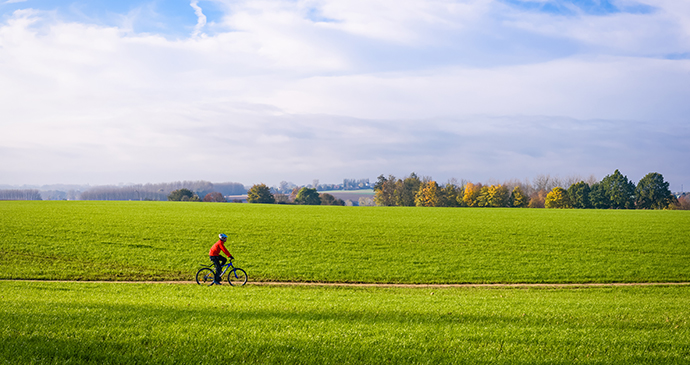 Flanders is a joy to explore on two wheels © Thomas Dekiere, Shutterstock
The Adoration of the Mystic Lamb, Ghent
Come face to face with the world's most frequently stolen painting, shining after a lengthy restoration.
Oostduinkerke's horseback shrimp fishermen
Watch the world's last horseback fishermen at Oostduinkerke trawling the North Sea shallows for grey shrimp – and try a few too.
St Elizabeth Begijnhof
Wander around Kortrijk's 17th-century impossibly quaint UNESCO-listed béguinage, learning about the lives of the pioneering female béguines.
Try the world's rarest beer
Savour the taste of the dark and sweet Westvleteren No 12, brewed by the monks of Sint-Sixtus Abbey and only available at their abbey café.
Mechelen
Enjoy the café culture, carillon concerts and top-notch B&Bs of this buzzing but often overlooked town.
Talbot House, Poperinge
Reflect on the past at thes perfectly preserved World War I resthouse of Talbot House that's as touching as the war cemeteries. Learn about Tubby, the jolly proprietor, and the men who stayed here.
Cycling around Sint-Truiden
Take to the saddle in springtime and ride through blossom-filled fruit orchards in Sint-Truiden, stocking up on fresh strawberries, apples and pears as you go.
Lissewege
Don't miss Flanders' prettiest hamlet, made up of whitewashed cottages, concealing good restaurants and homely B&Bs.
Ooidonk Castle
Pretend you're royalty for the day at this fairytale castle, complete with moat and drawbridge.
Tongeren
Shop for vintage trinkets at the antiques market in Flanders' oldest town – and visit the award-winning museum.
Aalst
Get dressed up and join the merry madness of Aalst Carnival, which features a street parade, a bonfire and lots of cross-dressing and drinking.
Lier
Pitch up on the hour to see Lier's unique Zimmertoren clock in action.
Suggested itineraries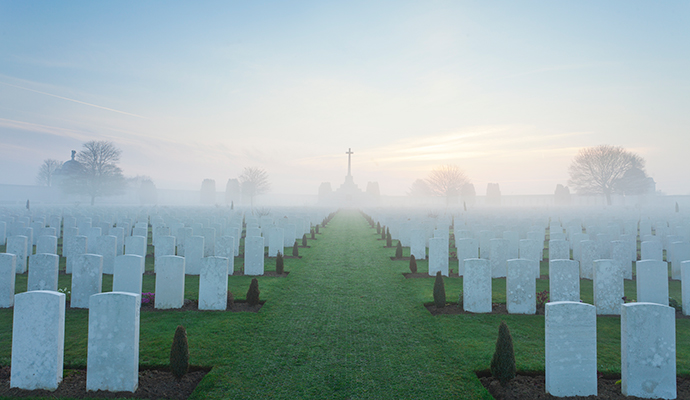 Flanders is known for its wealth of World War I sites © Visit Flanders
It doesn't take very long to go anywhere in Flanders. All the major cities are roughly a 40-minute train ride from one another and, as a result, it's possible to fit quite a lot into a short trip. Don't cram too much in; allow enough time to enjoy a beer while sunning yourself on a terrace, or linger over a really good meal.
Beer
Beer pilgrims can visit the following breweries: De Cantillon and Brussels Beer Project in the capital, De Halve Maan in Bruges, De Dolle Brouwers near Diksmuide, Het Anker in Mechelen, De Koninck in Antwerp and De Vrede café in Westvleteren. It makes sense to chime a visit with one of Belgium's beer festivals; April is beer month in Leuven with three events dedicated to the brown stuff.
Cycling
Flanders' most famous cycle race, the Ronde van Vlaanderen (Tour of Flanders), is associated with the towns of Geraardsbergen and Oudenaarde. The latter has a dedicated cycling museum, as does Roeselare. Great cycle routes include: the Bruges to Damme canal, from which you can access the entire North Sea coastline; the orchard-filled Haspengouw region near Sint-Truiden; and Limburg, where you can cycle amid swans at Cycling Through Water.
World War I
World War I sites and cemeteries are clustered in West Flanders around the town of Ypres, where you'll want to visit the In Flanders Field Museum and Menin Gate, before heading on to the battlefields of the Ypres Salient. Other major sites are Poperinge, 10 minutes by train from Ypres; low-key Diksmuide, home to the IJzertoren monument and museum, and Dodengang (Trench of Death). Add in Veurne, and Nieuwpoort, hosting a brilliant museum recounting how intentional flooding here stopped the German advance during World War I.